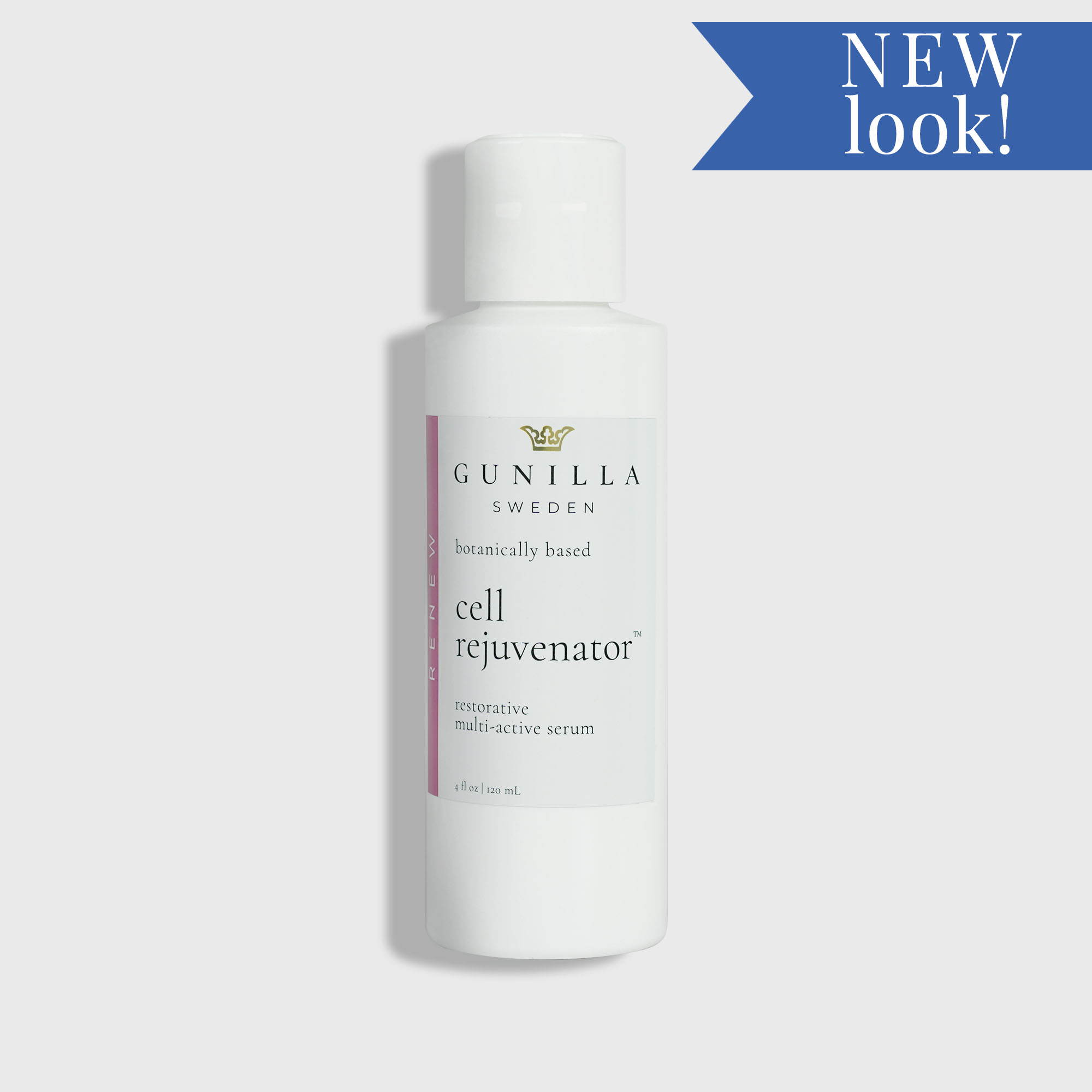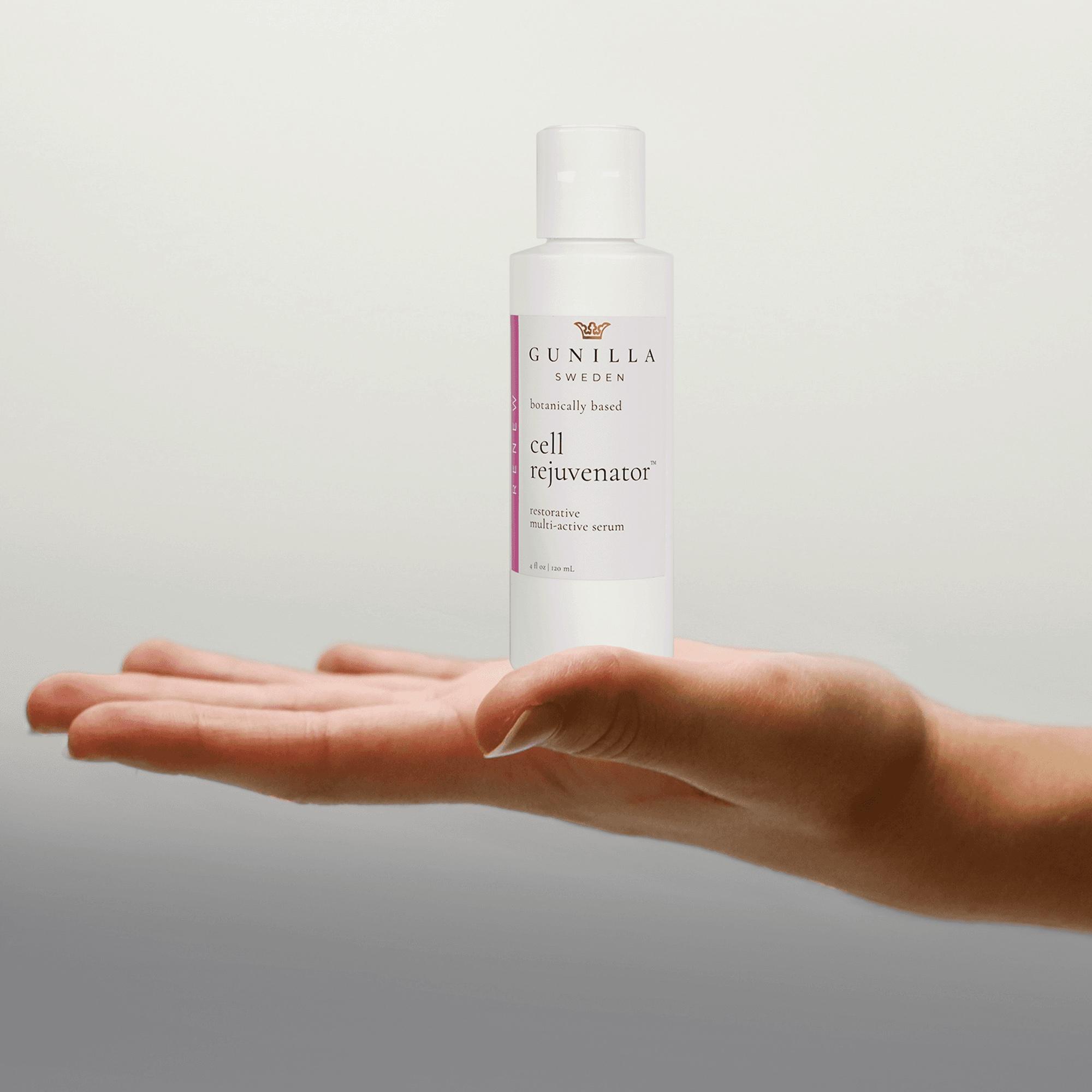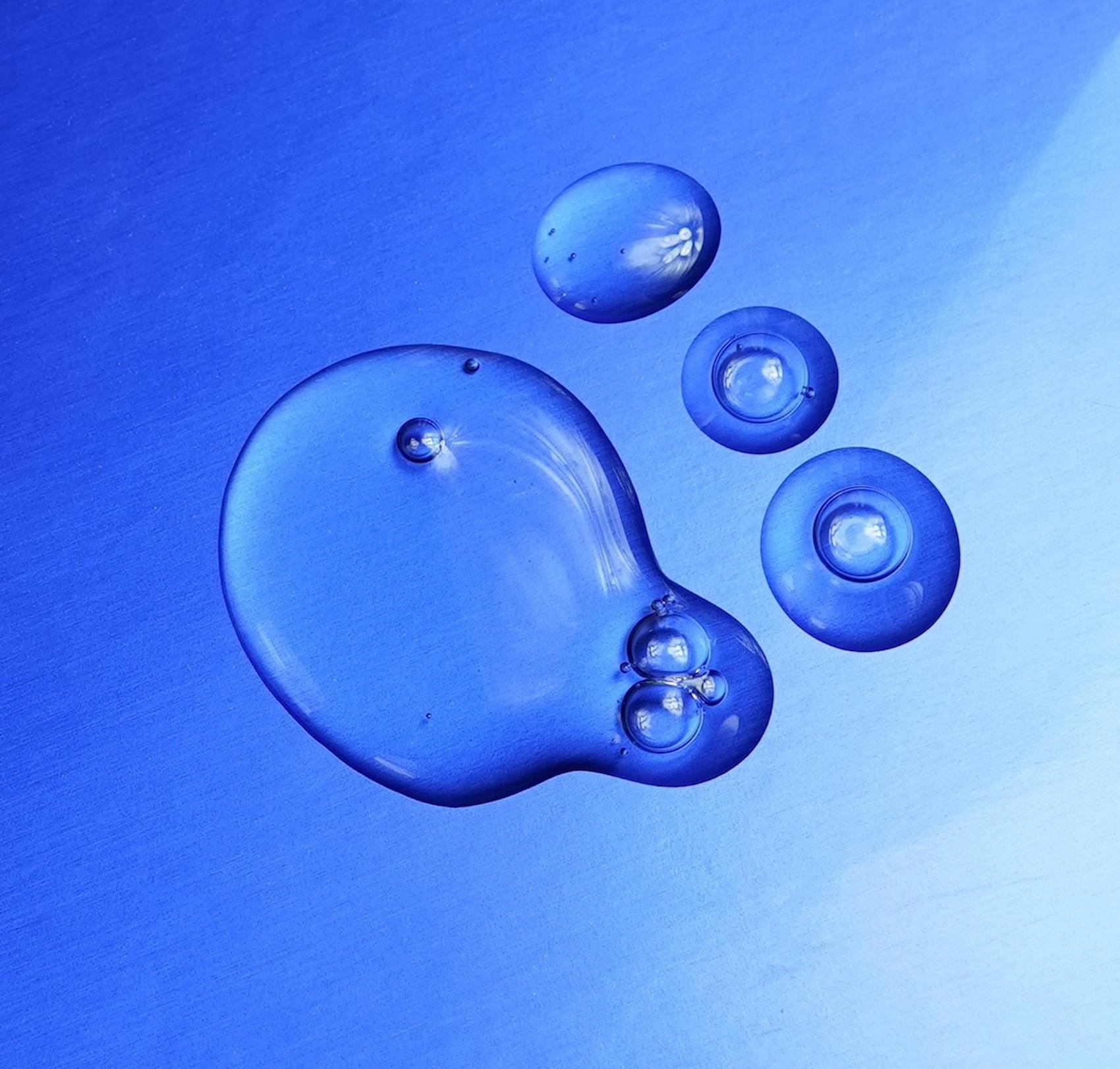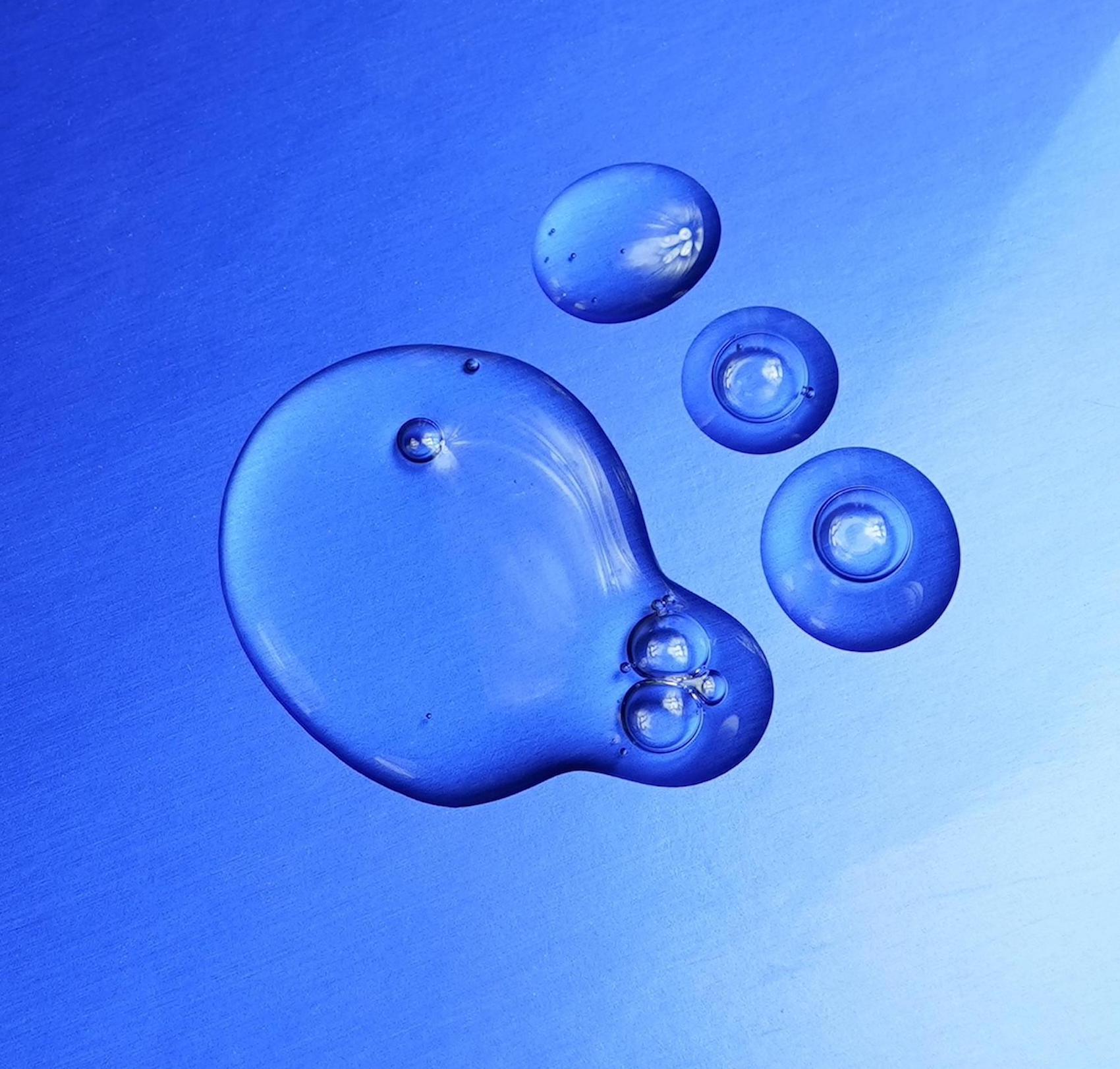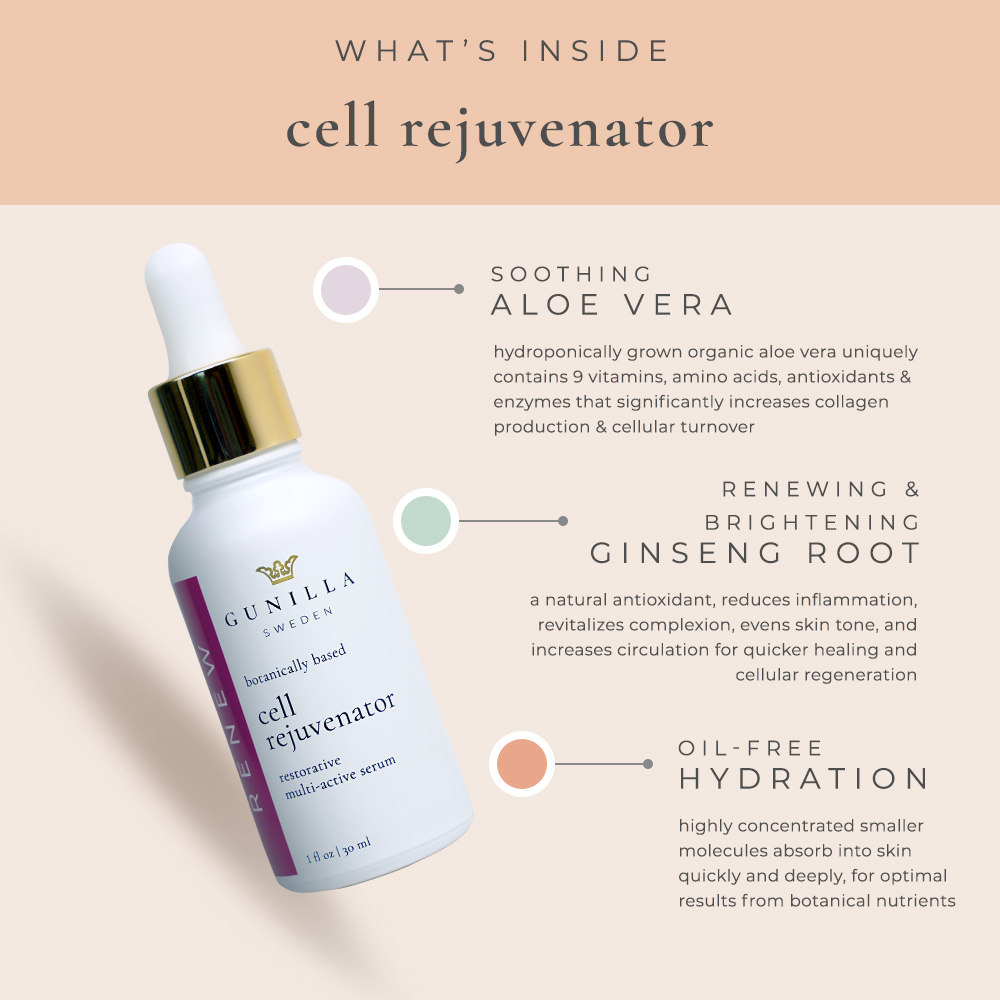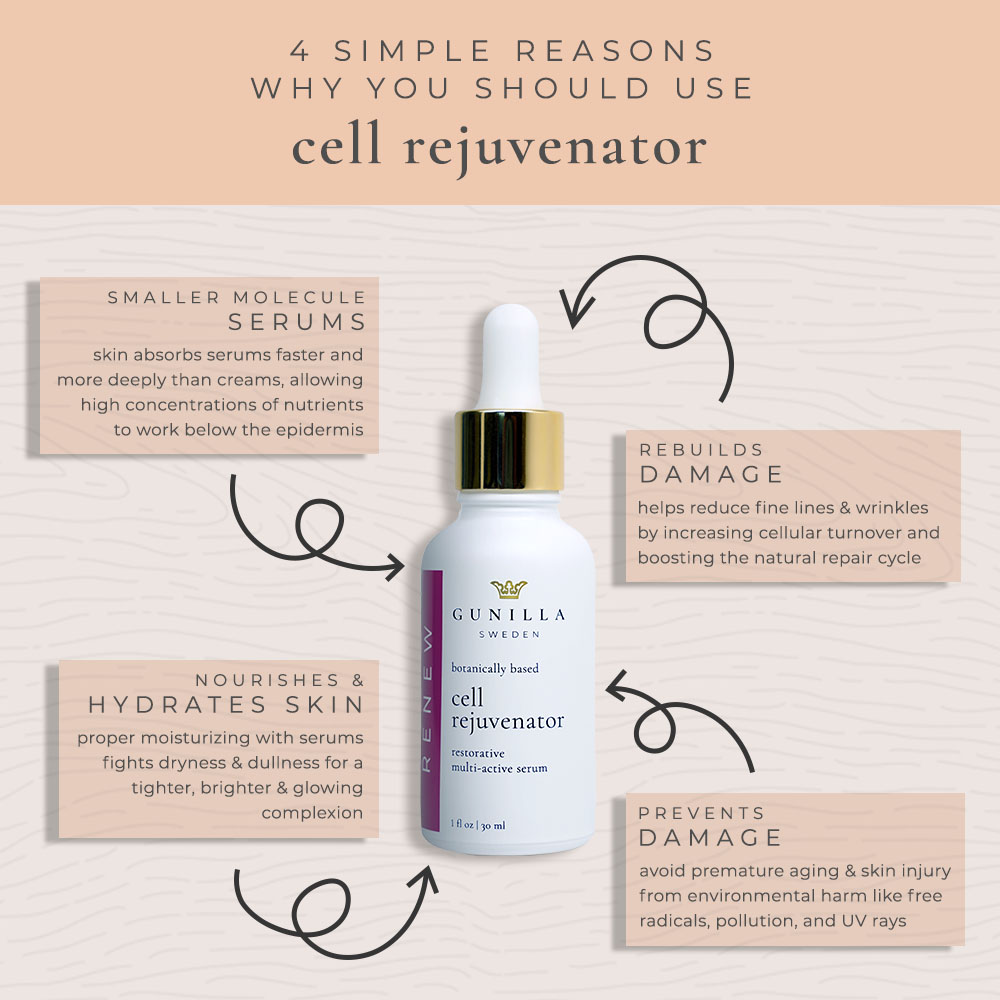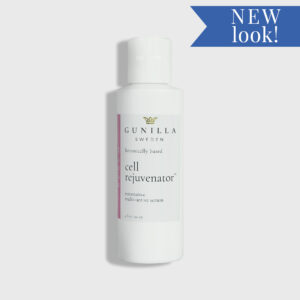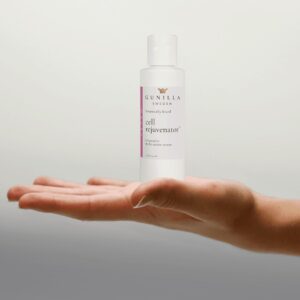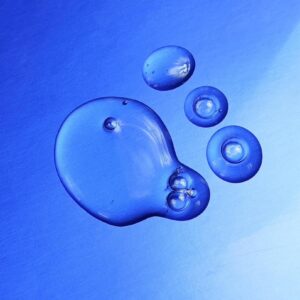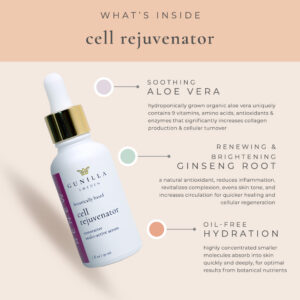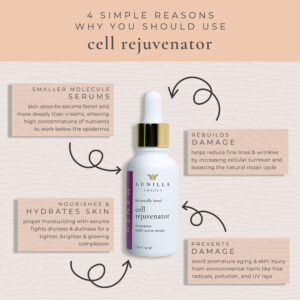 Why Is It Different?
Topical applications of antioxidants and collagen-boosting nutrients are only beneficial if they make it into the skin. Water-based serums will only lay on top of the dermis, whereas this serum is aloe-based and penetrates deeper to improve skin complexion using ingredients the skin needs and nothing it doesn't.
What Does It Do?
Quickly nourishes, hydrates, and replenishes vital nutrients to boost the skin's natural repair cycle. This age advocating botanical serum is lightweight and easily absorbed without irritation. Experience smoother, firmer skin with a healthy radiant glow from this powerhouse formula.
• 93% saw a reduction of fine lines & wrinkles*
• 99% experienced noticeably healthier skin*
How To Use
Apply 2-3 drops AM/PM after exfoliating and cleansing, or, as needed. Highly concentrated -- a little goes a long way.
Naturally scented with yellow rose
About + Trial Results*
Cell Rejuvenator™ Firming Serum
• 93% of users saw a reduction of fine lines & wrinkles*
• 99% felt their skin was refreshed & hydrated*
• 99% of users felt this serum was light & easily absorbed*
• 86% saw a decrease in skin irritation & sensitivity*
• 99% experienced noticeably healthier skin*
*Based on an independent consumer study of 64 participants
Benefits: This lightweight, transparent, nongreasy serum absorbs quickly, hydrates, firms, lifts, and helps reduce fine lines, leaving your skin feeling soft with a healthy radiant glow.
History: Decades of professional spa facial treatments have established Cell Rejuvenator™ Firming Serum as a favorite for countless skin care professionals. A restorative multi-active facial serum helps skin return to its natural cell repair cycle for a more firm and youthful skin tone.
10+ Active & Botanical Ingredients: 64% Nutrient-Infused Hydroponic Aloe, 5% Panax Ginseng, Collagen, Elastin, Red Algae, Keratin, Linden, Elastin Marine Collagen, Glycosaminoglycans, Added Amino-Acids, Yellow Rose, Mallow, and more. All Botanicals Chosen at their Height of Potency. Hand planted, no pesticides or herbicides.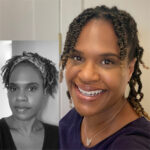 "I have been using the cell rejuvenator for over 25 years and it is one of my favorite and must-have products. It gives my skin that healthy young glow I love and at 49 people are amazed when I tell them my age." — Latanya B.
Read her full review here.
Details
4 oz Supplies 450-500 Facial Applications at 2x Daily Use
Suitable for all skin types, especially for sensitive.
Only 2 to 3 drops are needed.
A little goes a long way.
Customer Favorite
Natural floral aroma from active botanicals
Noncomedogenic
Dermatologist Recommended
Formulated Without
Parabens
Fragrance
Alcohol
Petroleum
Dyes
Sulfates
Phthalates
Expect Results
Cell Rejuvenator™ has adaptogens like 5% Panax ginseng & 64% Hydroponic aloe that help protect skin from environmental stressors.
Elastin, collagen, red algae & glycosaminoglycans, reducing damage from free radicals by increasing antioxidants
Faster-absorbing Serum
A potent concentration of antioxidants and actives to benefit the skin with everything it needs and nothing it doesn't.
Serums are comprised of smaller molecules that skin absorbs faster than cream moisturizers
More Details
Step 1
The Proven Potency & Countless Benefits from Skin Care Based on Hydro-Organic Aloe 
Our hydroponic aloe is greenhouse-grown in a temperature-controlled environment without pesticides or herbicides. It's hand-planted, nutrient-infused, and grown in recycled water, without soil.
Based on 64% of our unique greenhouse-grown 100% organic aloe, Cell Rejuvenator™ Serum is therapeutic by its very nature, having countless benefits over conventional water or oil-based facial serums. Our nutrient-infused aloe base helps combat free radicals, signs of environmental damage with potent anti-inflammatory properties that reduce redness and inflammation.  
Both GUNILLA® & LEROSETT® skincare products use up to 49 botanical ingredients loaded with vitamins, minerals, and an abundance of antioxidants and amino acids that act as messengers on the cellular level and help neutralize free radicals.
Serums leave out ingredients such as petrolatum or mineral oil that keep water from evaporating. They also contain fewer lubricating and thickening agents, like nut or seed oils. For the best results, combine serum and cream moisturizers, using the serum first followed by the moisturizer.
How botanically-based Adaptogenic GUNILLA® Serums Work 
Serums compromise smaller molecules than creams. Our nutrient-rich aloe-based serums enable active ingredients like hyaluronic acid, ceramides, peptides, Siberian & Panax ginseng, red algae, and elastin to better penetrate the skin.
How To Use
Step 1
Apply 2-3 drops to fingertips and smooth into clean skin.
Please note: If your skin feels sticky, you have used too much!  Cell Rejuvenator is highly concentrated and 4 oz will last for 450-500 applications!
Follow with Ceramide Cream A17™ or the Moisture Matte™ Oil-Free Mattifying Moisturizer
Key Active & Botanical Ingredients
Botanical Ingredients
Aloe Vera
Contains vitamins A, C and E, which are antioxidants. Over 9 Vitamins & 9 Minerals, 20 Amino Acids, 7 Enzymes that significantly increases collagen synthesis
Anti-Inflammatory, antimicrobial, helps heals wounds and fades scarring & and is one of the only known substances which can penetrate the dermis layer of the skin
Mucopolysaccharides help bind moisture into the skin and work effectively with ceramides, Stimulates fibroblast produces collagen and elastin to help heal skin & wounds
Ginseng Root
Helps boost the circulation of your skin improving colllagen production-Helps brighten and revitalize your complexion
Antioxidant properties protect your skin from free radicals-Reduces appearance of fine lines and wrinkles
Carrageenan
Full of Sea minerals, which has a healing and a soothing effect on tissue softening the skin and helping with cell renewal
Mallow
Creates a barrier that can help skin hold onto moisture
Prevents cell damage from environmental factors
Rose Oil
Regenerates and heals the skin while brightens and evens out the skin
Increases collagen production and skin elasticity-Intensely hydrates and moisturizes the skin
Collagen
Promote skin hydration, leaving the skin soft to the touch.
Plays a role in strengthening skin-Fights fine lines and wrinkles
Elastin
Acts as a humectant and traps moisture into the skin
Stimulates cell growth for stronger, smoother skin
Allantoin
Moisturizes the skin to prevent dryness and irritation-Helps to exfoliate the skin and improves skin dullness
Soothes inflamed skin and stimulates collagen production while promoting cellular turnover
Glycosaminoglycans
Provides moisture for other skin components like collagen and elastin
An amazing ingredient for increasing overall hydration of the skin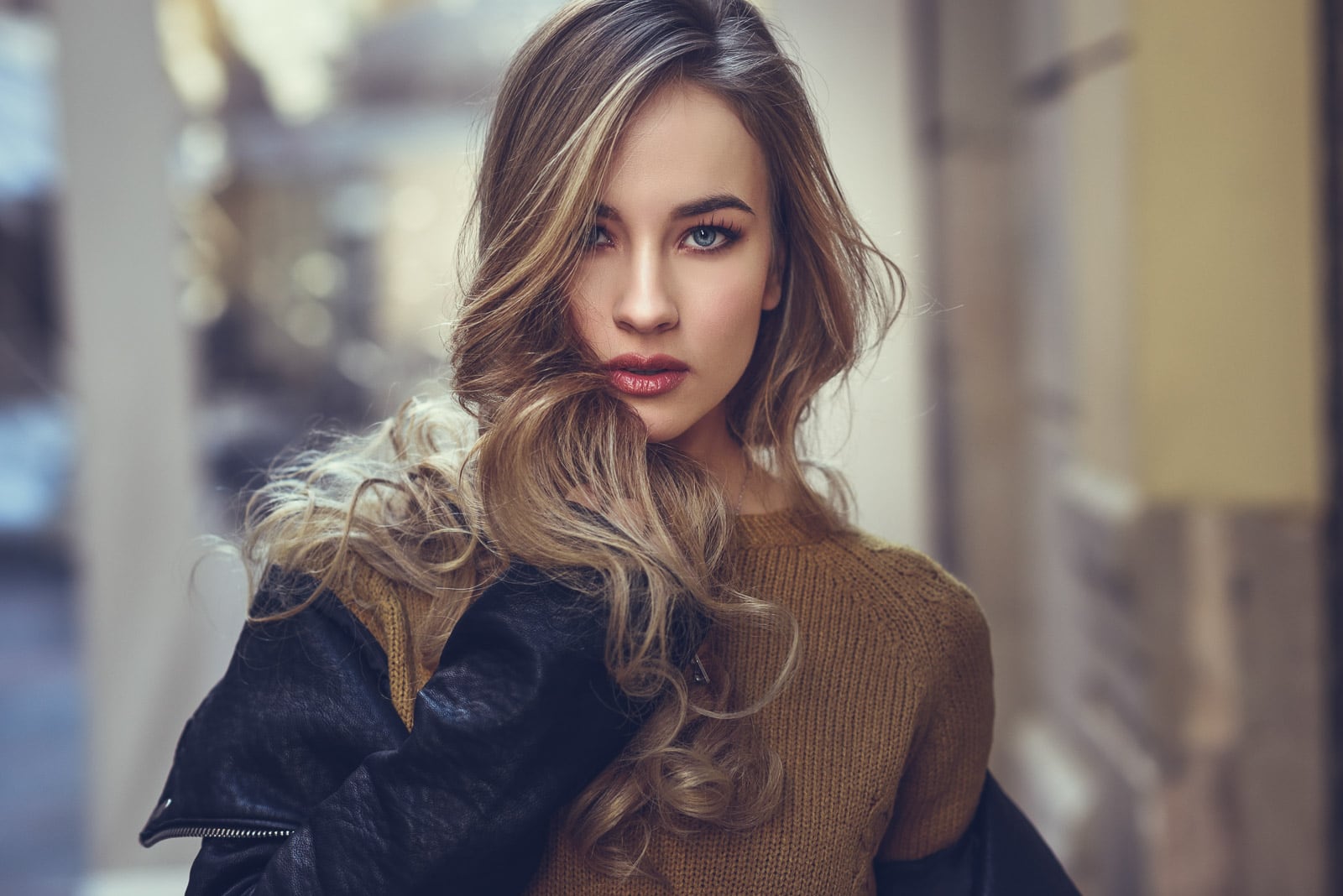 User Reviews
Ingredients
Paired Products
Resources