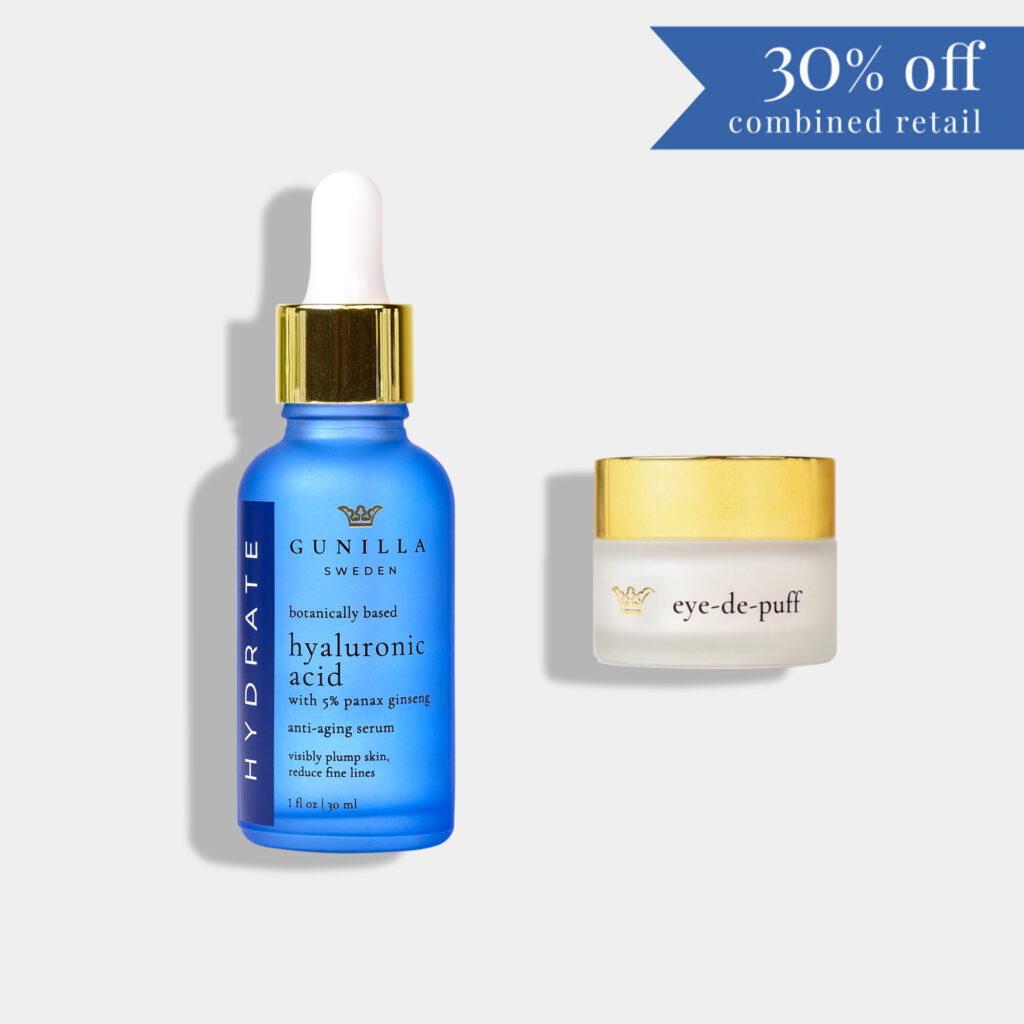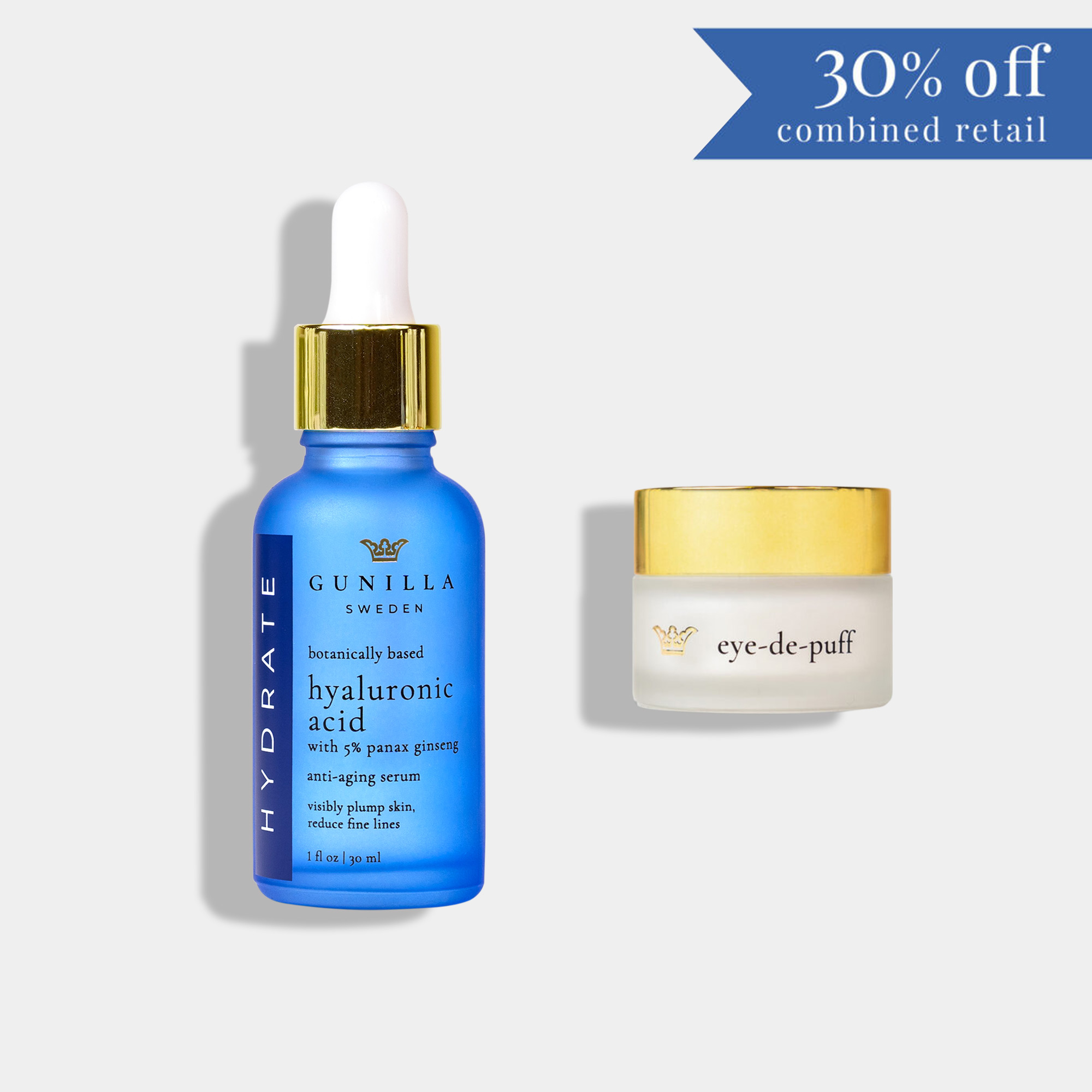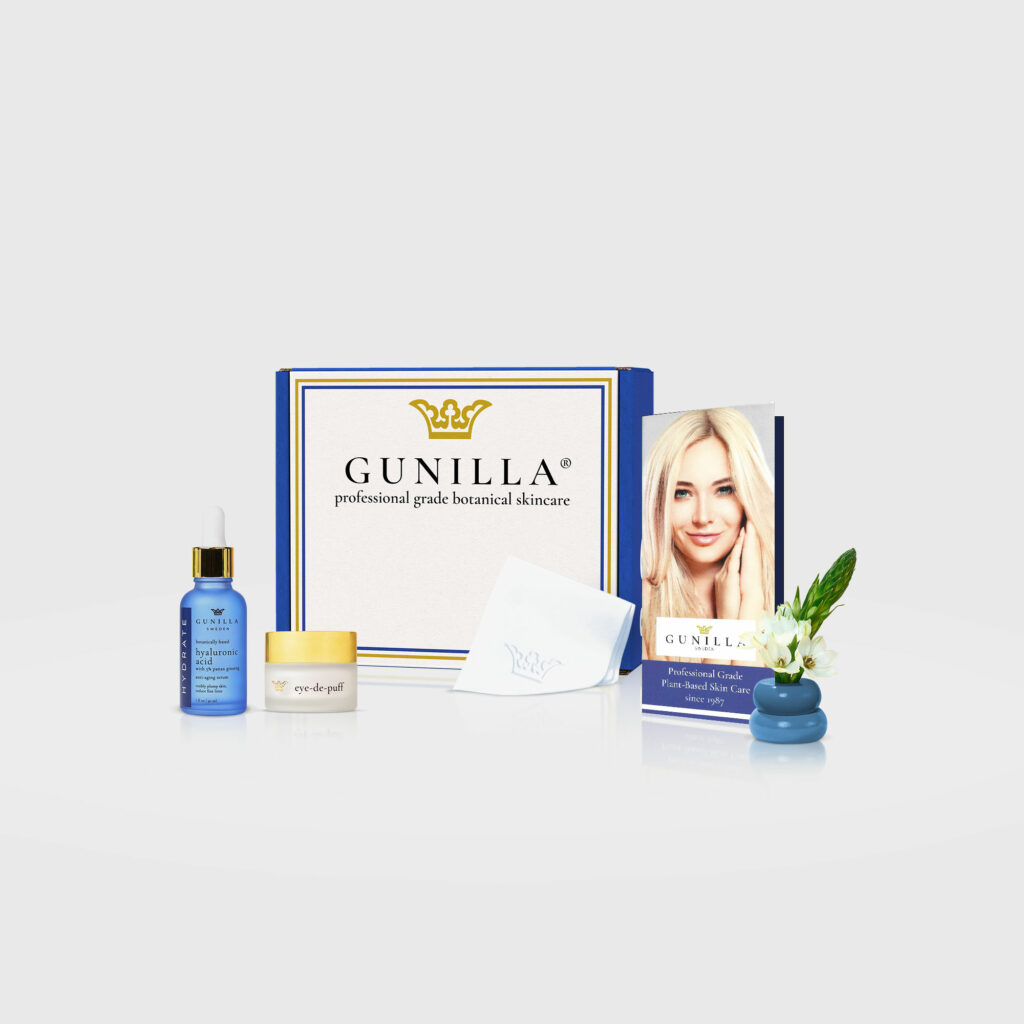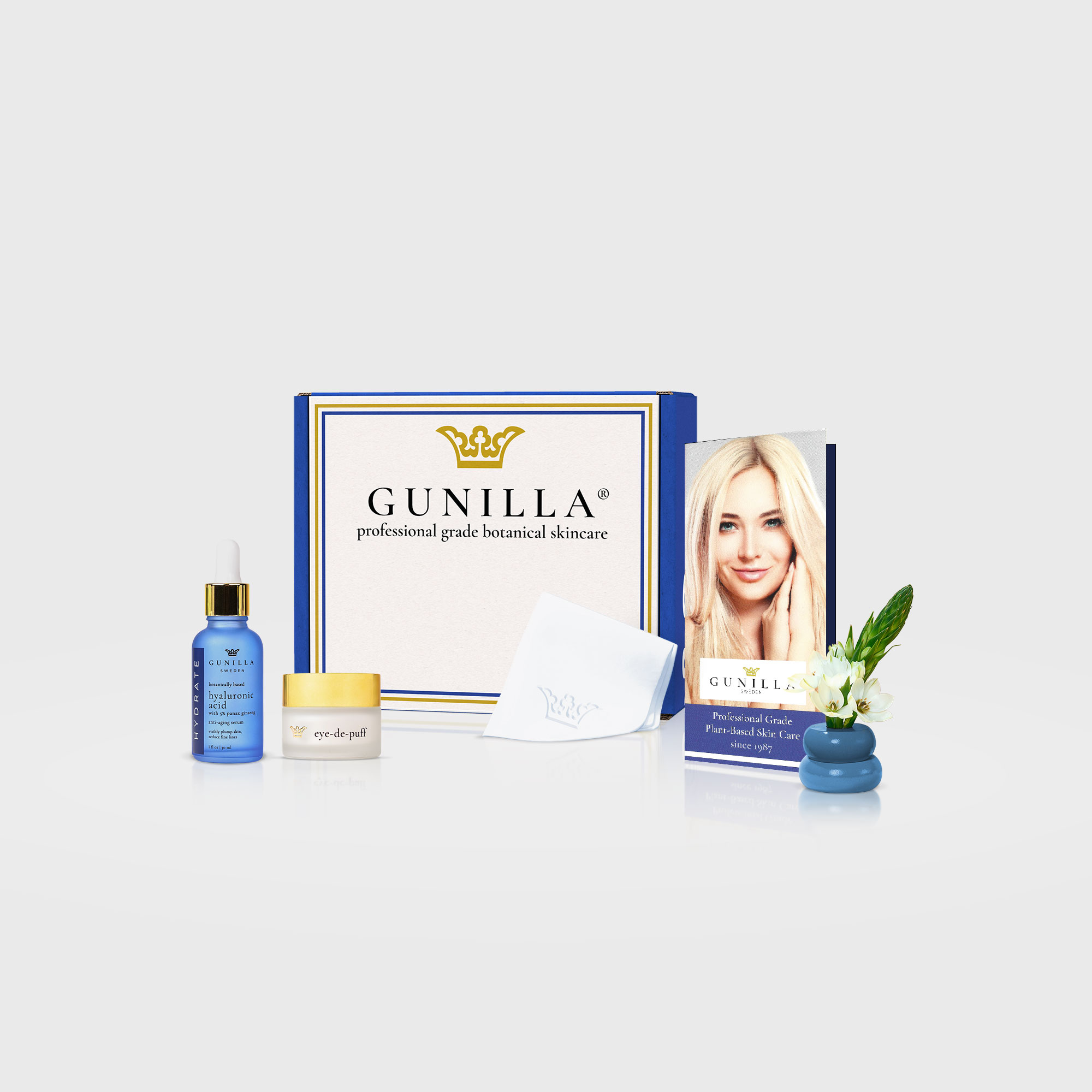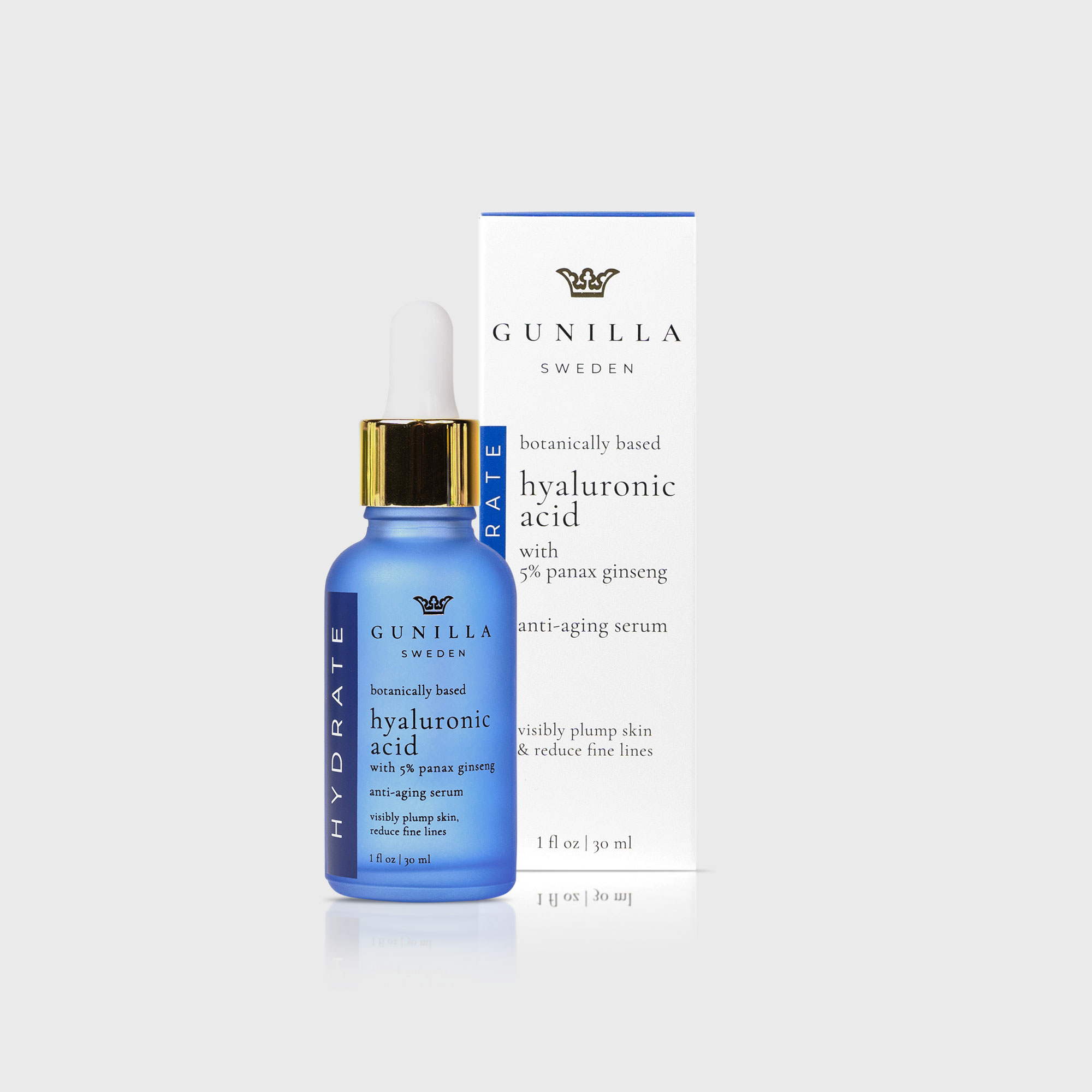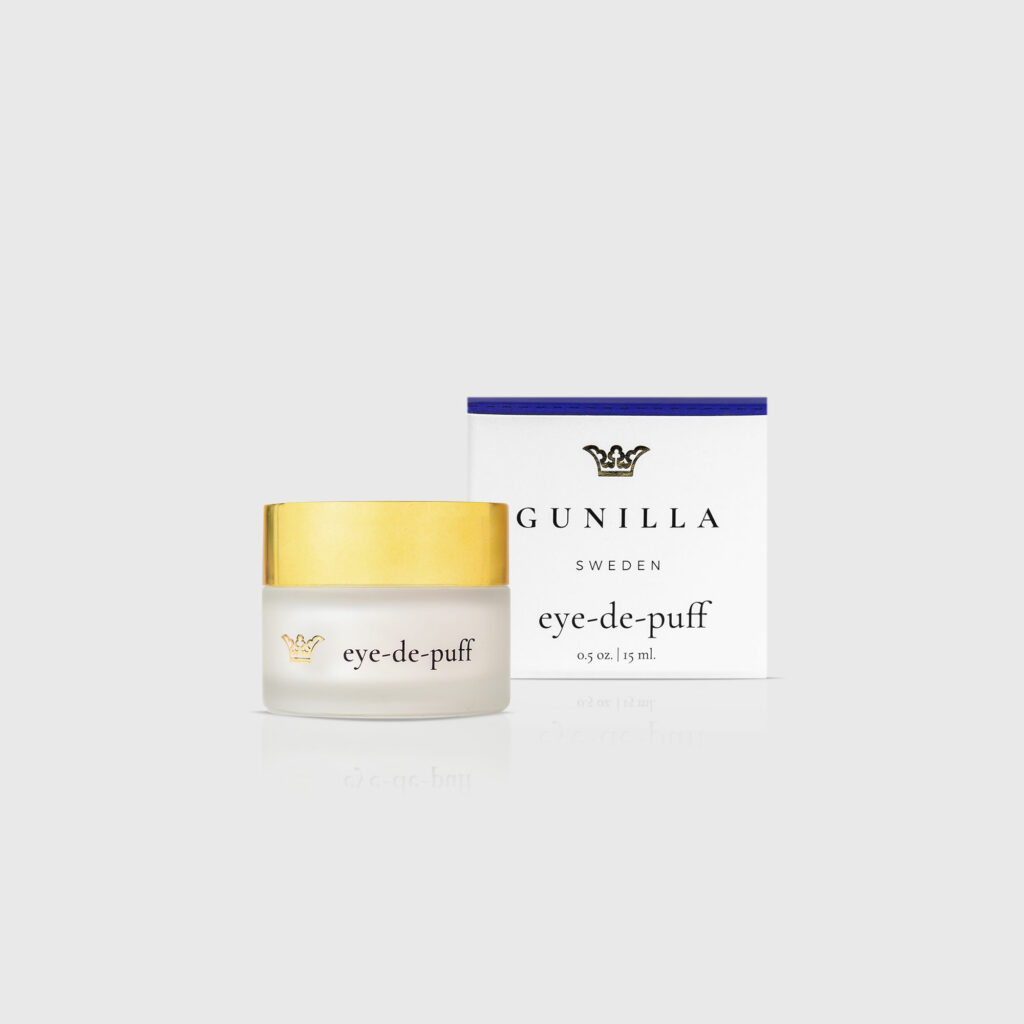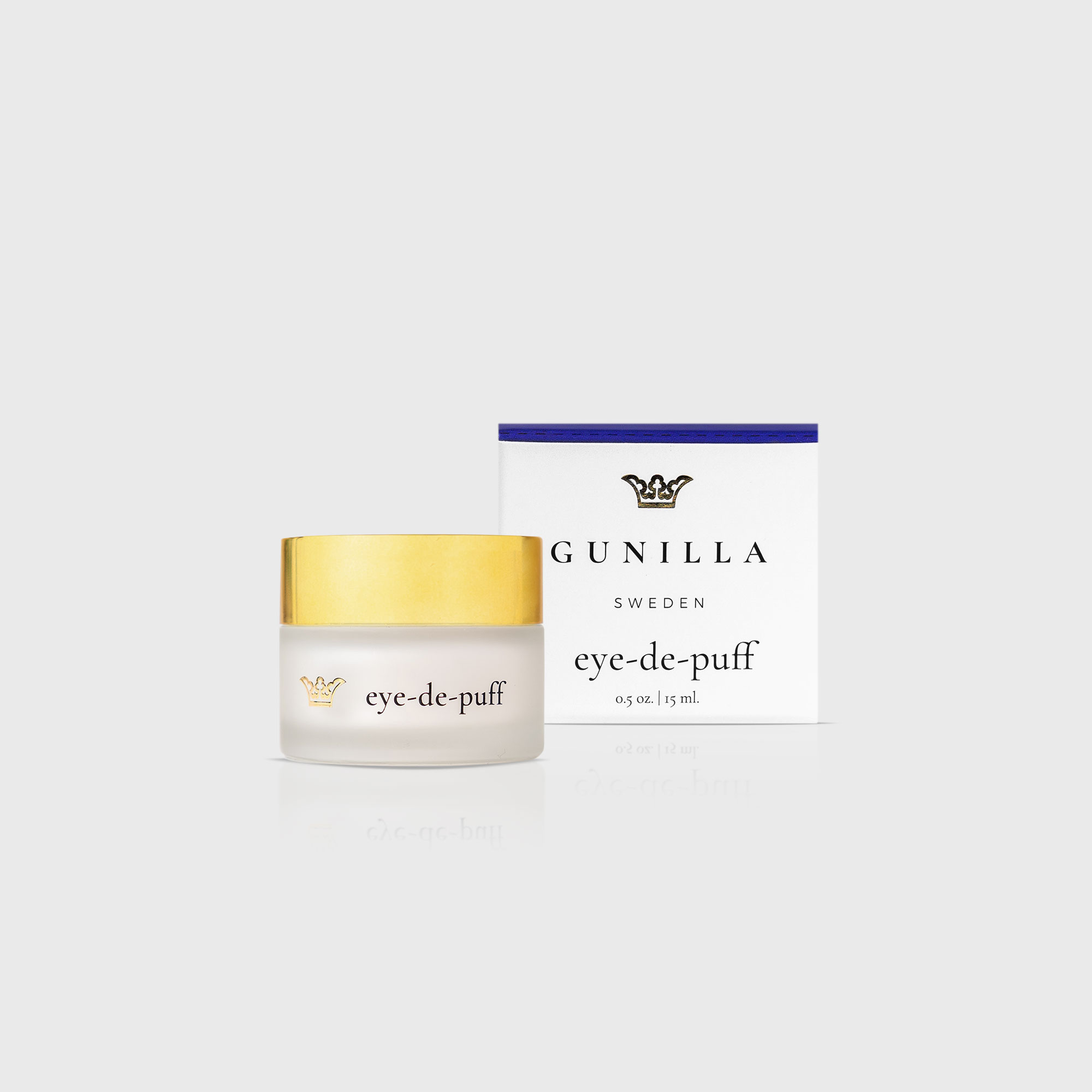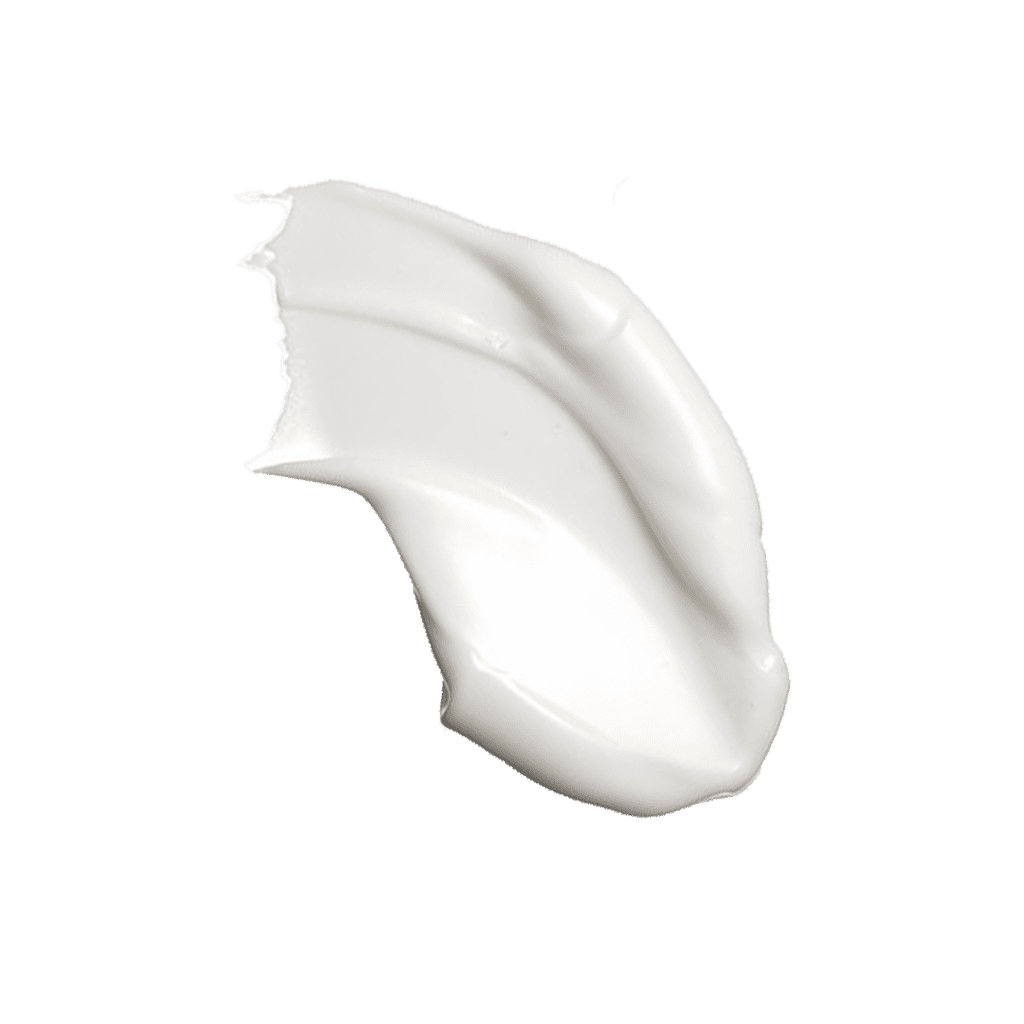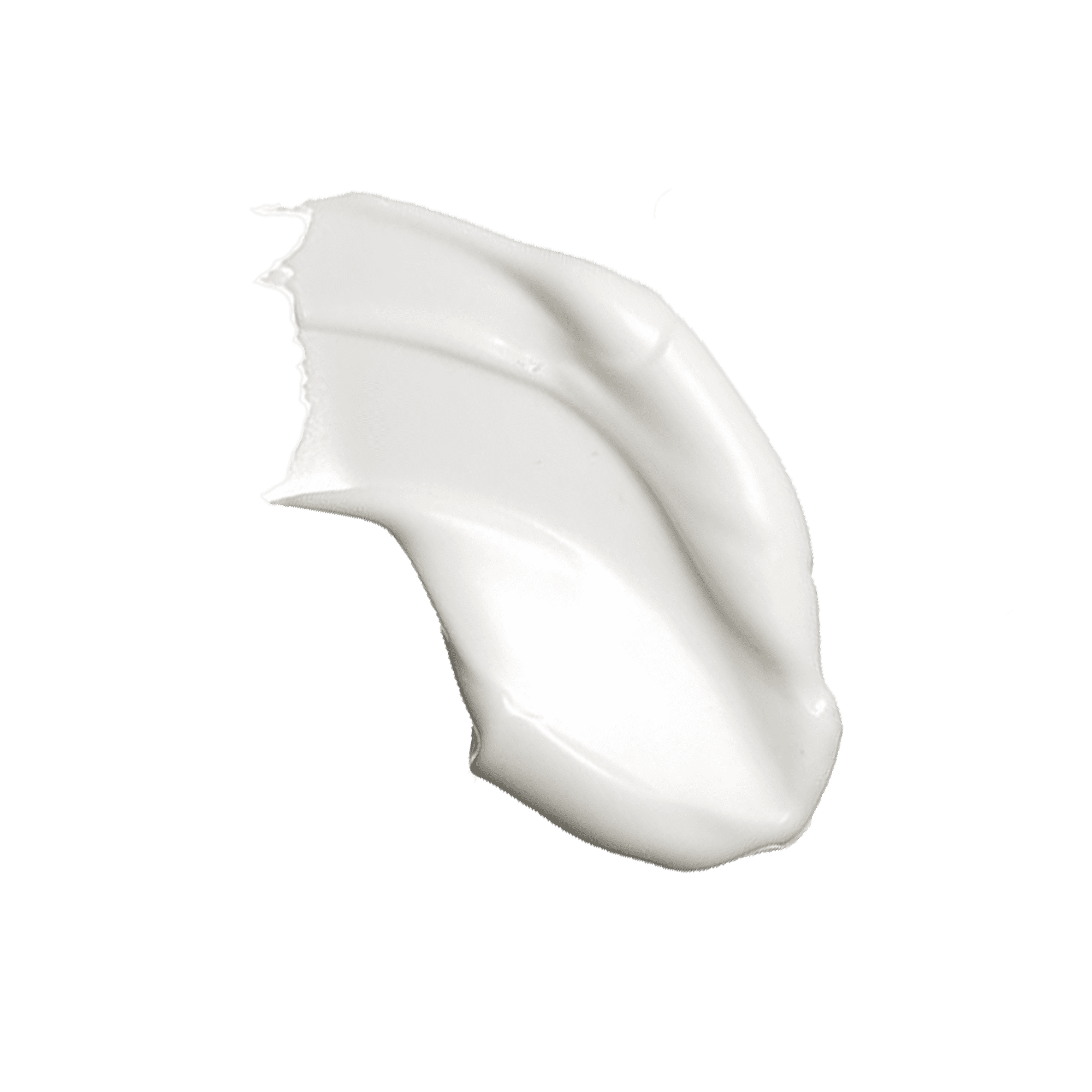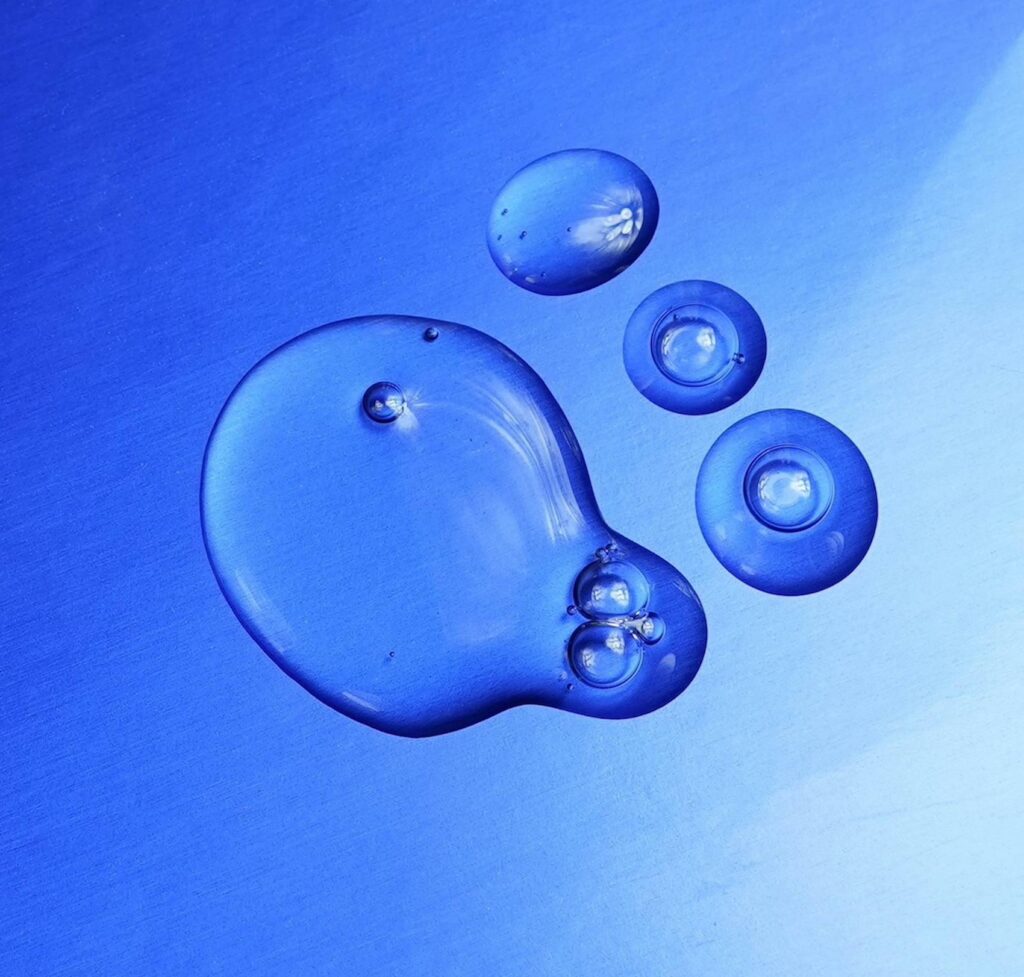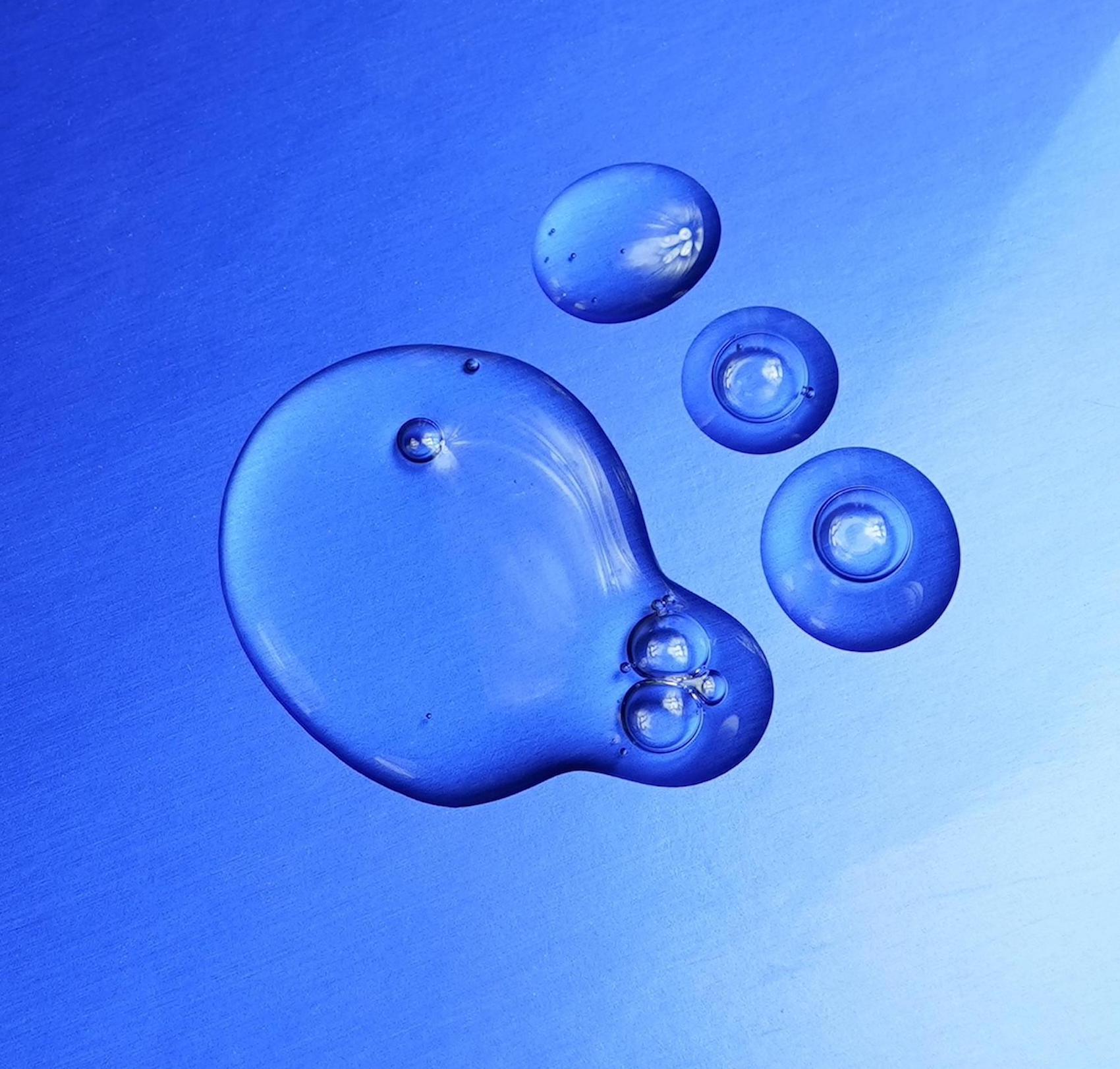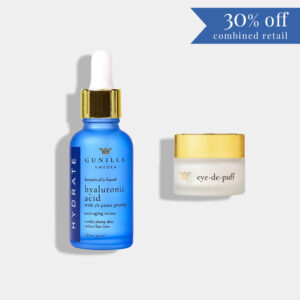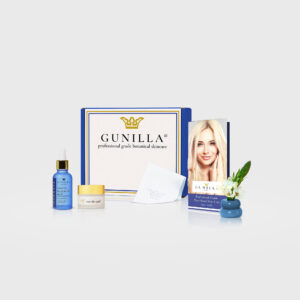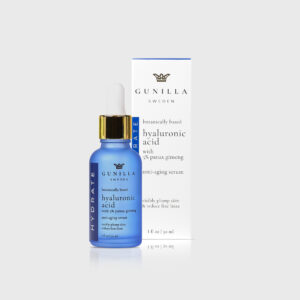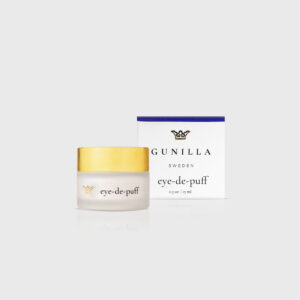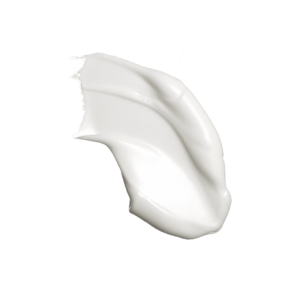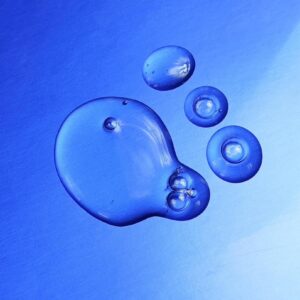 Product Overview
Product Overview
All-Around the Eye Duo. GUNILLA® Hyaluronic Acid & Ginseng Anti-Aging Serum to energize & brighten the look of tired, dull skin. An oil-free serum that quenches the skin, reduces fine lines, and preserves the moisture barrier from recurring dryness for noticeably more plum skin.
Plus. Eye-de-puff™ effectively reduces the puffiness, dark circles, and fine lines around the delicate eye area.— Over 98% Organic, Natural, and Botanical - Formulated in Sweden
For Details of Each product -See Duo Contents Tab
28 Active & Botanical Ingredients: Hydroponic Aloe, 1.5% Hyaluronic Acid, 5% Panax Ginseng, Sodium PCA, Carrot Root, Quinoa Seed, Red Algae, Vegetable Glycerin, Hydrolyzed Elastin Marin Collagen, Glycosaminoglycans, Oryza Sativa Rice, Soybean Seed Extract, Glycoproteins, Glutamic acid, Alpha-lipoic acid, Pro-Vitamin-B5, Collagen, Elastin, Tocopherol Vitamin-E, Vitamin-C, Vitamin-K, & Vitamin-A, Red Vine, St John's Wort, Arnica Montana, Witch Hazel, Horse Chestnut, & Ivy. 
Order-Risk Free!
Cruelty-Free Skincare
Details
60 Day Supply at 2x Daily
Suitable for all skin types and especially dry, sensitive skin, mature skin.
Free of petroleum, dyes, oils, sulfates, phthalates, dyes, perfumes
Use AM-PM or anytime, especially after a shower or facial cleansing, to lock in extra moisture and leave your skin with a healthy, radiant glow.
Expect Results
We added 28 of the most potent actives and botanicals to delivers long-lasting hydration while reducing inflammation & hyperpigmentation.
Skin damage & post-procedure healing.
Hyaluronic acid can help wound healing, post-procedure scar reduction, reduce the size of wounds faster, and speed the recovery process. Adding 5% ginseng & 64% organic aloe can significantly improve results.
Duo Contents
Duo Contents
Step 1
The Most Effective Main Ingredient in Skincare
Both the Eye-de-puff™ and Hyaluronic Acid Serum contain over 64% of our unique greenhouse-grown organic aloe and are therapeutic by their very nature compared to water or oil-based serums and creams.
Hydroponic aloe combats free radicals, signs of environmental skin damage, and moisturizes with strong anti-inflammatory properties.
Our unique hydroponic aloe is hand planted and grown without pesticides or herbicides.
Step 2
1oz 1.5% Hyaluronic Acid & 5% Ginseng Hydration Boosting Serum A highly innovative serum that quenches the skin, visibly plumps, reduces fine lines, wrinkles and preserves the moisture barrier from recurring dryness for noticeably softer skin.
With a 5% concentration of pure Panax ginseng to boost collagen levels naturally. Potent antioxidants shield the skin on a cellular level against brown spots, and hyperpigmentation. Anti-inflammatory properties are a calming remedy, even for puffy eyes, and to soothe even the most sensitive skin.
Hyaluronic Acid attracts up to 1,000 times its weight in water, plus Sodium PCA attracts 250 times its weight in water from moisture and humidity in the air.   
Step 3
0.5oz GUNILLA® Eye-de-puff™ has been a favorite eye cream for top spas, and countless users for 24 years. Eye-de-puff™ effectively reduces puffiness and dark circles around the eye area. We added the most potent Alpha-lipoic acid, Tocopherol & Vitamin-K available, significantly boosting additional antioxidants' levels. Highly Concentrated Formula.
Alpha-lipoic acid (ALA) has been called "the miracle in a jar" for its anti-aging effects. It's an ultra-potent antioxidant that helps fight skin damage around the delicate eye area. This "universal antioxidant" is soluble in water and oil, allowing entrance to all parts of the cell, reducing inflammation.
Step 4
Includes the GUNILLA® Super Shammy™- Our gentle exfoliating antibacterial washcloth is perfect for cleansing; it dries stiff, killing bacteria after every use. Effective makeup-up remover. Long-lasting.
How To Use
How To Use
Hyaluronic Acid + Ginseng Serum
Step 1
Wash your face using your favorite GUNILLA® or LEROSETT® cleanser.
Step 2
Gently apply 2-3 drops of our Hyaluronic Acid serum onto a slightly damp face and neck until fully absorbed
Step 3
Apply your moisturizer to help lock in moisture but also to provide moisture for the Hyaluronic Acid to absorb.
eye-de-puff™
Step 1
After cleansing and toning, use your ring finger to gently dab product around the eyes – a small amount goes a very long way.
When applying Eye-de-puff do not stretch the skin, lightly tap (dab) a small amount of product into the skin.
Botanical Ingredients
Botanical Ingredients
Botanical Ingredients
Aloe Vera-Nutrient-Infused 100% Organic & Greenhouse Grown
One of the only known substances which can penetrate the dermis layer of the skin
Anti-Inflammatory, Antimicrobial, Helps heals wounds and fades scarring
Contains vitamins A, C and E, which are antioxidants. Over 9 Vitamins & 9 Minerals
20 Amino Acids, 7 Enzymes & significantly increases collagen synthesis
Mucopolysaccharides help bind moisture into the skin and work effectively with ceramides
Stimulates fibroblast which produces collagen and elastin to help heal skin & wounds
Ginseng Root
Helps boost the circulation of your skin improving colllagen production
Antioxidant properties protect your skin from free radicals
Reduces appearance of fine lines and wrinkles
Helps brighten and revitalize your complexion
Great for sensitive and oily skin
Caprylyl Glycol
Hydrates your complexion by acting as a humectant while retaining and attracting water
Has antimicrobial efficacy
Fights germs and pathogens
Allows deeper product penetration
Tocopherol Acetate (Vitamin E)
Powerful antioxidant that may be effective at reducing UV damage in skin
Protects your skin from damage caused by free radicals and wrinkles
Has anti inflammatory properties
Moisturizing and anti aging properties
Shea Butter
High concentration of natural vitamins and fatty acids
Moisturizes
Enhances natural collagen production
Reduces inflammation
Arnica Montana
Restores suppleness to damaged/inflamed areas
Naturally antimicrobial
Reduces Inflammation
Moisturizing
Ivy
Thoroughly hydrates the skin and relieves irritation from skin conditions
Reduces wrinkles, eliminating lines and reducing facial tension
Has great anti-inflammatory properties
Tightens blood vessels
Horse Chestnut
Helps the skin battle the signs of aging that deplete collagen and elastin from the skin
Plays an important role in protecting the levels of hyaluronic acid in your skin
Possesses potent anti-inflammatory properties
Has anti-irritant and toning properties
Allantoin
Moisturizes the skin to prevent dryness and irritation
Helps to exfoliate the skin and improves skin dullness
Soothes inflamed skin and stimulates collagen production
Promotes cellular turnover
Quinoa
Rich in Vitamin B
Helps treat age spots
Maintains healthy skin complexion
Effective in treating acne
Vitamin K
Has anti inflammatory properties
Has antioxidant properties
Promotes wound healing
Boosts skins elasticity
Wild Carrot
Emollient and nourishing
Strong antioxidant
High in vitamins A, C, E & K
Beneficial for mature or damaged skin
User Reviews
Ingredients
Paired Products
Resources
Ingredients
GUNILLA® Hyaluronic Acid & Ginseng Facial Serum:
100% Organic "Greenhouse and Hydroponically Grown" Pure Whole Leaf Aloe Vera Concentrate, Purified Water, Propylene Glycol, Vegetable Glycerin, 5% Panax Ginseng Root Extract, Polysorbate-20, Chondrus crispus (carrageenan), 1.5% Hyaluronic Acid, Phenoxyethanol, Caprylyl Glycol, Hydrolyzed Elastin, Hydrolyzed Glycosaminoglycans, Butylene Glycol, Oryza Sativa (rice) extract, Glycine max (Soybean) Seed Extract, Daucus Carota Sativa (Carrot) Root Extract, Chenopodium Quinoa Seed Extract, Ginseng root extract, sodium PCA, glycoproteins, glutamic acid, valine, threonine, Ethylhexylglycerin, Sodium Metabisulfite
GUNILLA® eye-de-puff
Ingredients: 100% Organic "Greenhouse and Hydroponically Grown" Pure Whole Leaf Aloe Vera Concentrate, Purified Water, Glyceryl Stearate, Cetyl Alcohol, Vegetable Glycerin, Yeast Extract, Caprylic/Capric Triglyceride, Hydrolyzed Elastin, PEG-100 Stearate, PEG-12, Steareth-21, Steareth-2, Caprylyl Glycol, Phenoxyethanol, Polyacrylamide, C13-C14 Isoparaffin, Laureth-7, Hydrolyzed Glycosaminoglycans, Sodium PCA, Butyrospermum Parkii (Shea Butter), Panthenol Pro Vit-B5, Organic Extracts of -Red Vine, St John's Wort, Arnica Montana, Witch Hazel, Horse Chestnut, Ivy ), Allantoin, Polysorbate-60, Vit-E Tocopheryl Acetate, Thioctic Acid (Alpha-Lipoic Acid), Vitamin-K