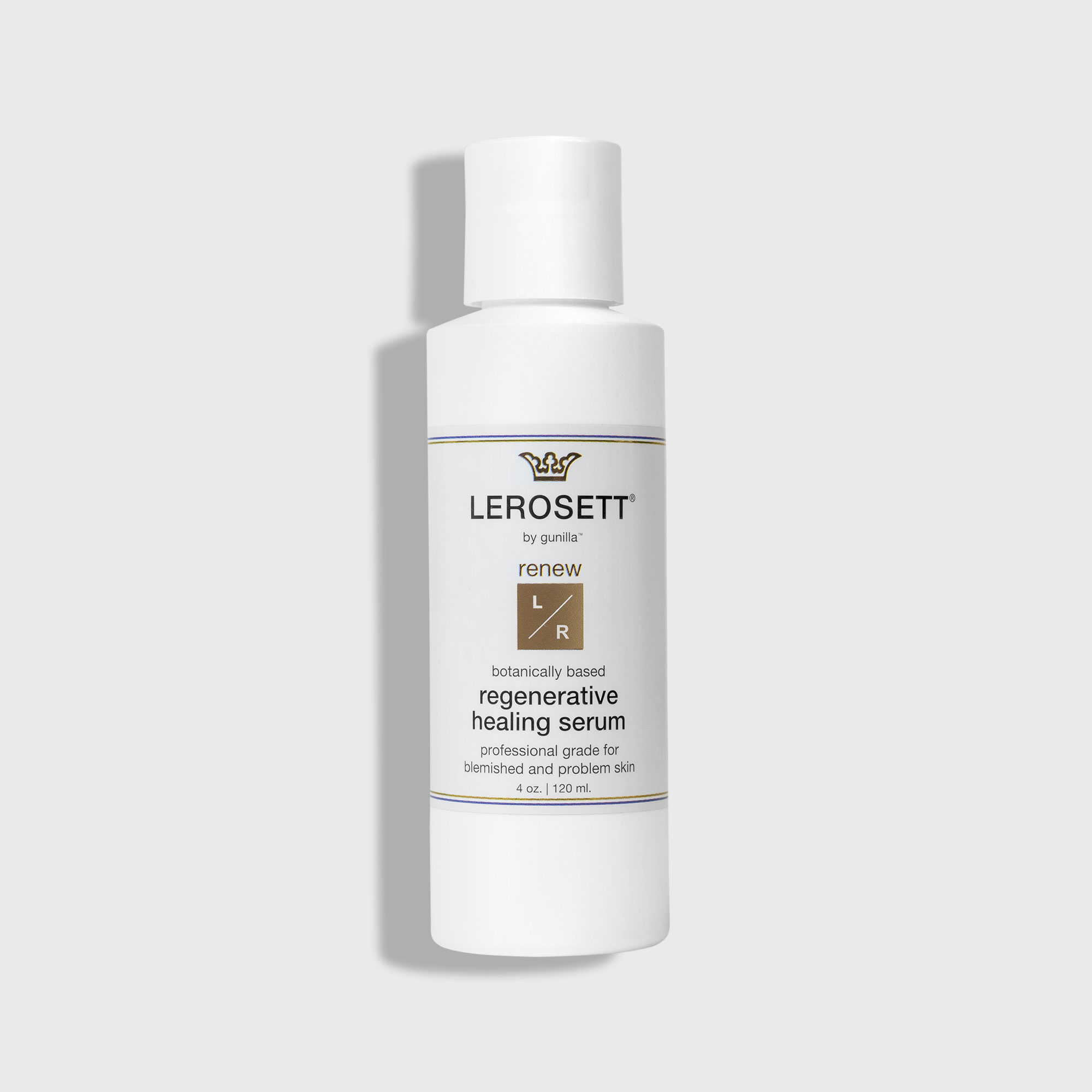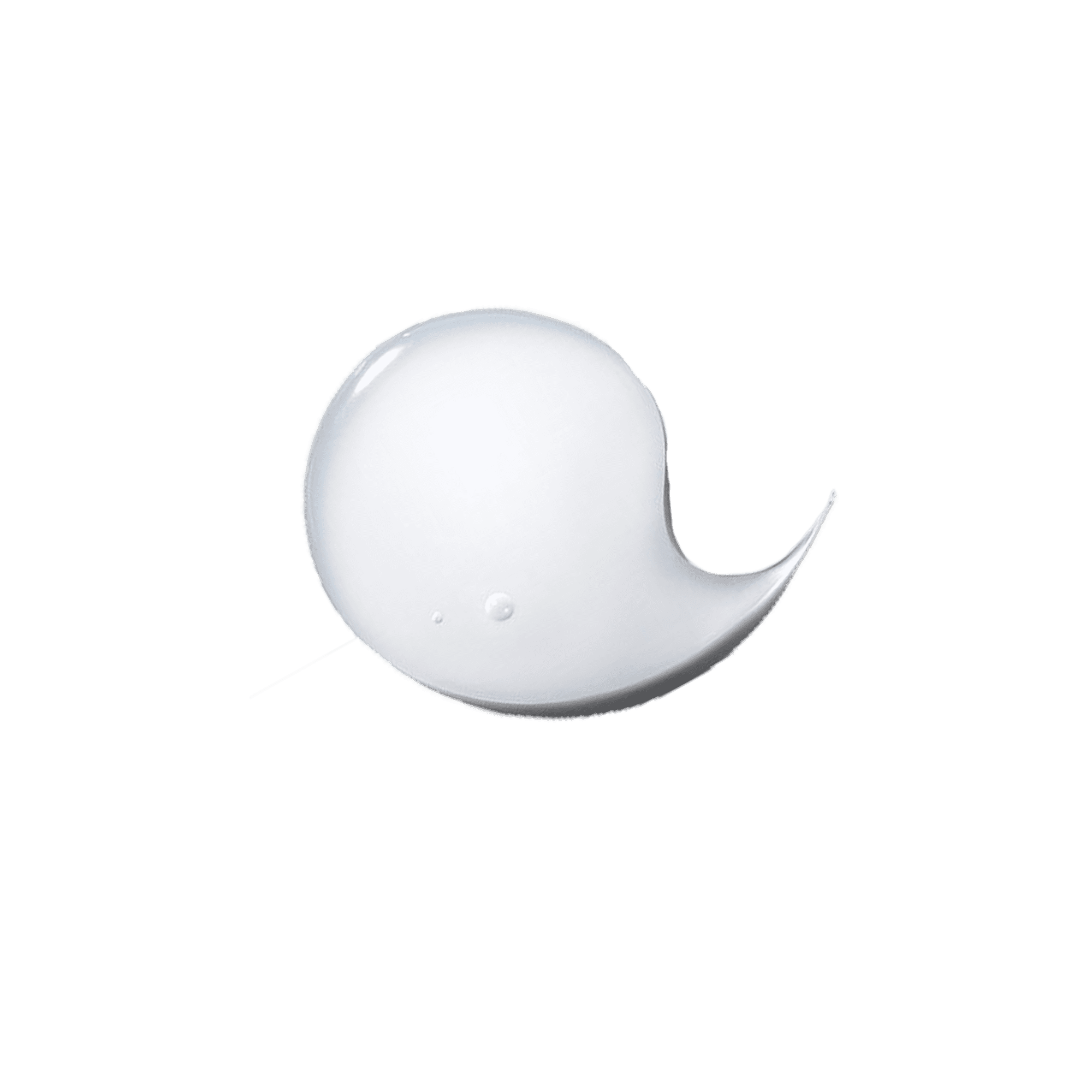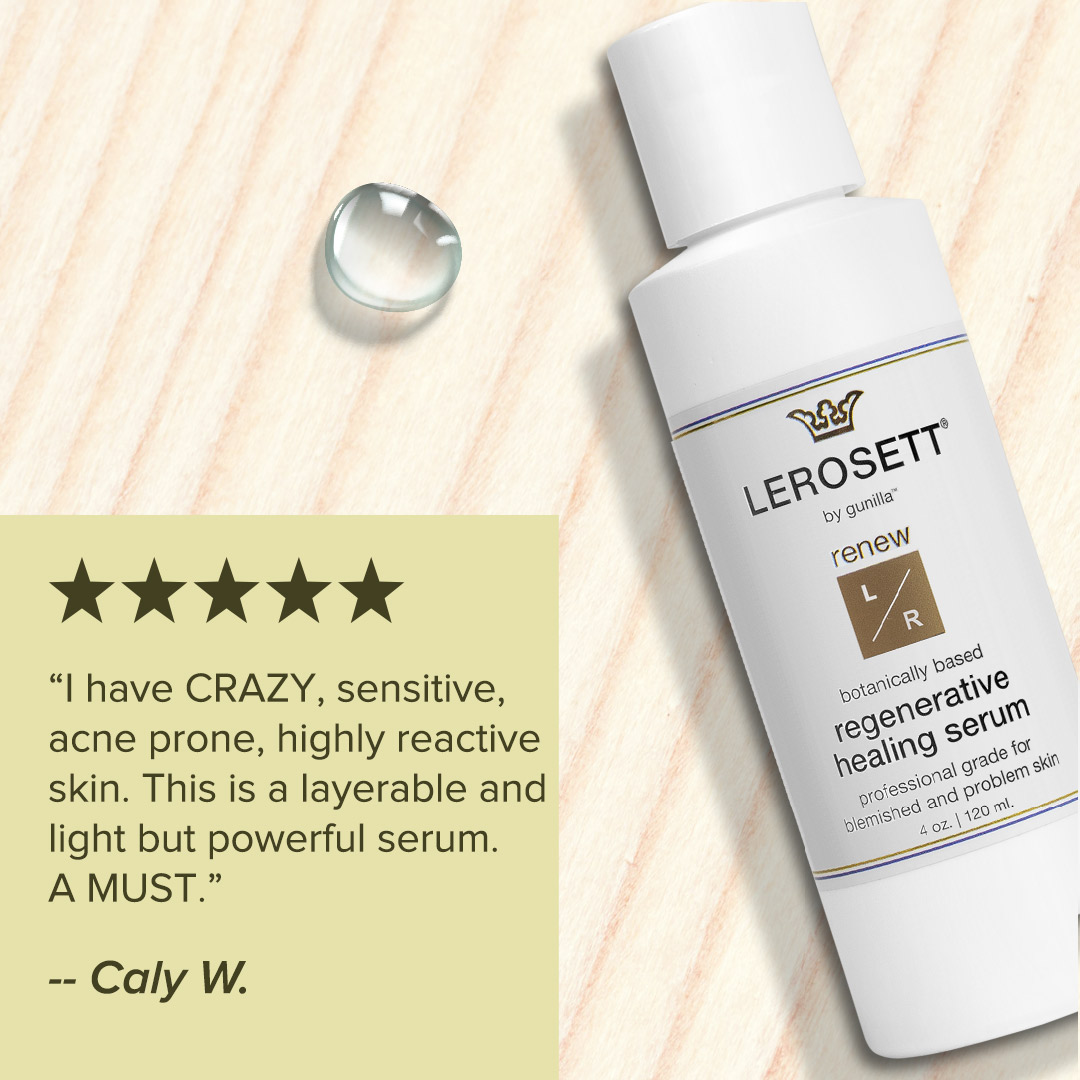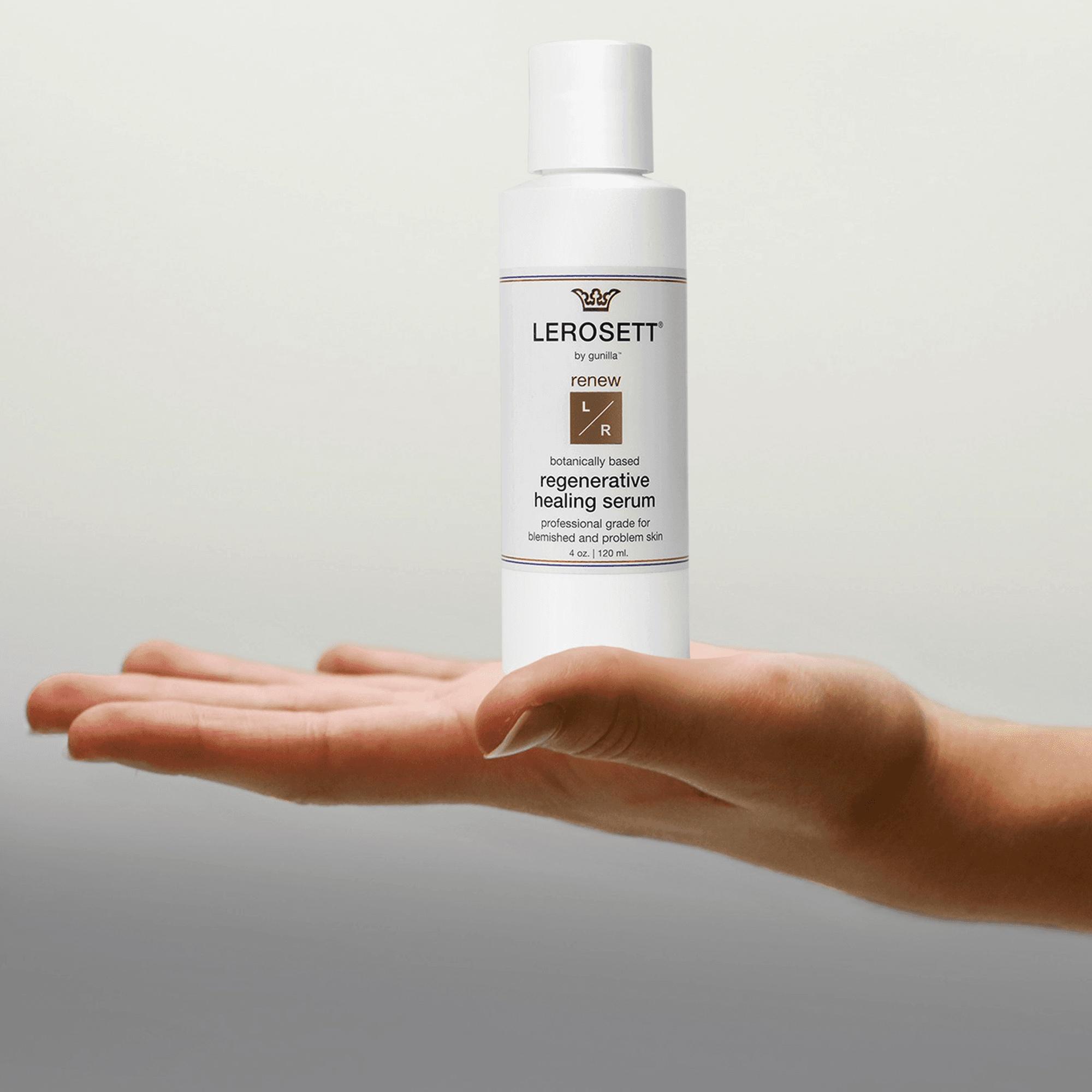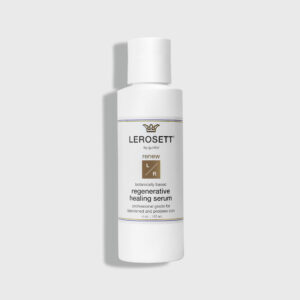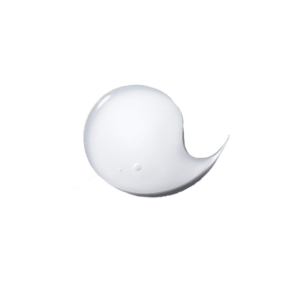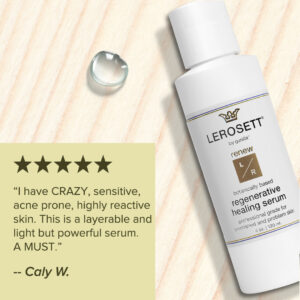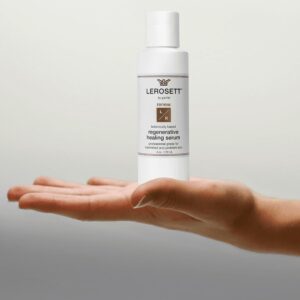 Why Is It Different?
Skin that is prone to breakouts can often have noticeable inflammation and scarring even after clearing. This specially formulated, collagen-rich botanical serum can help heal and prevent skin damage like scars, redness, and hyperpigmentation by naturally boosting the skin's repair cycle.
What Does It Do?
This serum helps heal existing redness & inflammation with organic aloe & ginseng, and also naturally enhances the body's repair cycle with collagen-boosting natural & adaptogenic ingredients to increase cellular turnover. Highly concentrated, the smaller molecules absorb faster and penetrate deeper for more effectiveness.
• 96% experienced a reduction in skin redness/irritation*
How To Use
Apply 2-3 drops after exfoliating and cleansing, as well as throughout the day as needed, and before bedtime.
About & Clinical's*
Regenerative healing serum
• 99% of users saw an improvement in their complexion*
• 96% experienced a reduction in skin redness/irritation*
• 99% felt their skin was softer & smoother*
• 90% reported fewer pimples and blemishes*
*Based on an independent consumer study of 72 participants
Why you need it: Those with problem skin often have noticeable inflammation and scarring from acne. This specially formulated, collagen-rich botanical serum can help heal and prevent skin damage caused by problem skin.
How LEROSETT® Botanically-Based Adaptogenic Serums Work
Serums compromise smaller molecules than creams. Our nutrient-rich aloe-based serums enable active ingredients like collagen, elastin, Panax ginseng, red algae, and more to better penetrate the skin. Mucopolysaccharides are in a large class of ingredients like hyaluronic acid. They help maintain and support collagen and elastin in the cellular spaces and keep protein fibers in balance and proportion. It also promotes the ability of the collagen and elastin fibers to retain moisture, therefore remaining soluble.  
Details
4oz Pro-Size
Highly-concentrated, a little goes a very long way
Only 2 to 3 drops are needed to hydrate & help diminish scarring.
Expect Results
Our time-tested formula allows active ingredients like hydroponic aloe, collagen, ginseng, elastin, and red algae to penetrate the skin's lipid barrier more effectively.
Cruelty-free, Hypo-allergenic & Formulated Without
Parabens
Oils
Sulfates
Phthalates
Dyes
Benzoyl Peroxide
Sulfur
Unnecessary Chemicals
How it Works
Step 2
The Proven Potency & Countless Benefits of LEROSETT® Products Based on Hydro-Organic Aloe
Our organic aloe is greenhouse-grown in a temperature-controlled environment without pesticides or herbicides. Our aloe is hand-planted, nutrient-infused, and grown in recycled water, not in soil.
Based on 64% of our unique greenhouse-grown 100% organic aloe, LEROSETT® Regenerative Healing Serum is therapeutic by its very nature. It has countless benefits over conventional serums, using water or oil as the main ingredient. Our nutrient-infused aloe base helps combat free radicals and signs of environmental damage with potent anti-inflammatory properties that reduce redness and inflammation.  
LEROSETT® The Only Acne Brand Using Aloe as the Main Ingredient Instead of Water
Organic aloe is one of the few natural substances scientifically proven to benefit the body. Loaded with more than 200 active components, including amino acids, enzymes, vitamins, minerals, polysaccharides, fatty acids, etc. When aloe is in concentrations greater than 60% is lethal against various organisms.
Aloe penetrates tissue – Unlike water, aloe can be absorbed by the skin. It is absorbed deep into the skin's layers due to lignin, a substance similar to cellulose. When used as the main ingredient, this ability allows aloe to act as an excellent carrier for the other components of aloe vera and other botanicals and active ingredients. –The active ingredients used in LEROSETT® products are more effective.
Anesthetic properties of aloe – Aloe has a high magnesium content and contains aspirin-like compounds, making it an effective treatment for wounds and countless skin conditions like acne. –LEROSETT® products help reduce the pain of cysts and acne.
Aloe has antimicrobial properties – The antimicrobial compounds in aloe include saponin, which has antiseptic properties, and barbaloin, which prevents the growth of Mycobacterium, bacteria famous for causing severe bacterial infections. A 1979 study by Heggers et al. showed that aloe in concentrations greater than 60% is lethal against various organisms. Bacteria is a leading cause of acne. -LEROSETT® products help kill bacteria.
Aloe is an anti-inflammatory – Aloe contains natural salicylic acid, a beta-hydroxy acid known for its anti-inflammatory capabilities. Additionally, it includes sterols that inhibit acute inflammation, similar to cortisone, but without the side effects. Nearly all skin conditions stem from inflammation, making aloe the perfect ingredient for acne treatments. –LEROSETT® products help reduce the size of pimples and cysts.
Aloe is proven to heal wounds – Scientific research has shown that several components in aloe are responsible for the substance's excellent ability to regenerate cells. These include gibberellin, a growth hormone-like substance that increases protein synthesis, and lectin, a protein that increases collagen activity and improves the collagen matrix. As a result, LEROSETT® products help heal acne and improve skin health.
How To Use
Step 2
Apply 2-3 drops to fingertips and smooth into clean skin.
Please note: If your skin feels sticky, you have used too much! LEROSETT® Healing Serum is highly concentrated and 1 oz will last 60 days when used AM & PM
Follow with LEROSETT® Moisture Matte™ Moisturizer (for oily normal skin) or Gunilla Deep Skin Moisturizer with Ceramides (for dry skin, sensitive, mature skin).
LEROSETT® Healing Serum for the face and body can be used anywhere to soothe skin and guard against hyperpigmentation, dark spots, or acne scars.  Great for sunburns, and post-shave.  
Active & Botanical Ingredients
Botanical Ingredients
Aloe Vera
Contains vitamins A, C and E, which are antioxidants. Over 9 Vitamins & 9 Minerals, 20 Amino Acids, 7 Enzymes that significantly increases collagen synthesis
Anti-Inflammatory, antimicrobial, helps heals wounds and fades scarring & and is one of the only known substances which can penetrate the dermis layer of the skin
Mucopolysaccharides help bind moisture into the skin and work effectively with ceramides, Stimulates fibroblast produces collagen and elastin to help heal skin & wounds
Ginseng Root
Helps boost the circulation of your skin improving colllagen production-Helps brighten and revitalize your complexion
Antioxidant properties protect your skin from free radicals-Reduces appearance of fine lines and wrinkles
Mallow
Creates a barrier that can help skin hold onto moisture
Prevents cell damage from environmental factors
Alpine Rose
Alpine Rose can protect the skin from UV damage, and so much more!
Tilia Sylvestris
Detoxifies the skin, and locks in moisture with water-binding properties
Helps to slow down the aging process by lowering inflammation
User Reviews
Ingredients
Paired Products
Resources
Ingredients
Healing Serum Ingredients:  Aloe Barbadensis Leaf Juice*, Purified Water, Glycerin, Panax Ginseng Root*, Polysorbate-20, Chondrus Crispus (Carrageenan)*, Phenoxyethanol, Caprylyl Glycol, Sodium PCA* Propylene Glycol, Hydrolyzed Glycosaminoglycans*, Hydrolyzed Elastin*, Glycoproteins*, Glutamic Acid*, Valine*, Threonine*, Ethylhexylglycerin, Sodium Metabisulfite, Collagen*, Hydrolyzed Keratin*, Butylene Glycol, Malva Sylvestris (Mallow) Flower/Leaf/Stem Extract*, Tilia Americana (Linden) Flower Extract*
*High-Potency Ingredients
Free of petroleum, oil, sulfates, phthalates, synthetic dye, synthetic fragrance, benzoyl peroxide, salicylic acid, and sulfur.