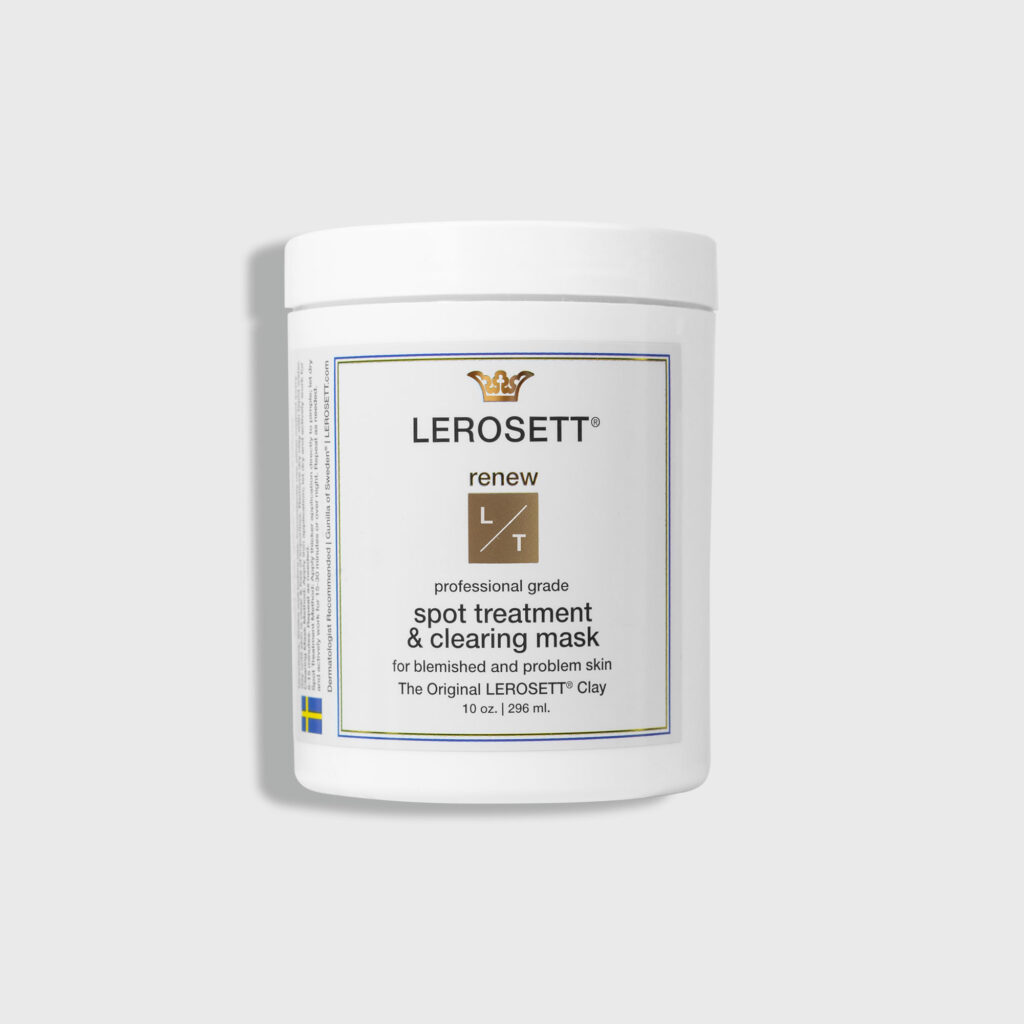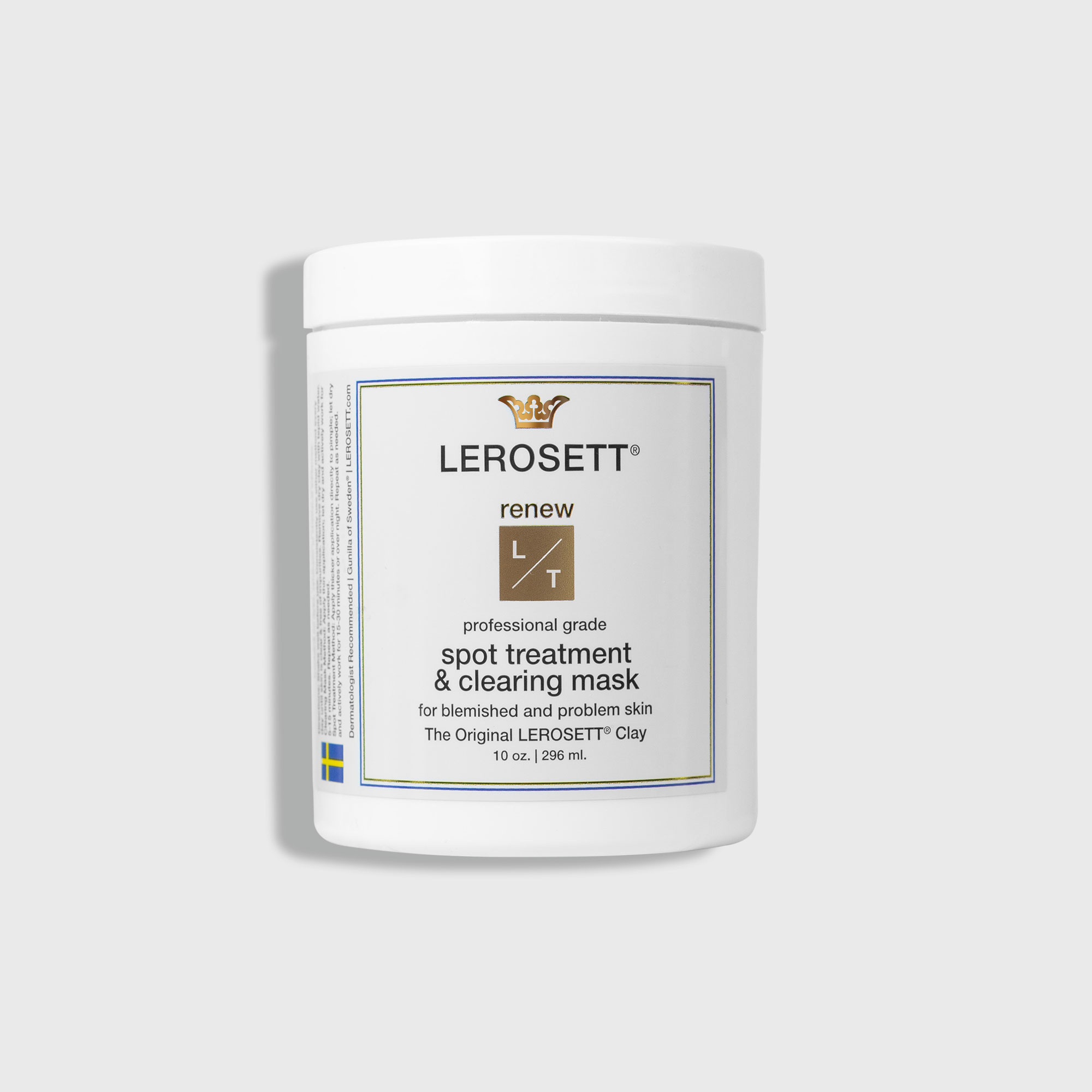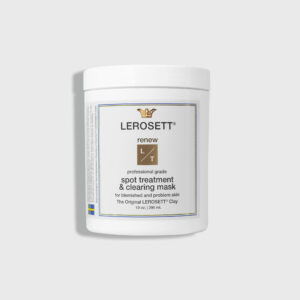 Product Overview
Product Overview
10oz Big-Mouth Jar LEROSETT® Spot Treatment & Clearing Mask (Clay Treatment) trusted by dermatologists, top spas, and over a million users to achieve healthy clear skin for over 30 years. Our proprietary 100% organic clay is effective against pimples, acne, oily skin, blackheads, congested skin, ingrown-hairs, detoxifies & much more.— No Chemical Additives, Made in Sweden.
LEROSETT® is NOT a regular clay mask. It exfoliates & detoxifies without acids or chemicals, and natural zinc helps reduce sebum production and heal damaged skin. It's up to 15x more potent than common clays like bentonite or kaolin, allowing for an ultra-thin fast-drying mask or spot treatment. 
Same largemouth, easy access jar used by professional estheticians during professional facials since 1987. Each 10oz jar has 100 full facial clay masks. 
—3oz Tube 30 Masks or 200 Pimple Spot Treatments  $26.95
Order-Risk Free
Cruelty-Free Products
Details
Stop a Pimple Fast! Spot-treat a new pimple the moment you first notice or feel it's there. Spot treat quickly, and often with just a little bit of LEROSETT® clay, the pimple should disappear within hours or overnight.
See "How to Use" for details.
Reduce Scarring Spot treat a pimple many times after extracted to absorb infection. As the clay dries, it pulls the opening closed, reducing potential acne scars.
Sleep in a Mask! LEROSETT® is so thin; you can spot treat or sleep in a full clay mask without the fear of bleaching or chemicals.
Goodbye maskne! Just a translucent, 1-millimeter thin layer of clay worn underneath your COVID safety mask can prevent mask-related breakouts.
Formulated for all skin types and sensitive skin.
For both men and women. Hypoallergenic. Non-comodegenic.
How To Use
How To Use
Step 1
LEROSETT® is a Remarkably Versatile Skincare Product:

Facial Mask Method: Apply LEROSETT® Clay in a light, translucent layer. Gently rub the clay into your skin, allow the mask to dry and work for 5-15 minutes, then remove with lukewarm water.
One of the only clay masks you can sleep in:  Apply a thin mask to problem areas, overnight masking is popular and effective.
The secret to clear skin: To clear pimples or acne the more masks the better. Cystic acne can take 1 – 3 masks per day, then lessening to 1 mask daily as you reach your clear point. Contact our acne team for assistance.
For those with deep acne, purging can occur. Purging can seem like more acne, but it's not. The clay is pulling out clogs deep in your pores that can cause your next cycle of pimples. If you push through purging by masking every day, the end result is clearer skin. Be patient, and mask every day during your clearing phase.
Always patch test a small area to test sensitivity.
Step 2
Spot Treatment: Apply over the pimple, don't rub it in, a bit thick is OK, about 15-20 minutes dry time. Spot treat pimples several times per day, and overnight. The bigger the pimple, the more clay, and the more often you spot treat.
Stop a pimple before it starts:  Spot treat as soon as you notice a potential pimple coming, do it quickly, and often, usually the pimple will just disappear.
After a pimple extraction:  If you pop a pimple, spot treat the opening often and overnight, this helps heal and close the opening faster while minimizing scarring.
Thick or Thin Clay:  If you like LEROSETT® clay thicker, leave the cap off for 2-3 days, and the clay thickens naturally.  
Step 3
After every mask, apply an oil-free, aloe-based moisturizer like the LEROSETT® Moisture Matte or Healing Serum.
Please Note: After 30 years, we have gotten LEROSETT® to the perfect thickness for most users. They can mask and spot treat with the clay as is. If you like your clay thicker, we formulated LEROSETT® Clay to thicken in 2-3 days, naturally — leave the cap off!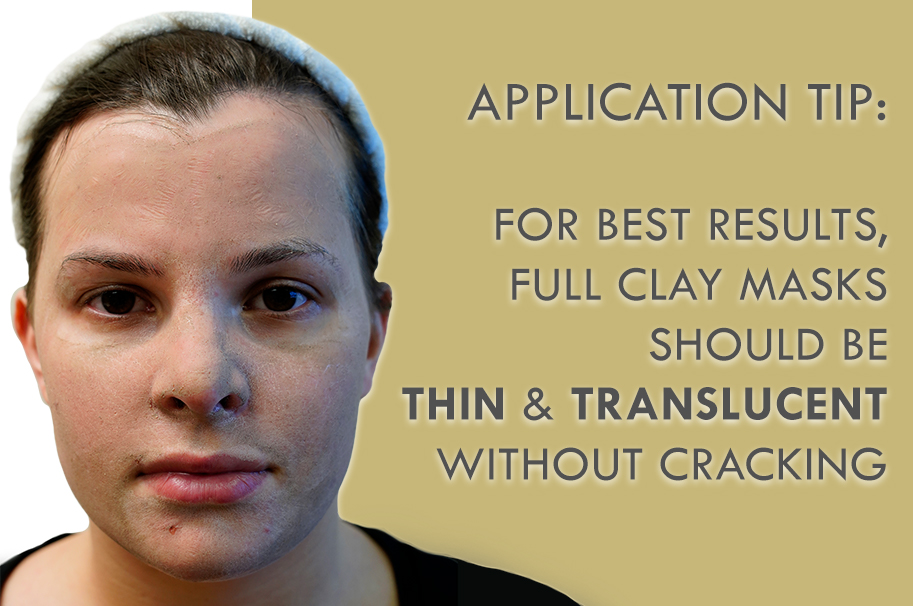 Botanical Ingredients
Botanical Ingredients
Botanical Ingredients
LEROSETT® Clay Treatment Proprietary Formula
100% organic rasul clay & water (Proprietarily heat-treated for up to 15x stronger absorption)
Micronized for super-fine particles (deeper pore penetration) Only 1 mm thick facial mask
Ultra-high ionic charge (Static charge adheres clay to skin impurities like a magnet)
High levels of zinc & other minerals (Helps heal and reduce oil production)
No added chemicals or other ingredients (Clay particles attach to skin impurities )
Up to 90% less sand and impurities than common clays (3 oz tube = 30 Facial masks)
User Reviews
Ingredients
Resources
Ingredients
INGREDIENTS: Proprietarily Heat Treated, 100% Organic, and Micronized Rasul Clay and Distilled water. Contains no dyes, synthetic or chemical additives.
Why LEROSETT® is so effective:
LEROSETT® Clay particles are naturally ionic (natural static charge). When activated by water, LEROSETT® acts as a (- charged) static-magnet to pull (+ charged) pimple-causing impurities (such as oil, dead skin cells, and toxins) onto the clay particle and out of your skin. LEROSETT® Clay can absorb more of the impurities in your skin because there are zero impurities in the Clay itself. Aloe, botanicals, or other chemicals (if included in our Clay) would have coated the clay particles before the Clay has a chance to bond and remove the impurities from your skin. This is the reason why you can feel the Clay working even when using a thin layer.
How is LEROSETT® Different compared to dry clays and other wet clays? 
A 3oz tube of LEROSETT® Clay contains 30 full face masks, and the proprietary heat-treated Clay has the highest ionic charge (static charge) of all clay types. LEROSETT® has among the highest mineral content of all clays. For example, the high concentrations of zinc in our Clay can boost proteins that protect against infection and minimize the oil production that caused a pimple in the first place. This is why LEROSETT® can usually remove a pimple overnight. LEROSETT® has also been shown to help bug bites, rashes, ingrown hairs, sunburns, razor burn, remove the pain of waxing, pre and post, and much more.
Dry Clays: Plain unfiltered, dry clays contain crushed sand and require up to two pounds of dry Clay for approximately 30 facial masks. Also, Rasul clay is over 20X more expensive per pound than Bentonite or other common clays.  Add the water, and it takes around 5-6 pounds of dry Bentonite Clay and water to make 30 facial masks that need to be 1/8″ to 1/2″ thick. The financial cost becomes equal at this point. Dry Clay also must be mixed by hand and is messy. LEROSETT® is ounce for ounce 12x-20x times more potent than untreated, unfiltered, dry clay products.
Wet Clays:  Common wet clay products are crowded by other ingredients like oils, sand, botanicals, debris, or other additives, and those added ingredients weaken the ionic attraction. In this case, the clay particles are already coated by the impurities in the product itself. That is why LEROSETT® Clay does not contain our unique aloe, other botanicals, or added chemicals. LEROSETT® clay particles can absorb more oils and impurities in your skin because there are no added impurities in the Clay itself. Because LEROSETT® has such a strong absorption ability, only a very thin 1 millimeter is needed. Because LEROSETT® is rubbed into the skin, once dry, you should be able to sleep with a full mask. In the morning, the mask will be dark brown from all the oil it has absorbed.