FAQ | General and Shipping
Our 90-Day Money Back Satisfaction Guarantee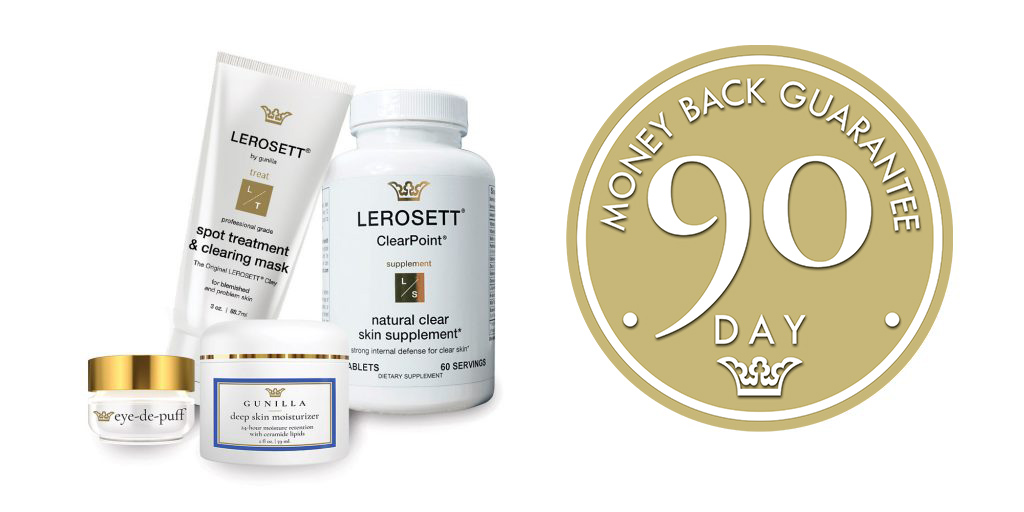 We promise you:
if you are not satisfied with your results after 90 days from purchase, we will refund your purchase price!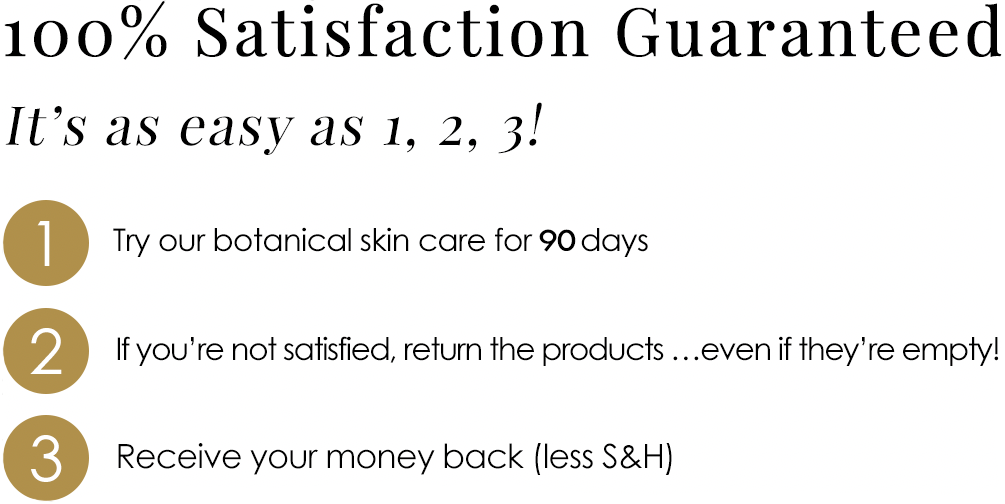 Our Team Gunilla Skincare Gurus Are Ready to Help!
How do I return an item purchased through Gunilla of Sweden®?
Returns for items purchased on www.gunillaofsweden.com may be accepted for return within 90 days of receiving your product.
Any items purchased through Amazon.com or other vendors must be returned to the seller directly.
We recommend using a return method that provides tracking, so you can ensure your return has reached us.
Gunilla of Sweden® is not responsible for return shipments that fail to reach us and do not have tracking.
Once your return has been received, we will refund your order for the cost of the products and applicable taxes only — the shipping cost will not be refunded.
How to Initiate a Return:
1) Contact Customer Support to let us know the issue
Call: 866.551.5505
Email: customers@gunillaofsweden.com
2) Complete the Return Form you will receive and include it with your return as well as the provided Return Authorization #
Please write your RA # on the outside of the return package
3) After you have contacted us & completed the Return Form, you can then return your item(s) within 90 days of receipt to the following address:
GOS Return Department
9185 Bond Street
Overland Park,
KS 66212
Once your return is received and inspected, we will email you that we have received your returned item and processed your refund. If you are eligible for a refund, a credit will automatically be applied to your credit card or original payment method, usually within 3-10 business days.
PLEASE NOTE: Free Items & Free Shipping
The Following Rules Apply to ANY FREE ITEM PROMOTION or GIFT:
 1) Anything marked as "FREE" is only free if the items purchased to qualify for the free item are not returned. This includes free items with systems, promotional offers, and free shipping charges.*
2) If an item is returned for a refund then purchased again later, it will not be eligible for a refund a second time.
Abuse of our promotions and gifts increases our operational costs, which are intentionally kept to a minimum to ensure our products retail at affordable prices for you.
3) When you select the free shipping option, a shipping fee will be deducted from your refund.
*This is to avoid a purchase with the sole intention of returning everything only to keep the free item.
How are orders shipped in the United States? Do you ship internationally?
Orders placed directly through the website can ship via USPS (United States Postal Service) or UPS (United Parcel Service).
Most orders over $30 are eligible for Free Shipping within the USA and will be sent via USPS First Class unless the customer purchases an expedited shipping method at checkout. Products that do not qualify for free shipping will be noted on their 'add to the cart page and will not display a Free Shipping option at checkout.
Expedited shipping options are available on any purchase at checkout, and will adjust shipping charges will be adjusted accordingly at the final purchase.
Shipping prices will vary depending on the selected shipping carrier, destination, and delivery time specified.
Orders will ship within 1-2 business days, except those placed after midnight Friday will usually ship on Monday.
We are closed on all major holidays and weekends. Any orders placed on these days will ship the next following business day.
Gunilla of Sweden® ships products worldwide where shipping carriers are available. Shipping prices will update automatically in your shopping cart before checkout, and the total amount will vary depending on order size and location.
For the best International Shipping Rates, call us to place your order with exact rate shipping prices: 866.551.5505
Advantages of an account with a password?
Having an account makes you a member with significant advantages. Members have customized accounts to view their past and current orders and payment methods. Members benefit from receiving emails for our seasonal sales throughout the year. These sales include our most significant discounts, free shipping, free drawings, and free items. You will not be overloaded with too many emails, just great seasonal sales that most members take advantage of because they only occur 5 or 6 times a year. Membership is not required to place orders through the Gunilla of Sweden® website.
Am I automatically enrolled for recurring shipments?
Product/kit/duo orders placed directly through the website are one-time purchases. This is a beneficial option for those who like to maintain a skincare routine without losing progress. To sign up for a subscription, you must select the option manually. There are a variety of intervals/discounts to choose from, and you can customize your subscription.
Free Trial purchases are on a 30-day auto-subscription basis.
Subscription frequency customization, changing payment method, or cancellation may be applied by calling 866.551.505 or emailing customers@gunillaofsweden.com.
I am having difficulties placing my order/billing concerns.
For all concerns regarding payments, orders, or product information, please call us toll-free at 866.551.5505. We are open Mon-Fri 9 am-5 pm CST. You can also chat live or send an email. All email inquiries sent within business hours are responded to within 1-2 hours. Those sent outside of business hours will be answered the following business day.
I never received my package.
For domestic and international shipments, if your package has been guaranteed as delivered by the United States Postal Service or UPS, you must file a claim with the postal carrier before contacting Gunilla of Sweden® for replacement items. If tracking is unavailable (for international USPS services), we will determine the resolution case-to-case basis.
Note: Expedited shipping provides more secure tracking methods and delivery options.
My products were incorrect or damaged upon receipt.
When your package arrives, please inspect it thoroughly for any damage that may have occurred during shipping. Unless the product has spilled or is no longer usable, replacement items will not be sent. You have two weeks to contact customer service from the delivery confirmation date to report any issues with your order.
Do LEROSETT® and GUNILLA® products expire?
We do recommend using products within 6-12 months after opening. If stored correctly, unopened products should last for at least 2-3 years. Should you notice any strange smells or textures with any products, please contact us immediately and do not apply to your skin. We will replace the product at no extra charge.