GUNILLA® Organic Skincare Kit + Hydration
65% Organic Aloe + 40 Active & Botanical Ingredients
This easy-to-use 4-part daily regimen is packed with over 40 active and botanical ingredients to promote plump long-term youthful skin. Each product works in harmony to energize and brighten the look of tired, dull skin, providing a supple, dewy feel. All while addressing visible signs of aging, environmental damage, winter dry skin, and sensitive skin.
This routine's synergy and numerous therapeutical benefits are visible from the first day you use these products.
#1 Cleanse, soothe, and restore pH balance with the Herbal Cream Face Wash with 15 oil-free active botanicals.
#2 Boost your moisture barrier and protect against environmental damage with the 24-hour Ceramide Cream A17™ with 17 active & botanical ingredients.
#3 Hyaluronic acid & ginseng complex serum quenches the skin, visibly plumps reduce fine lines, and preserves the moisture barrier.
#4 Banish puffiness, fine lines & wrinkles with the peptide-rich Eye-de-puff A23™ cream with 23 active & botanical ingredients.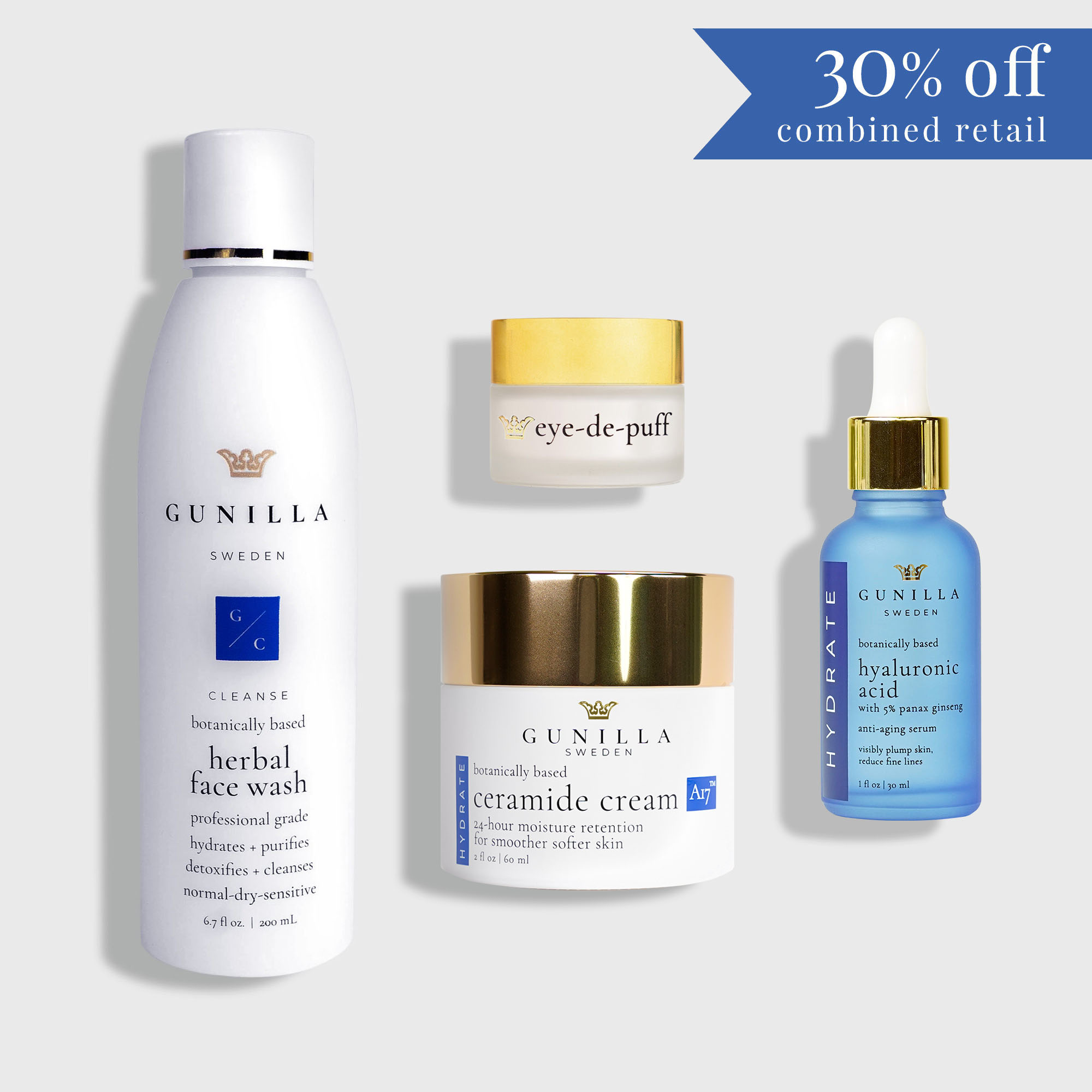 Save 35% on custom Duos
Our duos are hand-selected products that collaborate well together to enhance and revive your skin. Together, the hand-selected products work to efficiently and effectively target your skin. Discover which pairing would work well to complement your skincare concerns.
Gunilla Looks 20 Years Younger
Our founder Gunilla Ross, a pioneer in skincare from Sweden, became a licensed skincare instructor in 1962. She has used her skincare for 30 years and looks 20 years younger than age 80, her age today. Gunilla has worked hands-on with all types of skin conditions and has seen the results of thousands of product formulations spanning over 55 years. One conclusion came that skincare should be therapeutic, healing, and nutrient-based, not based on water that has no nutrients or medicinal qualities. You shouldn't have to choose between active botanicals, high performance, and affordability, Gunilla of Sweden® has it all.
1/1