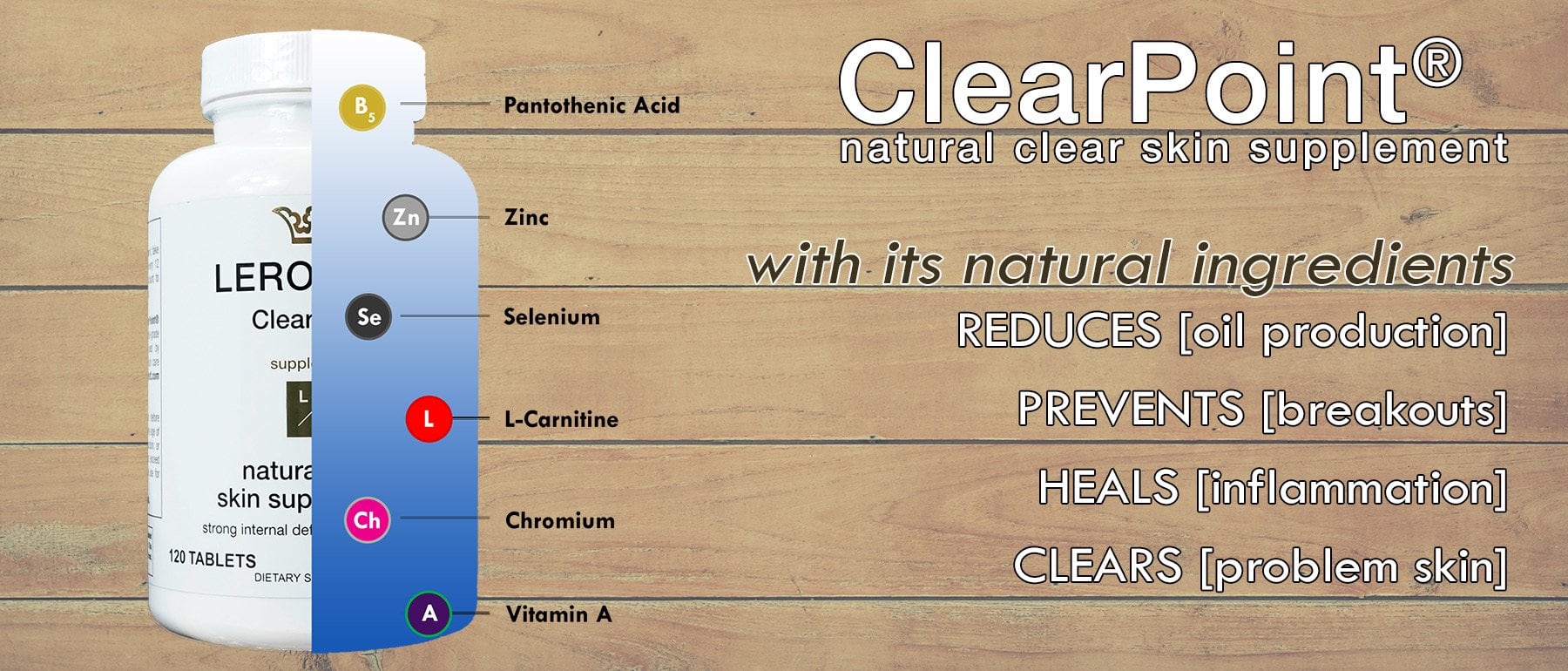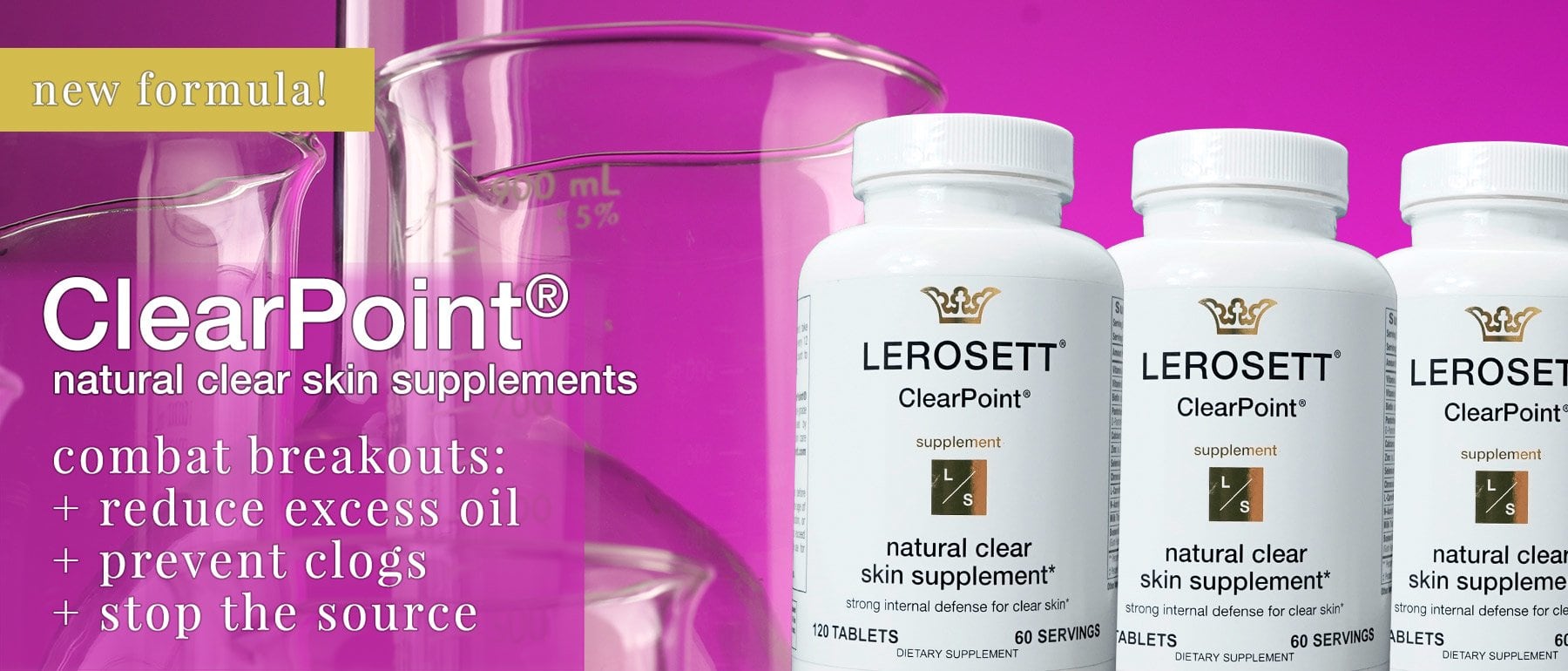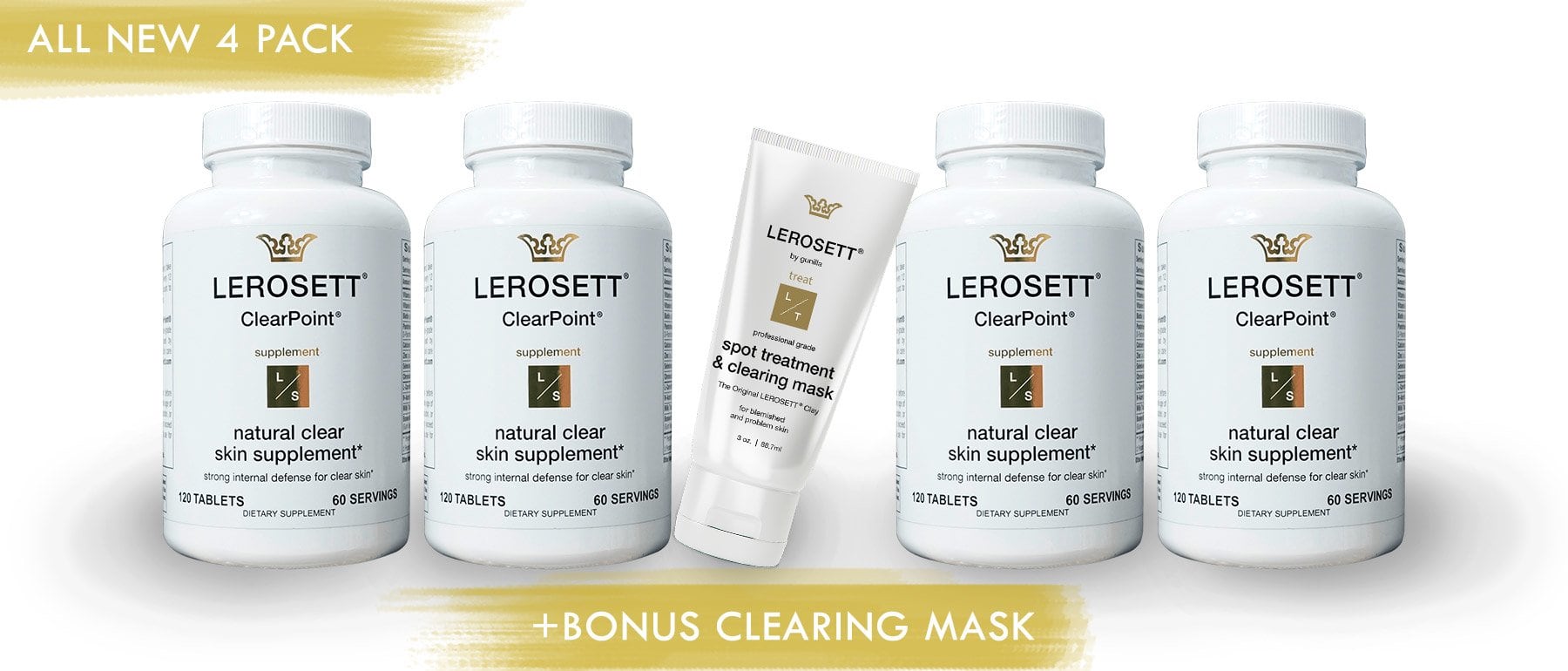 ClearpointSliderAcneSupplementBestHowItWorks1
ClearpointSliderIntroNaturalAcneSupplementBest
Clearpoint_4_pack_with_Clay_organic_acne_best_supplement
ClearPoint® Supplements
by LEROSETT® The Trusted Acne Experts Since 1987
_

LEROSETT® ClearPoint® All-Natural Clear Skin Supplements
Significantly reduce sebum production, treat acne, pimples, future breakouts, and oily skin with ClearPoint® all-natural clear skin supplements. ClearPoint® has a 10-year track record of success with over 100,000 satisfied users!  Full Science Behind ClearPoint®
Easy swallow vegetarian capsules for teens, adults, men, and women. Published ClearPoint® Reviews

Click Here Shop-All LEROSETT® Page
FILTER:
Showing all 5 results
Results and Reviews from ClearPoint® Users
Alex R.
"My son Alex is fourteen and his acne made his life very difficult. I did not want to start the endless cycle of antibiotics making super bacteria. So I did my research, LEROSETT and ClearPoint came up again and again as the only organic acne product. Alex is clear now and his life is so much better, thank you so much for all your help, advice, and knowledge concerning acne. Eva R."
Approximate clear time 1.5 months.

Chris N.
"I tried dozens of brands and was upset to learn that almost all are the same, especially after spending so much I didn't trust acne brands anymore. Every brand was just water and Benzoyl Peroxide or sulfur. I wanted something different. I now know it's the ingredient quality and acne expertise at Team Gunilla that got me clear! I used the ClearPoint Supplements first and then added the LEROSETT acne cleanser, with the Spot Treatment for occasion pimples"

Approximate clear time 1 month
LEROSETT® Organic Acne Kit
ClearPoint® Supplements
Chris utilized our complimentary licensed esthetician's service.




Cynthia J.
"Before using LEROSETT® I tried everything, which didn't work and my face eventually got really bad. Thankfully, when I found LEROSETT® and ClearPoint® my skin began to improve and clear like it never had before. I love the products and my face looks so much better now I sometimes go without makeup. I will be using these products forever and recommend them to anyone suffering from acne!"

Approximate clear time 5 months for severe cystic acne starting at age 13. Consistent daily use of each product is key to success.
LEROSETT® Organic Acne Kit + ClearPoint® Supplements


*Individual results may vary per skin condition- Click Image to Zoom Image