LEROSETT® Botanical Acne Kits
Our Latest Professional Testimonial for LEROSETT®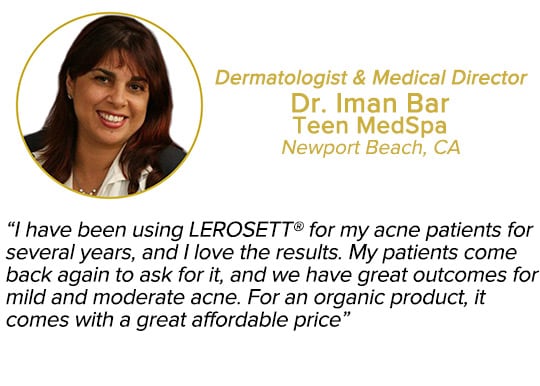 For Professional Results,
You Need Professional Acne Products
LEROSETT® has introduced extraordinary benefits for treating all types of acne and problem skin. Using our proprietary organic clay, and aloe-based products, plus a more natural approach to clearing skin. Using this radically different botanical and organic acne method is why thousands of dermatologist and acne specialists have chosen LEROSETT® for over 30 years.
Oil-Free LEROSETT® acne kits and duos have up to 30 additional herbal extracts to help heal, moisturize, cleanse, calm redness, and swelling. Each LEROSETT® Kit contains our acclaimed Spot Treatment & Clearing Mask (100% Organic Clay Treatment Made in Sweden) exfoliates naturally, absorb pimple-causing clogs while infusing zinc to cut oil production.
You have the choice of non-medicated Botanical Clear Skin Kits or our classic medicated Botanical Acne Kits. Since our acne kits are organic aloe based they are mild enough for sensitive skin, and non-medicated are effective for those wanting a drug-free approach to problem skin.
When you are ready to try a professional acne kit with 2/3 organic content created to help heal the skin, our staff of specialists is ready to help. In the Swedish tradition of natural beauty.
Progressive Image Results and Reviews from LEROSETT® Users
If LEROSETT® can clear skin like this, it can clear your skin, too!
*Individual results may vary per skin condition - Click to Zoom Image