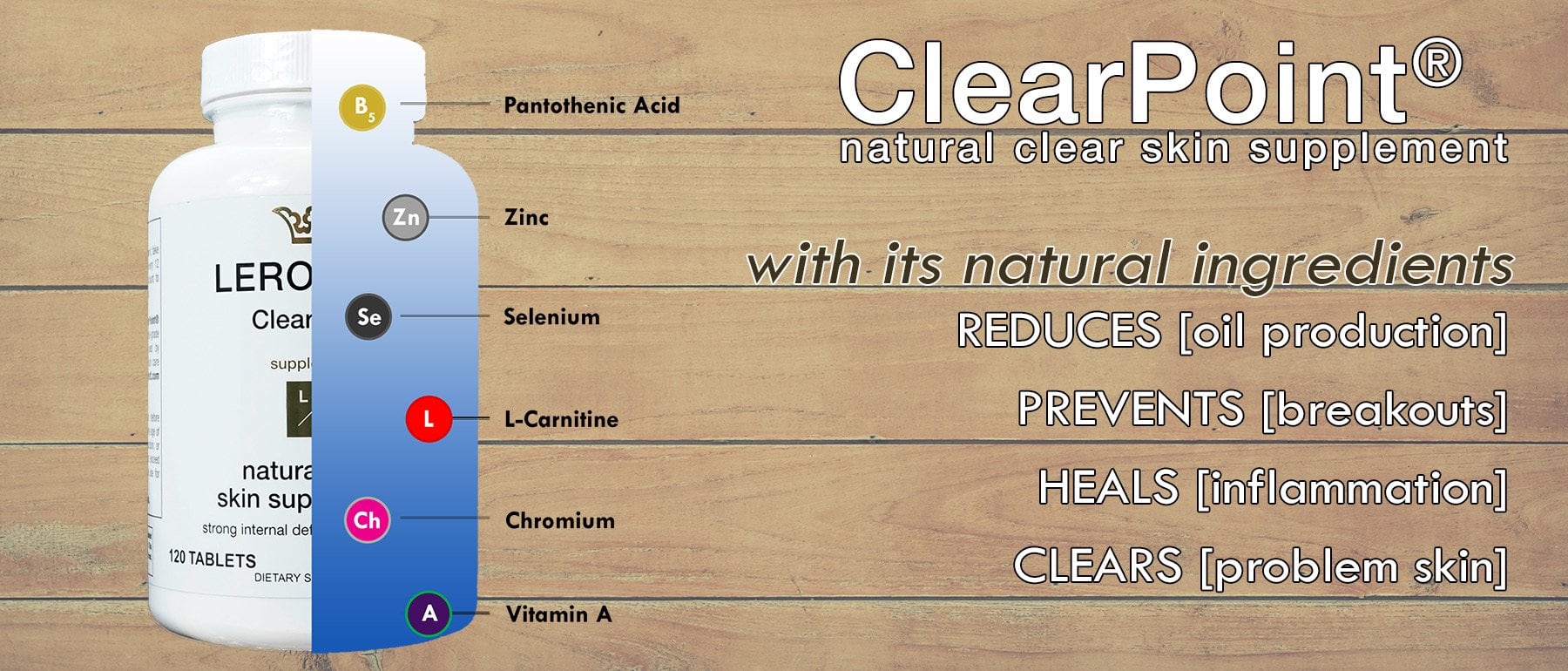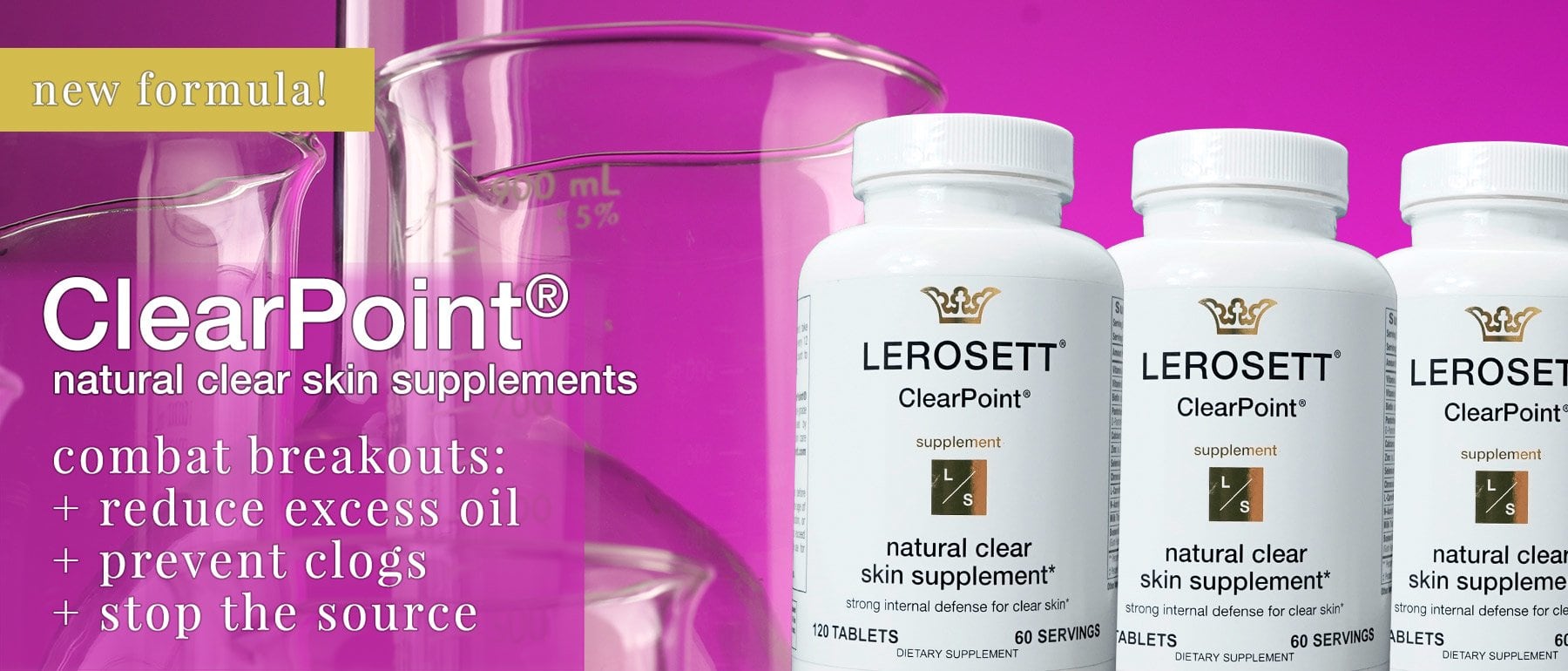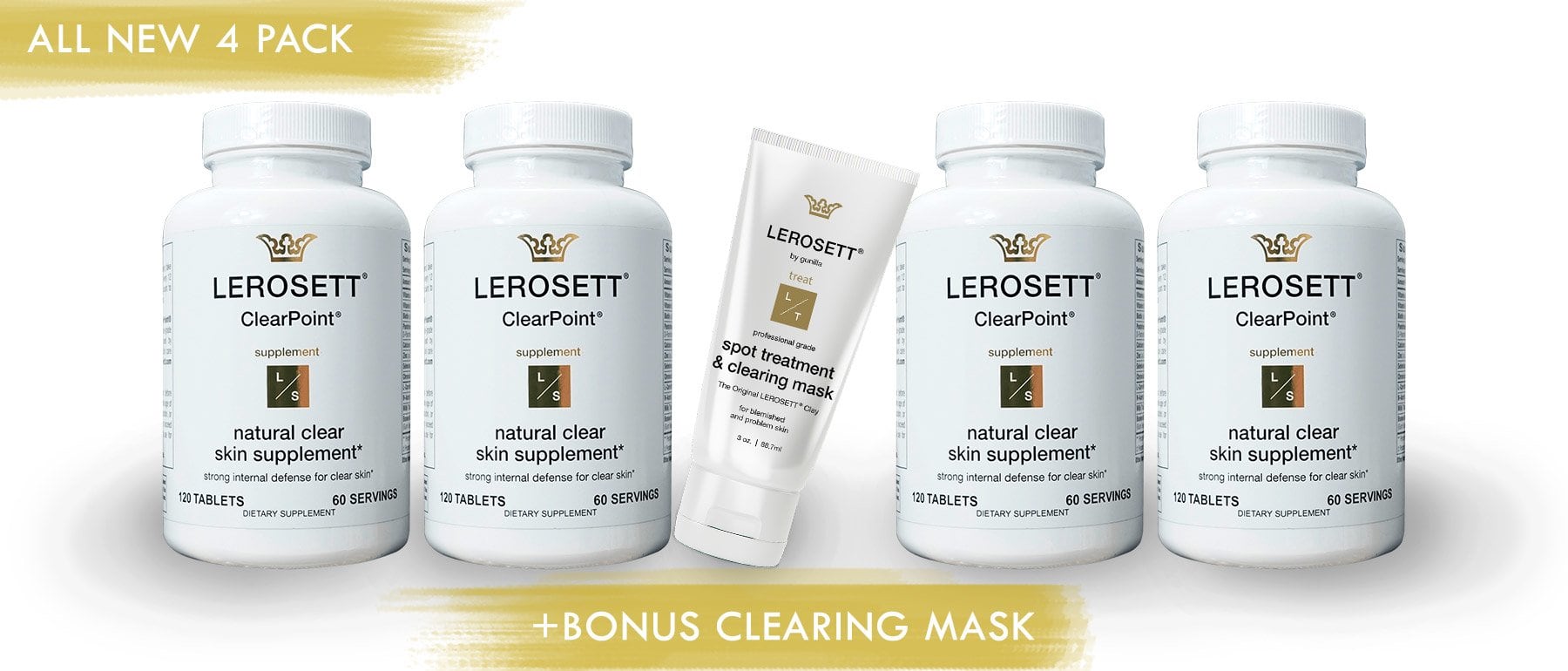 ClearPoint® Supplements
by LEROSETT® The Trusted Acne Experts Since 1987
_


Developed in Sweden After Years of Research ClearPoint® Clear Skin Supplements Help Fight Oily Skin, Pimples, and Breakouts. Perfect pimples and oily skin on the face and body where topical acne products can be challenging to use. Our regular size vegetarian capsules are more comfortable to swallow than conventional tablet-style acne supplements.
A prescription-free, all-natural solution for clear skin. The perfect solution for those needing a boost to their topical acne routine or prefer to treat oily skin and pimples with effective supplements. Can also be used to minimize or speed purging times for those with deep acne with higher chances of longer purging periods.
For all skin types. 
ClearPoint® is not only for clearing pimples but oily skin and hair can benefit greatly. Popular with teenagers and adults with little time for a daily skin care regimen or those needing to jump-start to their daily skin care regimen.
Results and Reviews from ClearPoint® Supplement Users
If ClearPoint® can clear skin like this, it can clear your skin, too!
Alex R.
"My son Alex is fourteen and his acne made his life very difficult. I did not want to start the endless cycle of antibiotics making super bacteria. So I did my research and ClearPoint® and LEROSETT® came up again and again as the only organic acne or botanical acne products. Alex is clear now and his life is so much better, thank you so much for all your help, advice and knowledge concerning acne. Eva Reynolds Alex."

Chris N.
"I tried dozens of brands and was upset to learn that most all are the same, especially after spending so much I didn't trust acne brands anymore. Every brand was just water and Benzoyl Peroxide or water and Salicylic Acid or all three, the worse combination. I wanted something different. I now know it's the ingredient quality and acne expertise at Team Gunilla that got me clear! I used the ClearPoint Supplements first and then added the LEROSETT acne cleanser, with the Spot Treatment for occasion pimples"

Cynthia J.
"Before using LEROSETT® I tried everything, which didn't work and my face eventually got really bad. Thankfully, when I found LEROSETT® and ClearPoint® my skin began to improve and clear like it never had before. I love the products and my face looks so much better now I sometimes go without makeup. I will be using these products forever and recommend them to anyone suffering from acne!"

*Individual results may vary per skin condition- Click Image to Zoom Image