Gunilla of Sweden®
Different in Almost Every Way
Why Gunilla of Sweden® Skincare? Results.
The choice for thousands of dermatologists, estheticians, and top spas since 1987
Our goal has always been to create the practical and effective essentials of daily skin care. Using only professional grade botanically-based formulas, we insist on affordability at a $35 average retail price by selling direct. But don't let the lower prices fool you, we want everyone to experience skincare that would cost $80-$140 at the beauty store.
It is apparent that using 60% greenhouse-grown organic aloe instead of water should make the prices higher, not lower, yet we keep the prices lower. We concentrate on roughly 25 professional products; that way, we have total control over consistency, ingredients, and quality. We can also create kits and duos for combining the most effective combinations.
What Makes Gunilla of Sweden® Botanically Based Skin Care Different? One of Many Reasons is our Clinical Grade Active Ingredients within a Base of Nutrient-Infused Hand-Planted Green-House Grown 100%, Organic Aloe.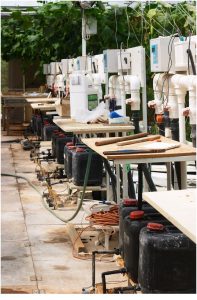 We use hydro-organic aloe vera grown in temperature controlled greenhouses. Our aloe is grown in nutrient-infused water, not soil; the image on the left shows the nutrient control system, monitored daily. Water is recycled and not lost in the earth, and there are no pesticides or herbicides used during the growing period. Because we base our products on super aloe, not oil or water GUNILLA® Skin Care and LEROSETT® Acne Products, have been a professional favorite with millions of loyal fans for over 30 years.
Read more about our aloe base click here 
Why use Hydroponics?
Soil loses its nutrient value over time and can contain plant-damaging disease. Hydroponic plants are grown in water, not soil. The hydroponic method uses balanced plant food that dissolved directly into the oxygenated water so the plant can receive perfect nutrition at all times.

Re-filter the same water, it is not wasted in the soil and the roots are always in water absorbing more plant food and nutrients.
More harvests in a greenhouse; the plants are larger and healthier too.
No herbicides or pesticides and there is no damaging water runoff.
Soil is not able to produce the nutrient levels needed per sq. foot, as the root system is able to take up in hydroponics.
More nutrients are infused into the plant yielding a more effective ingredient, especially when used as the main ingredient in skincare. All GUNILLA®  products are based on a minimum of 60% of our hydroponically greenhouse grown, hand picked and hand planted, nutrient fed 100% organic aloe.  You will notice a quality in feel that products using water as the main ingredient doesn't have. That's another reason Gunilla of Sweden® is in a class all its own.
Swedish beauty is based on simplicity and the care of mind, body, and skin. Derived from nature, active botanical ingredients are packed with essential vitamins, minerals, and nutrients. When using a nutrient-infused aloe base the botanical benefits are increased. Combined with today's scientific advances, they are efficient at giving your skin what it needs to help function properly and minimize environmental skin damage. Not all plants, oils, fruits or vegetables commonly used in so many skin care brands are genuinely active ingredients for effective skincare.
Learn about Gunilla, our founder's amazing story, qualifications, and her listing as one of the pioneers of the skincare industry
Never oil based: We do not use oils as the main ingredients for many reasons. In many cases of normal skin, certain oils can be beneficial to some skin condition, but as a rule, oils do not contain the nutrients of hydroponic aloe. In cases of acne or problem skin, we found that products containing oils would cause more pimples and did not yield the same results as our oil-free, 100% organic aloe or 100% organic clay based LEROSETT® acne products.
How do some skin care brands avoid preservatives? Skincare brands trying to avoid all preservatives have no choice but to make skincare that is mostly all oil. Like olive oil in your kitchen, useful and harmful chemicals are not needed, they last for years. There is more marketing text about the lack of chemicals than the positive effects of the oils. Oil-based skincare has been around for hundreds of years, no one forgot they existed. There is minimal evidence that oil-based skincare is more effective, at least not so effective as to outweigh the mostly non-existent adverse effects of minimal quantities of mild preservatives. There are hundreds of different chemicals and multiple kinds of parabens, good, bad, and very acceptable. Blueberries last longer than bananas; why? They have methyl-parabens in them, not ethyl parabens; we do not use ethyl or butyl parabens, those are different.
Some people like oily skin care, we don't know if its because they love oils or dislike the additives, most people do not like oil-based skin care. The question is, are mild preservatives like those Gunilla of Sweden® uses at the same level as smoking two packs a day, we don't think so. For the last few years, preservatives in skin care have been talked about with such great fear. We want to remind people that there are varying degrees of preservatives, they are not all bad, just like there are varying degrees of effective and not effective natural ingredients. Water is the most common ineffective ingredient in skincare.
Never Water or Juice Based: Products based on water, or juice that's mostly water anyway have limitations because water is not absorbed by the skin. Because our nutrient-infused greenhouse grown organic aloe contains lignin our skincare has the ability to penetrate tissue deeper than products based on oils or fruits. Our aloe base enables actives ingredients like Ceramides, Alpha-lipoic acid, and Alpha hydroxy the enter the skin to heal and rejuvenate naturally.
ABC or Active Botanical Content™ & Fruit Salad Skin Care:  ABC means active botanical content, not every fruit or vegetable is an active skin care ingredient, especially when it's one of the primary ingredients. If skincare ingredients sound good to eat, then they must be good for your skin. Some modern brands have chosen the marketing concept that people will buy skincare products if they know every ingredient. The result is an ingredient list like a fruit salad, they sound great, and people buy them. But does Strawberry, Kiwi and Squash puree, clear acne or remove wrinkles? NO.
When the first ingredient in a skincare product is water, juice or rose water, that's still +95% water, and 70%-90% of the product is still water or filler. Gunilla of Sweden® uses ABC content, Active Botanical Content™ percentages for our unique aloe and 49 other botanical extracts that help the skin. Each product has an ABC percentage, so you know how much of the product is effective botanical content, it's a long list of definite advantages for your skin.
Because our products are high-content organic and botanical based with minimal addatives they can be combined. Examples of Combining GUNILLA® and, or LEROSETT® products together for a custom mix for specific skincare needs:
#1. If you want more collagen added to our GUNILLA® Brighten & Renew Cream with 10% Alpha hydroxy Treatment. In your palm mix 1 or 2 drops of GUNILLA® Cell Rejuvenator Serum into one application of GUNILLA® BRC with 10% AHT for a unique overnight resurfacing treatment with more anti-aging content.
#2. Want a Clay Mask Treatment that absorbs oils and pimples, yet also moisturizes to help heal irritated skin? In your palm, mix 1/2 LEROSETT® Spot Treatment & Clearing Mask (Clay Treatment) with 1/2 LEROSETT® Moisture Matte for a hydrating clay mask with added healing, hydration, and more. This mask will not dry but will leave super soft skin, leave on for up to an hour.
#3.  Say you have a bit more open pimples than normal and you just washed off the LEROSETT® Clay Mask. Now you moisturize with Moisture Matte. Add one application of Moisture Matte in your palm, then add 2 drops of Healing Serum, mix it up in your palm and moisturize your face with added healing and collagen to your skin.
Most use the products as they are; however, the ability to mix products for specific needs is almost endless.
49+ Botanical Skin Care
Ingredients.
Help to restore your skin's radiance and achieve clear skin with powerful natural extracts, sourced from around the world with up to 49 nutrient-rich active botanicals. Ingredients like Siberian Ginseng, Nettle, Pomegranate, and Marigold can stimulate cellular turnover, boost elasticity, repair the skin's moisture barrier, smooth, brighten and clear skin while protecting against free-radical damage.
The Gunilla of Sweden® Skincare Difference
Nutrient-Infused Aloe Has a Multitude of Benefits Over Water
The active ingredients in skincare product are essential and dictate the purpose. The base ingredient used to deliver those active ingredients and nutrients into the skin is even more vital. Our greenhouse-grown nutrient-infused organic aloe contains a substance called lignin that has unusual penetrative properties, making it an excellent carrier to both nourish and create hydration deep within the skin. Clinical research shows aloe to contain over 200 nutritional substances, including 20 amino acids, 18 vitamins and minerals, and eight enzymes which work to penetrate tissue and assist in wound healing — our nutrient-infused greenhouse grown aloe is a superior ingredient to deliver skin changing nutrients to the skin.
Water Only Hydrates the Skin When You Drink It
Why is water the main ingredient in almost every skincare product? Because water is profitable in skincare, water costs virtually nothing.  Water is excellent for hydration when you drink it. However, the skin is not able to absorb water from the outside in. When applied to the surface of the skin, water can quickly cause dehydration through evaporation, thats why comodegenic ingredients like mineral oil and petroleums are added to skincare, to prevent skin from drying out. None of those pore-clogging ingredients are necessary when nutrient-infused greenhouse grown organic aloe is the main ingredient.
GUNILLA® Redefine | Rejuvenate | Renew
Developed in Sweden for all non-acne skincare our GUNILLA® products deliver clinical ingredients within our nutrient-rich greenhouse-grown organic aloe base. With luxurious textures, they work to preserve the natural pH balance, firm, hydrate and increase collagen production to help to regenerate the skin.  Read about Gunilla our founder and Gunilla of Sweden®