Gunilla of Sweden®
Botanical Skin Care
Different in Almost Every Way
Why Gunilla of Sweden® Skincare? Results.
The choice of dermatologists, & estheticians at top spas since 1987
What Makes Gunilla of Sweden® Different?
Our goal for over 30 years has always been to create the practical and useful essentials of daily skincare. Using only professional grade botanically-based formulas, while insisting on affordability at a $35 average retail price.
We concentrate on roughly 25 professional products; that way, we have total control over consistency, ingredients, and quality. We can also create kits and duos for combining the most effective combinations.
Our Main Ingredient is our Clinical Grade Nutrient-Infused Hand-Planted Green-House Grown 100%, Organic Aloe.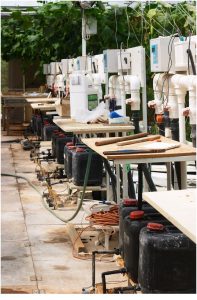 We use hydro-organic aloe vera grown in temperature-controlled greenhouses. Our aloe is grown in nutrient-infused water, not soil; the image on the left shows the nutrient control system, monitored daily. Water is recycled and not lost in the earth, and there are no pesticides or herbicides used during the growing period. Because we base our products on super aloe, and not oil or water, GUNILLA® skincare and LEROSETT® acne products, have been a professional favorite with millions of loyal fans for over 30 years.
Swedish beauty is based on simplicity and the care of body, mind, and yes, skincare. Our hydroponic aloe base has lignin, enabling it to be one of the only known substances that can penetrate the dermis layer of the skin while increasing collagen — helping the skin to heal. The advantages of using over 60% hydroponic nutrient-infused organic aloe as the main ingredient are almost limitless.
Never Oil-Based: We do use some oils, but not as a base ingredient. In many cases, for normal skin, certain oils can be beneficial, but as a rule, oils do not contain the nutrients or effectiveness of hydroponic aloe. Our goal is to make effective skincare that professionals will use that does not feel greasy or cause breakouts.
Never Water Based: Products based on water or juice that's mostly water have limitations because the skin does not absorb water. Our unique aloe base enables actives ingredients like Ceramides, Peptides, Alpha-lipoic acid, and Alpha hydroxy to penetrate the skin deeper for greater overall results.
ABC or Active Botanical Content™ & Fruit Salad Skin Care: ABC means active botanical content™, not every fruit or vegetable is an active skincare ingredient. Using foods as ingredients may sound healthy. But for skincare, the result is an ingredient list like a fruit salad, they seem great, but do Strawberry or Kiwi puree, clear acne, or remove wrinkles? NO.
49+ Botanical Skin Care
Ingredients.
Help to restore your skin's radiance and achieve clear skin with powerful natural extracts, sourced from around the world with up to 49 nutrient-rich active botanicals. Ingredients like Siberian Ginseng, Nettle, Pomegranate, and Marigold can stimulate cellular turnover, boost elasticity, repair the skin's moisture barrier, smooth, brighten, and clear skin while protecting against free-radical damage.
LEROSETT® Acne cleanser & a Regular Acne Cleanser
You Skin Cannot Absorb Water; It Does Absorb Organic Aloe. Water the main ingredient in almost every skincare product.
When applied to the surface of the skin, water can quickly cause dehydration through evaporation. Thats why pore-clogging ingredients like oils and petroleums are added to skincare, to prevent skin from drying out. None of those pore-clogging ingredients are necessary when greenhouse-grown organic aloe is the main ingredient.
100% Organic Aloe Has Countless Benefits Over Water
Greenhouse-grown aloe contains lignin that has unusual penetrative properties, making it an excellent carrier to both nourish and create hydration deep within the skin. Our organic aloe has over 200 nutritional substances, including 20 amino acids, 18 vitamins and minerals, and eight enzymes which work to penetrate tissue and can assist in wound healing like pimples.— our greenhouse-grown aloe is a superior ingredient to deliver nutrients to the skin.
GUNILLA® Redefine | Rejuvenate | Renew
Developed in Sweden for all non-acne skincare, our GUNILLA® products deliver clinical ingredients within our nutrient-rich greenhouse-grown organic aloe base. With luxurious textures, they work to preserve the natural pH balance, firm, hydrate, and increase collagen production to help to regenerate the skin.