Ingredient of the week: Pomegranate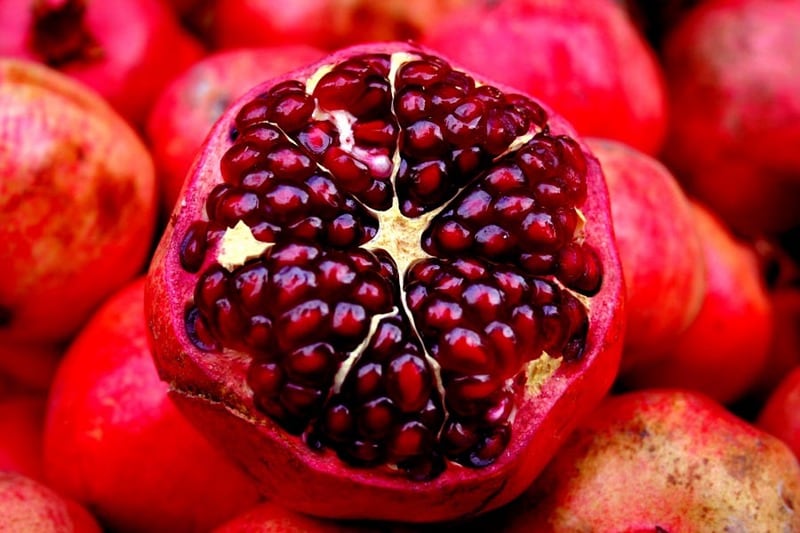 Pomegranates have been touted as some of the healthiest fruits available.  Cleopatra is said to have stained her lips red with their juice.  They have even been accused of being the forbidden fruit that Eve offered to Adam.  And, according to Greek mythology, Persephone's temptation to eat a pomegranate resulted in wintertime.  But, what is so special about these crowned jewels of the fruit world that make them so irresistible?
Pomegranates are found to contain a broad source of antioxidants.  This ranks them among the superfoods like green tea and acai berries.  Three types of polyphenol antioxidants are incredibly high in pomegranates.  These are-anthocyanins, tannins and ellagic acid, which help prevent and repair free radical damage.
They are also a great source of vitamin C, potassium, and linoleic acid.  Punicic acid, found in pomegranate seed oil, is a type of conjugated linoleic acid that helps regulate cholesterol, boost metabolism, and fight cancer.
Along with promoting brain and memory function, protecting against heart disease, dental health, and assisting with food allergy reactions, Pomegranates have a lot of benefits for your skin, as well.
Fights UV Damage
Thanks to all their anti-oxidants properties, pomegranates are a great way to combat the effects of photoaging and reduce inflammation due to sun exposure.
Prevents Wrinkles Through Collagen and Elastin Production
With exposure to free radicals (through sun, stress, diet, and other chemical and environmental factors), our skin begins to break down the connective proteins that form the matrix of the skin. The anti-inflammatory properties of pomegranates help combat this process.
Hydrates
Pomegranate seed oil is known to help lock in moisture with the fatty acid that is contained in the arils (seeds).
Stimulates Wound Healing and Prevents Hyper-Pigmentation
With anti-bacterial and anti-fungal effects, research shows that ointment containing the peels of pomegranates may help stimulate the biochemicals and proteins needed in the repair of wounds and scars.
With so many benefits, it is easy to see how one might find it hard to resist the pomegranate.
References:
https://www.curejoy.com/content/benefits-of-pomegranate-for-skin/
https://www.drfuhrman.com/library/eat-to-live-blog/56/9-pomegranate-health-benefits-that-offer-powerful-disease-protection