Neha's Acne After LEROSETT®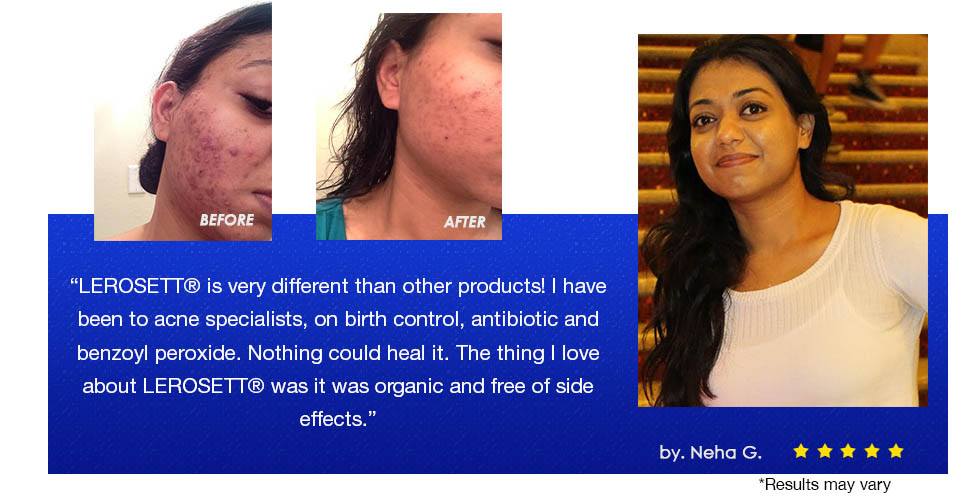 At Gunilla of Sweden®, we pride ourselves on helping our customers achieve clear skin. Not only do we help clear their acne with our custom regimens and skin-specific advice, but we also help our customers regain their self-confidence and help them to improve their quality of life altogether. LEROSETT® acne products are very different, they are FDA approved organic aloe or 100% organic clay-based.
Neha had been diagnosed with acne and was placed on Minocycline, although she decided against it. She contacted Gunilla of Sweden after ordering the LEROSETT® Duo Spot Treatment and Clearing Mask and LEROSETT® Moisture Matte Clear Skin Moisturizer  Once she started the clay, her acne went from mild to severe.  After having trouble clearing, we explained the purging process and suggested she participate in a clinical trial.  Although she had purchased the LEROSETT® Acne Botanical Cleanser, we felt that the swelling and discomfort she was experiencing may calm down if we switched her to the LEROSETT® Clear Skin Face Wash (formerly called the Purifying Face Wash). We started Neha on the Botanical Clear Skin System with Healing.