Product Overview
Product Overview
LEROSETT® 4-Part Organic Acne Kit ads our clear skin balancing toner to remove residual oils, debris, and dead skin cells. Our botanically-based acne kit helps to quickly clear mild to cystic acne. Preventing future breakouts, congested skin, blackheads, minimizing inflammation, irritation, and potential scarring. 98% Organic, Natural, and Botanical.  
100% Organic Spot Treatment & Clearing Mask- In a 3rd party placebo-controlled trial, 100% of participants either got clearer skin or totally clear skin*. And a 1-millimeter thin LEROSETT® Clay mask absorbs up to 15X the impurities of a regular mask— over a million users made in Sweden.
Organic Acne Cleanser, Moisture Matte™ & Clear Skin Toner each product contains over 60% nutrient-infused greenhouse-grown organic aloe, with countless therapeutic advantages over regular water-based acne products. Helps moisturize, soothe, calm & heal damaged skin. Hand planted, no pesticides or herbicides.
Clear Skin Guaranteed!
Cruelty-Free Products
Kits assembled by our local Kansas City ACCESS School Program
Double-Blind Placebo-controlled Trial-Link*
Details
3oz Spot Treatment & Clearing Mask Clear A Pimple Overnight. Super thin mask detoxifies, cuts oil production, improves skin clarity & texture. Naturally high in zinc that helps clear acne-causing bacteria & heals damaged skin.
No Additives.
6.7oz Botanical Acne Cleanser, this twice daily maximum strength acne cleanser with 2% salicylic acid is deeply soothing with 64% organic aloe—a one-of-a-kind exfoliating face wash.
3oz Moisture Matte™ Clear Skin Moisturizer is a lightweight, highly soothing, non-comedogenic, and non-greasy herbal moisturizer. This aloe-based, oil-free healing moisturizer is vital in preventing future breakouts. The wrong moisturizer or body & hand lotion can cause pimples.
6.7oz Clear Skin Toner this rare aloe-based toner is key to reducing inflammation and increasing cellular rejuvenation. Mildly exfoliates dead skin cells, cleaning away residual oils, debris, makeup, and bacteria. Tightens pores while balancing natural pH.
Alcohol-free, glycolic acid, with 10-Botanical
SupIncludes the Super Shammy™ Our ultra-soft and gentle exfoliating antibacterial washcloth is perfect for cleansing; it dries stiff, killing bacteria after every use. Long-lasting.er Shammy™ Our antibacterial washcloth is the perfect gentle exfoliator for cleansing and dries stiff, killing bacteria after every use. Highly effective make-up remover. Long-lasting.
Stop a Pimple Before it Starts! As soon as you feel a pimple starting, no matter where you are, spot treat it immediately, multiple times, and overnight with Clay. 30 years of customers have shown that LEROSETT® Clay is the fastest and most effective pimple treatment.
Reduce Scarring After extracting a pimple, there is a small opening, spot treat the area multiple times, and overnight with LEROSETT® Clay. As the Clay dries, it pulls that opening closed; significantly reducing possible scaring.
Sleeping with Clay Works! LEROSETT® Clay Mask is so thin; you can spot treat or sleep in a full clay mask without the fear of bleaching over-exfoliating or chemicals.
For all skin types, especially sensitive skin.
100% Vegetarian. No benzoyl peroxide, sulfur, parabens, oils, sulfates, phthalates, dyes, or unnecessary chemicals.
Non-drying. No known side-effects.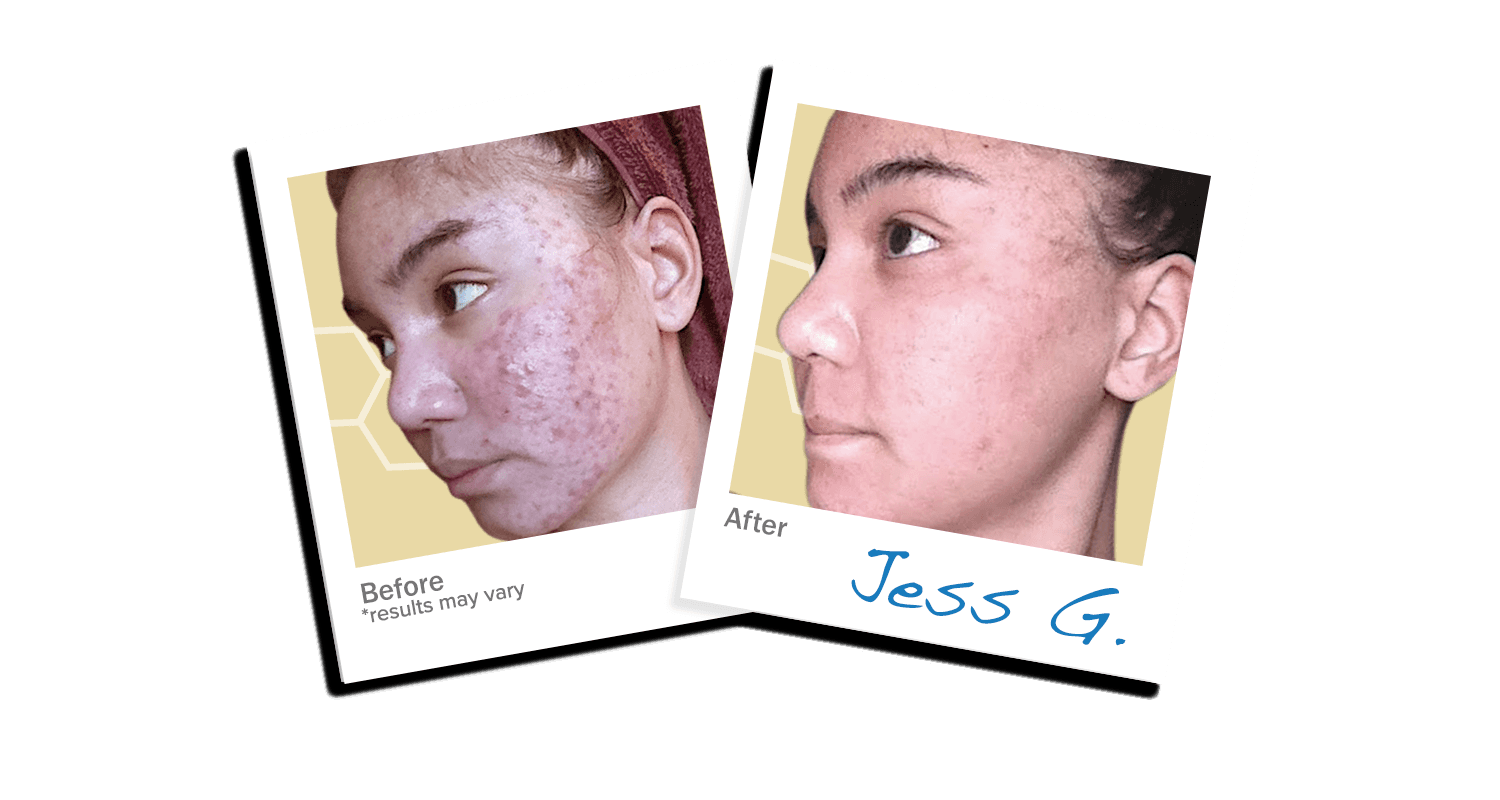 Botanical Ingredients
Botanical Ingredients
Botanical Ingredients
Aloe Vera-Nutrient-Infused 100% Organic & Greenhouse Grown
One of the only known substances which can penetrate the dermis layer of the skin
Anti-Inflammatory, Antimicrobial, Helps heals wounds and fades scarring
Contains vitamins A, C and E, which are antioxidants. Over 9 Vitamins & 9 Minerals
20 Amino Acids, 7 Enzymes & significantly increases collagen synthesis
Mucopolysaccharides help bind moisture into the skin and work effectively with ceramides
Stimulates fibroblast which produces collagen and elastin to help heal skin & wounds
LEROSETT® Clay Treatment Proprietary Formula
100% organic rasul clay & water (Proprietarily heat-treated for up to 15x stronger absorption)
Micronized for super-fine particles (deeper pore penetration) Only 1 mm thick facial mask
Ultra-high ionic charge (Static charge adheres clay to skin impurities like a magnet)
High levels of zinc & other minerals (Helps heal and reduce oil production)
No added chemicals or other ingredients (Clay particles attach to skin impurities )
Up to 90% less sand and impurities than common clays (3 oz tube = 30 Facial masks)
Willow Bark
Contains Salicylic acid
Natural exfoliant
Helps shed dead skin cells
Caprylyl Glycol
Hydrates your complexion by acting as a humectant while retaining and attracting water
Has antimicrobial efficacy
Fights germs and pathogens
Allows deeper product penetration
Lemon
Rich in Alpha Hydroxy Acids, Vitamin C & Antioxidants
Balances skin tone while gently exfoliating
Fades dark spots and blemishes
Increases collagen in the skin
Grapefruit
Contains natural astringent properties to make your skin less oily and can even tighten pores
Helps to reduce the appearance of fine lines and wrinkles
Helps protect against the signs of sun damage and aging
Softens the skin and boosts collagen production
Glycolic Acid
Glycolic acids are the smallest molecule of alpha hydroxy acids and are used in the treatment of aging, discoloration and scarring
Speeds up cell turnover and bring fresher, younger cells to the surface
Helps skin feel firmer and minimizes fine lines and wrinkles
Exfoliates and adjusts the pH balance of the skin
Stimulates collagen production
Calendula Flower
Anti-bacterial properties
Restores moisture to the skin
Stimualtes natural collagen at the wound site to reduce scarring
Protects your skin from external aggressors
Firms and plums the skin
Chamomile
Improves blood flow and helps the skin to appear brighter and more refreshed
Anti-inflammatory and antioxidant properties
Reduces redness and blemishes
Fights against free-radicals
Cornflower
Natural Astringent
Boosts complexion
Closes pores, regulates Sebum production
Anti-inflammatory properties
Linden Tree
Locks moisture into skin, making it soft and supple
Provides powerful antioxidant properties
Balances skin natural sebum production
Slows down the aging of your skin
Acts as a natural astringent
Tightens and firms the skin
St. John's Wort
Heals and smoothes dry and oily skin
Filled with Flavonoids that make skin look healthier
Reduces appearance of fine lines and wrinkles
Wheat Protein
Provides amino acids and high glutamine levels to the skin
Helps to refine the tone and texture of your complexion
Preserves and improve skin moisture
Plumps the complexion from within
Skin-tightening agent
Allantoin
Moisturizes the skin to prevent dryness and irritation
Helps to exfoliate the skin and improves skin dullness
Soothes inflamed skin and stimulates collagen production
Promotes cellular turnover
Arnica Montana
Restores suppleness to damaged/inflamed areas
Naturally antimicrobial
Reduces Inflammation
Moisturizing
Cucumber Extract
Balances oil production and reducing signs of aging
Packed with vitamins, minerals, and antioxidants
Reduces the signs of fine lines and wrinkles
Soothes, balances, tones, and moisturizes
Mallow
Skin-soothing properties
Antioxidant benefits
Prevent elasticity loss
Creates a barrier that can help skin hold onto moisture
Prevents cell damage from environmental factors
Ivy
Thoroughly hydrates the skin and relieves irritation from skin conditions
Reduces wrinkles, eliminating lines and reducing facial tension
Has great anti-inflammatory properties
Tightens blood vessels
Parietaria Officinalis
Anti-inflammatory properties
Anti-bacterial properties
Soothes irritation that occurs with acne breakouts
Elder Tree
Contains super anti-oxidants that fight free radical damage
Strengthens broken capillaries to reduce redness
Helps prevent and reverse wrinkles
Aids in hyper pigmentation
User Reviews
Ingredients
Paired Products
Resources
Ingredients
*Organic & Active Ingredients