How to Care for Dry Skin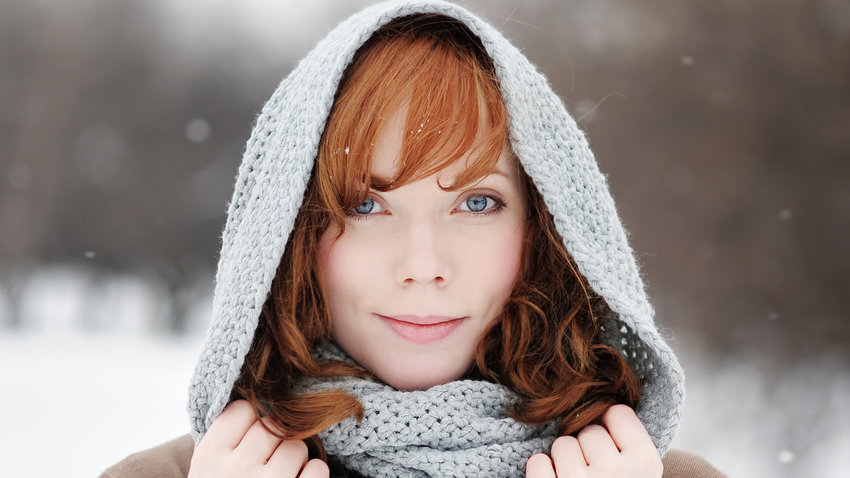 Whether you have dry skin long term or just seasonally, it can be very uncomfortable to deal with.  Dry skin occurs when your skin has a low amount of sebum (oil) production. As a result of this, the skin lacks the necessary lipids needed to retain moisture and protect against environmental factors such as free radicals. Luckily, dry skin can be managed by making certain lifestyle changes and having the right skin care regime in place.
Those with dry skin may experience:
Tight, rough complexion
Nearly Invisible Pores
Dull/Flaky Skin
Inflammation/Sensitivity
Decreased Elasticity
Premature Aging (fine lines caused by lack of moisture)
What is causing my dry skin?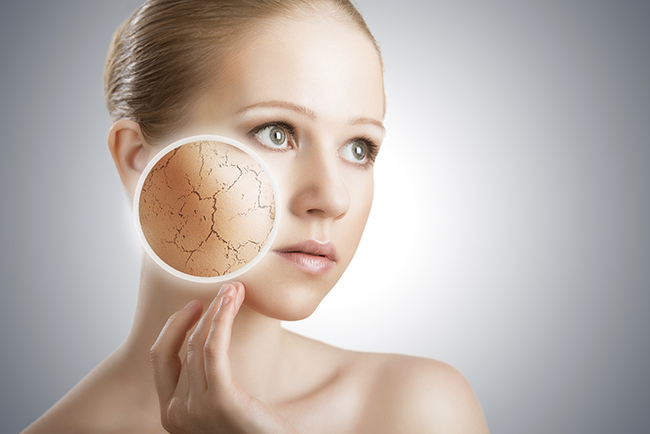 Weather: Wind, sun and cold weather can have a tremendous impact on our skin. Using a rich moisturizer, especially in the winter months, will keep moisture locked in and keep skin hydrated.
Heat: During the frigid winter months, we usually have the thermostat set to make our house warm and cozy; however, this can also lead to dry skin. Using a humidifier inside your home will add much-needed moisture into the air.
Hot Baths/Showers: Although long showers/baths are relaxing, they can strip our skin leaving it dry and flaky. Make sure to use gentle soaps and a rich moisturizer after bathing.
Genetics: If your parents have dry skin, you will more than likely have dry skin too. Using the right products in your skin care routine in addition to using rich moisturizers all over will help nourish your skin and keep it hydrated.
Aging: Our skin requires a moisture barrier made up of surface cells perfectly fitting together to keep our skin supple and hydrated. As we age, these surface cells break apart and our skin loses its ability to retain moisture.
Harsh Skin Care: Using skin care with harsh ingredients such as alcohol and fragrance can cause your skin to become excessively dry. Make sure to use a gentle cream cleanser/toner that removes debris without stripping your skin of its natural and protective oils.
Tips for dry skin:
Always choose a skin care regime that caters to your skin type. If you do not know your skin type, check out our post about skin types HERE.
Use a mild, gentle cleanser on your face and body that will not dry out your skin any further.
Use a toner that is free from harsh ingredients like alcohol and that will add nutrients and moisture into your skin while also removing debris.
Gently exfoliating your skin 1-2 times a week will help remove dry patches and texture caused by dry skin.
Implement a serum into your skincare routine that adds nutrients and moisture into your skin. Our GUNILLA™ Cell Rejuvenator is comprised of smaller molecules that enable the active ingredients to penetrate the lipid barrier of the skin.
Use a rich moisturizer like our GUNILLA™ Deep Moisturizer with Ceramides to keep your skin hydrated all day. If your skin is extremely dry and you are experiencing cracking, peeling or scaly skin, certain ointments can be used.
Using a humidifier in your home will help to add moisture into the air especially during the winter when we have the heat on.
Keep showers/baths short and the water temperature warm – not hot.
Product Recommendations:
GUNILLA™ Botanical Skin Care System – Normal/Dry Skin
This kit combines our aloe-based GUNILLA™ Herbal Face Wash, GUNILLA™ Herbal Toner, GUNILLA™ Deep Moisturizer with Ceramides, and GUNILLA™ eye de puff to cleanse, tone, and lock in moisture to help minimize the appearance of fine lines and wrinkles. The perfect system for those with dry skin, fine lines and wrinkles or mature skin. 
Increases the speed of cell growth through a combination of collagen, revitalin, and elastin. Nourishes the skin's deeper layers and works to prevent the breakdown of elastin and collagen. At the same time antioxidants, vitamins and botanical moisturizers can soothe, calm and condition. With regular use, GUNILLA™ Cell Rejuvenator helps to reduce the appearance of fine lines, revealing radiant new skin cells without irritation or harshness, helping skin to rejuvenate and truly look healthy.
Naturally, therapeutic aloe naturally soothes dry skin while ceramide lipids lock moisture. Nutrient-rich oils like jojoba oil help to reduce inflammation, add antioxidants into the skin, reduce fine lines and keep skin hydrated long term.
Sources:
https://www.livestrong.com/article/79139-thing-extremely-dry-skin-face/
https://www.medicinenet.com/script/main/art.asp?articlekey=43075