Why Is It Different?
This toner, made with a calming organic aloe base rather than a water base, is extremely therapeutic for skin redness, swelling, and blemishes, as it exfoliates with glycolic acid to reduce blemishes and excess oil without alcohol, astringents, or oils. We use marigold, Roman chamomile, cornflower, German chamomilla, St. John's Wort, Wheat Tein NPNF®, lemon, and allantoin to soothe, heal, and cleanse.
This toner has been used by skincare professionals for decades to quickly clear and prevent breakouts, restoring vital nutrients.
What Does It Do?
Toning is an absolute necessity to clear and tighten pores, as well as restore the natural pH balance to refine the complexion and prepare the skin for serums, moisturizers, and additional types of treatments. Glycolic acid from sugar cane exfoliates, reducing clogged pores and pimples while visibly tightening pores.
• 100% of users noticed reduced breakouts and pimples*
• 100% noticed their skin felt softer and more refreshed*
• 96% agreed this toner helped calm their skin*
How To Use
After cleansing, pour some toner into the palms and lightly pat over the face or apply toner to a cotton pad.
About + Skin Types + Trial Results*
CLEAR SKIN TONER
• 100% noted it soothed skin inflammation & sensitivity*
• 100% of users noticed reduced breakouts and pimples*
• 96% agreed this toner helped calm their skin*
• 100% noticed their skin felt softer & more refreshed*
• 97% agreed this 60% aloe-based toner had more benefits than toners based on water*
• 100% said they would recommend this toner to a friend*
*Based on an independent consumer study of 61 participants
Are Toners Essential?  For problem skin, they are. LEROSETT® & GUNILLA® Toners help moisturize and nourish the skin after cleansing and removing any makeup. Toning your skin helps other skincare products absorb more rapidly, bringing your skin back to its natural acidic pH for plumper, glowing skin.
Helps Tone & Tighten Pore Size: With 24 antioxidants, 12 amino acids, and enzymes, LEROSETT® Clear Skin Toner increases circulation, inhibits inflammation, and promotes cellular rejuvenation.
Active & Botanical Ingredients: Ultra-pure glycolic acid with over 50% nutrient-infused greenhouse-grown organic aloe, Vit-C & Vit-E, has countless therapeutic advantages over regular water-based skin toners. Plus, Organic Grapefruit, German Chamomile, Linden Tree, Roman Chamomile, Calendula Flower, St. John's-wort, Cornflower, & Lemon. These added botanicals and natural vitamins help moisturize, soothe, calm & heal damaged skin. All Botanicals Chosen at their Height of Potency. Hand planted, no pesticides or herbicides.
Details
Botanical Clear Skin Toner 5.5 pH Level
For all skin types, and sensitive skin.
Great for on the go cleansing! Use after the gym or throughout the day to prevent build up and clogging.
Formulated Without
Parabens
Oils
Sulfates
Phthalates
Dyes
Benzoyl Peroxide
Sulfur
Unnecessary Chemicals
Facts: Our Main Ingredient
Step 2
The Proven Potency & Countless Benefits of LEROSETT® Products Based on Hydro-Organic Aloe
Our hydroponic aloe is greenhouse-grown in a temperature-controlled environment without pesticides or herbicides. Our aloe is hand-planted, nutrient-infused, and grown in recycled water, not in soil.
Based on over 50% of our unique greenhouse-grown 100% organic aloe, LEROSETT® Balancing Toner is therapeutic by its very nature, having countless benefits over conventional serums using water or oil as the main ingredient. Our nutrient-infused aloe base helps combat free radicals and signs of environmental damage with potent anti-inflammatory properties that reduce redness and inflammation.  
LEROSETT® The Only Acne Brand Using Aloe as the Main Ingredient Instead of Water
Organic aloe is one of the few natural substances scientifically proven to benefit the body. Loaded with more than 200 active components, including amino acids, enzymes, vitamins, minerals, polysaccharides, fatty acids, etc. When aloe is in concentrations greater than 60% is lethal against various organisms.
Aloe penetrates tissue – Unlike water, aloe can be absorbed by the skin. It is absorbed deep into the skin's layers due to lignin, a substance similar to cellulose. When used as the main ingredient, this ability allows aloe to act as an excellent carrier for the other components of aloe vera and other botanicals and active ingredients. –The active ingredients used in LEROSETT® products are more effective.
Anesthetic properties of aloe – Aloe has a high magnesium content and contains aspirin-like compounds, making it an effective treatment for wounds and countless skin conditions like acne. –LEROSETT® products help reduce the pain of cysts and acne.
Aloe has antimicrobial properties – The antimicrobial compounds in aloe include saponin, which has antiseptic properties, and barbaloin, which prevents the growth of Mycobacterium, bacteria famous for causing severe bacterial infections. A 1979 study by Heggers et al. showed that aloe in concentrations greater than 60% is lethal against various organisms. Bacteria is a leading cause of acne. -LEROSETT® products help kill bacteria.
Aloe is an anti-inflammatory – Aloe contains natural salicylic acid, a beta-hydroxy acid known for its anti-inflammatory capabilities. Additionally, it includes sterols that inhibit acute inflammation, similar to cortisone, but without the side effects. Nearly all skin conditions stem from inflammation, making aloe the perfect ingredient for acne treatments. –LEROSETT® products help reduce the size of pimples and cysts.
Aloe is proven to heal wounds – Scientific research has shown that several components in aloe are responsible for the substance's excellent ability to regenerate cells. These include gibberellin, a growth hormone-like substance that increases protein synthesis, and lectin, a protein that increases collagen activity and improves the collagen matrix. As a result, LEROSETT® products help heal acne and improve skin health.
Active & Botanical Ingredients
Botanical Ingredients
Aloe Vera
Contains vitamins A, C and E, which are antioxidants. Over 9 Vitamins & 9 Minerals, 20 Amino Acids, 7 Enzymes that significantly increases collagen synthesis
Anti-Inflammatory, antimicrobial, helps heals wounds and fades scarring & and is one of the only known substances which can penetrate the dermis layer of the skin
Mucopolysaccharides help bind moisture into the skin and work effectively with ceramides, Stimulates fibroblast produces collagen and elastin to help heal skin & wounds
Grapefruit
Helps protect against the signs of sun damage and aging-Softens the skin and boosts collagen production
Helps to reduce the appearance of fine lines and wrinkles-Contains natural astringent properties to make your skin less oily and can even tighten pores
Glycolic Acid
Speeds up cell turnover and bring fresher, younger cells to the surface-Helps skin feel firmer and minimizes fine lines and wrinkles
Glycolic acids are the smallest molecule of alpha hydroxy acids and are used in the treatment of aging, discoloration and scarring
Calendula Flower
Restores moisture to the skin, firming and plumping the skin
Stimualtes natural collagen at the wound site to reduce scarring, while protecting your skin from external aggressors
Chamomile
Improves blood flow and helps the skin to appear brighter and more refreshed
Anti-inflammatory and antioxidant properties, Fights against free-radicals
Cornflower
Boosts complexion with anti-inflammatory properties
Closes pores, regulates sebum production and acts as a natural astringent
St. John's Wort
Reduces appearance of fine lines and wrinkles
Heals and smoothes dry and oily skin
Wheat Tein NPNF® Hydrolyzed Wheat Protein
Provides amino acids and high glutamine levels to the skin
Helps to refine the tone and texture of your complexion
Eco-Cert® COSMOS ORGANIC certified ingredient
Allantoin
Moisturizes the skin to prevent dryness and irritation-Helps to exfoliate the skin and improves skin dullness
Soothes inflamed skin and stimulates collagen production while promoting cellular turnover
Lemon
Balances skin tone while gently exfoliating, fading dark spots and blemishes
Rich in Alpha Hydroxy Acids, Vitamin C & Antioxidants increasing collagen in the skin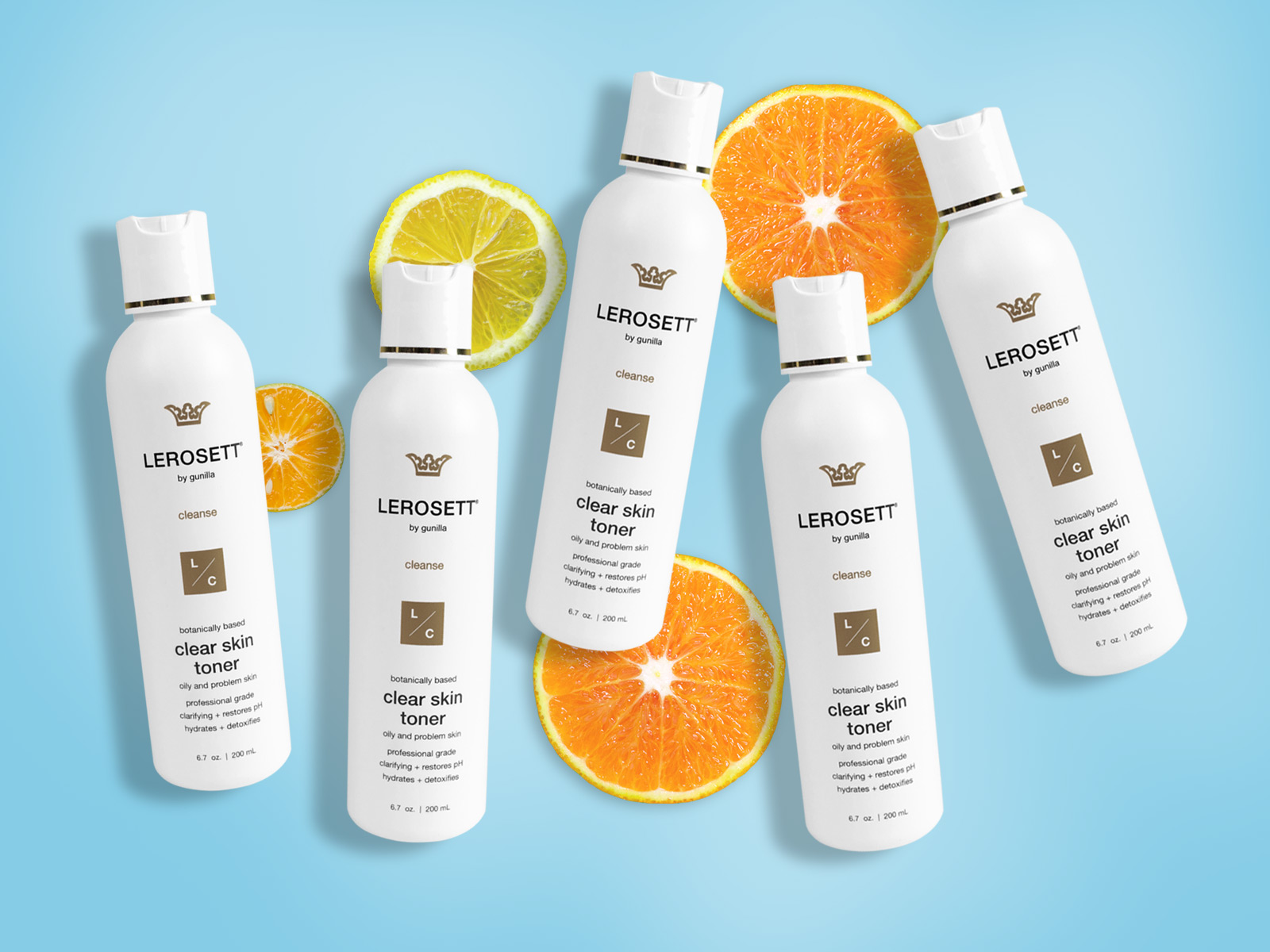 User Reviews
Ingredients
Paired Products
Resources
Ingredients
Clear Skin Toner Ingredients: Organic Greenhouse Grown Aloe Barbadensis Leaf Juice*, Purified Water, Phenoxyethanol, Caprylyl Glycol, Sodium C8-16 Isoalkylsuccinyl Lactoglobulin Sulfonate, Extracts of: (Calendula Officinalis (Marigold)*, Anthemis Nobilis (Roman Chamomile)*, Tilia Cordata (Lime Tree)*, Centaurea Cyanus (Cornflower)*, Chamomilla Recutita (Matricaria Chamomilla)*, Hypericum Perforatum (St. Johns Wort)*), Glycolic Acid*, Panthenol*, Wheat Tein NPNF®*, Hydrolyzed Glycosaminoglycans*, Allantoin*, Citrus Medica Limonum (Lemon) Peel Oil*
*High-Potency Ingredients
Free of benzoyl peroxide, salicylic acid, parabens, mineral oil, sulfates, phthalates, synthetic dye, and sulfur. Cruelty-free, natural citrus aroma, and dermatologist tested and used.