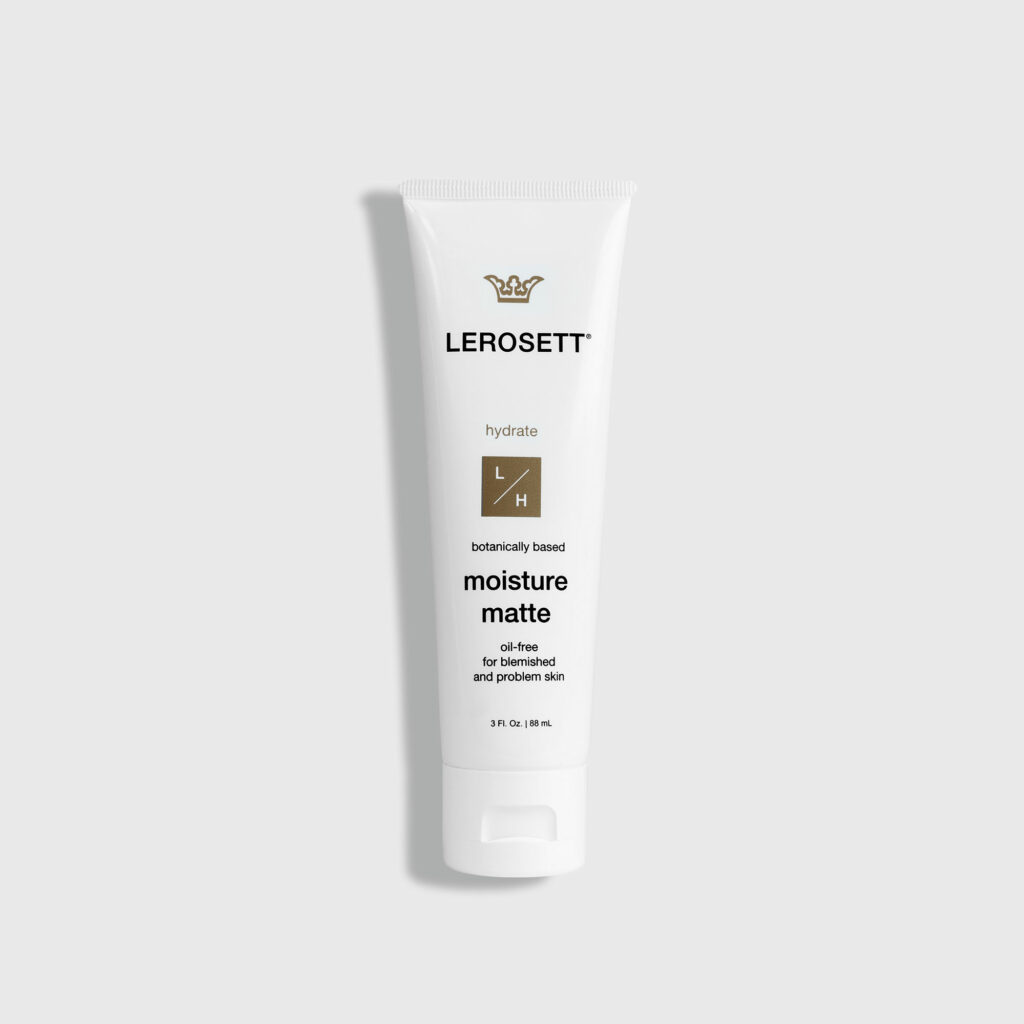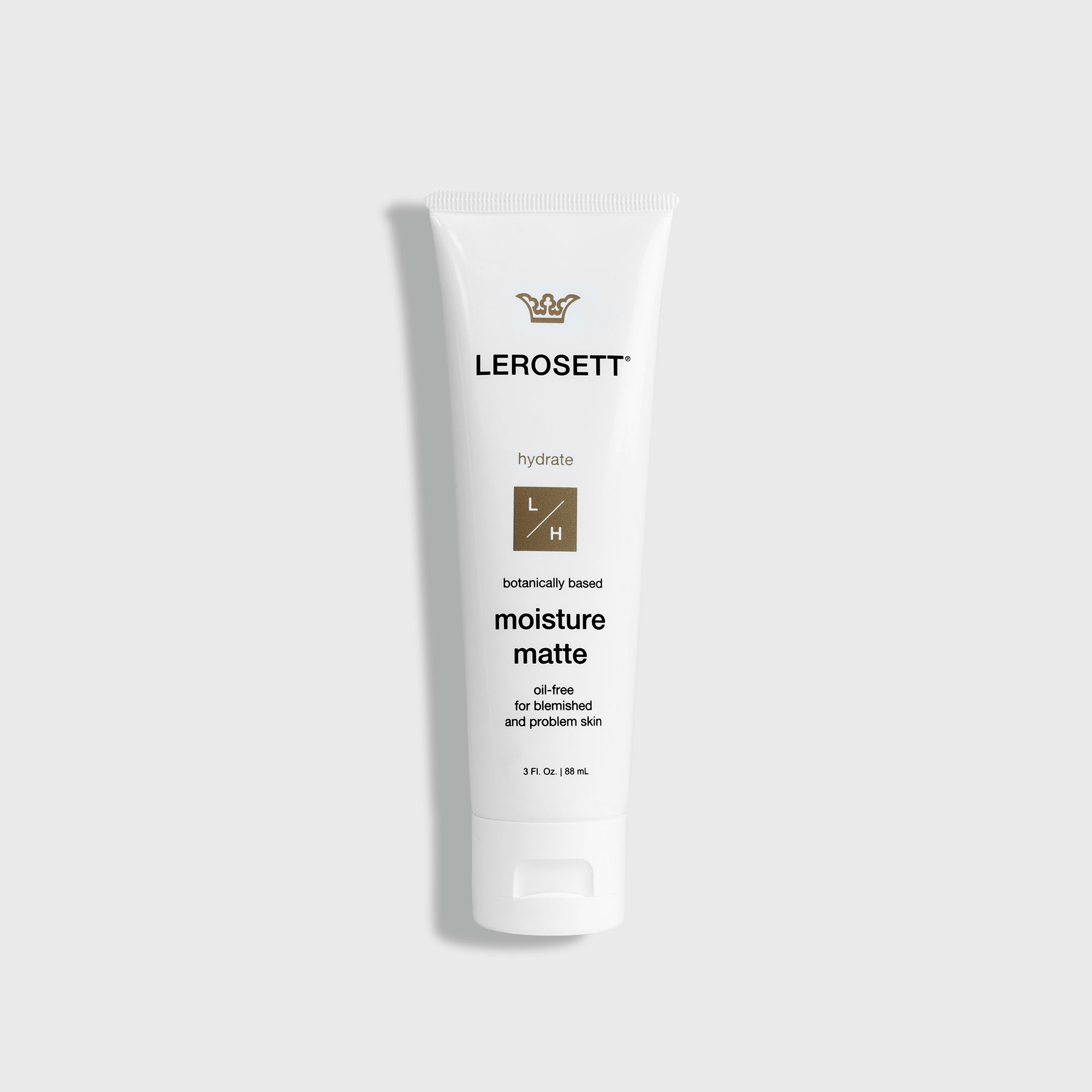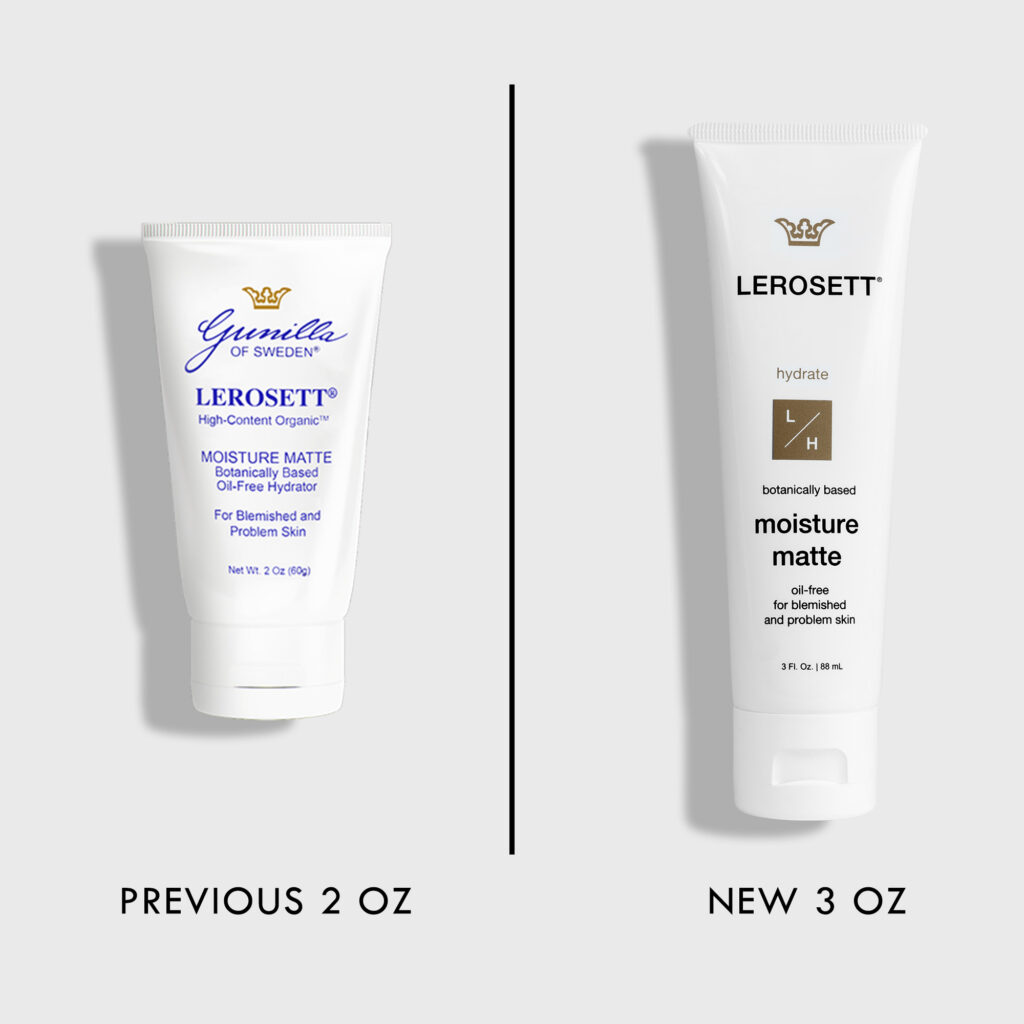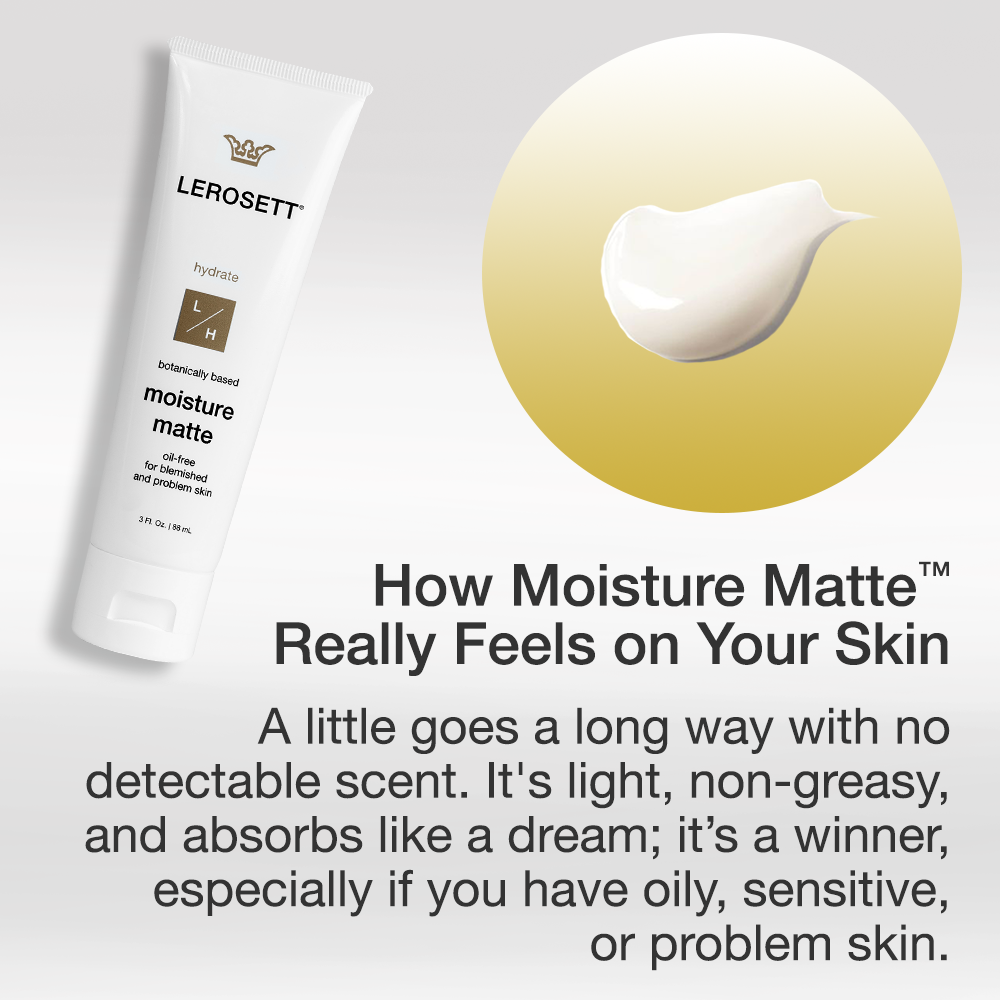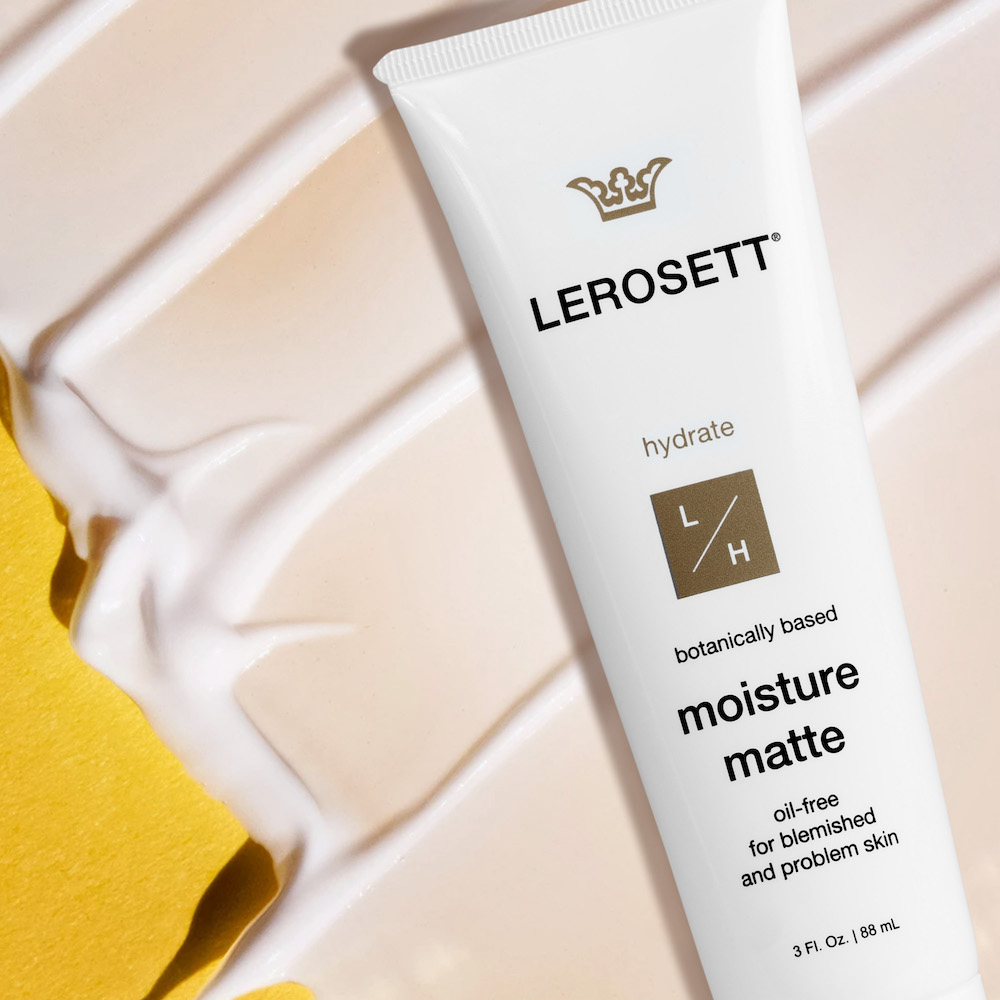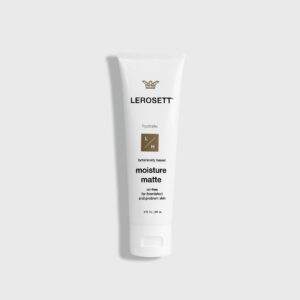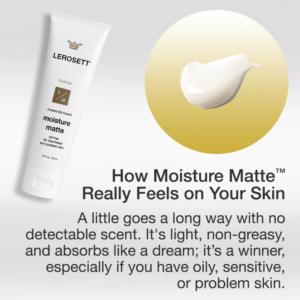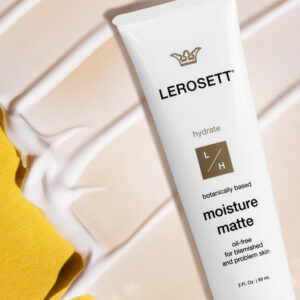 Moisture Matte™ Oil-Free Moisturizer 3 oz
Moisture Matte™ Oil-Free Moisturizer 3 oz
LEROSETT® Moisture Matte™ is an oil-free, mattifying moisturizer used by top spas, estheticians, and countless loyal users since 1997.
Benefits: Moisture Matte™ is a lightweight nongreasy, quickly absorbed moisturizer that helps heal the skin while reducing oil (sebum) production. It disappears into the skin, never leaving it slick; instead, skin looks and feels refreshed. Created for normal, sensitive, and oily skin leaving behind a soft, smooth, hydrated shine-free finish. Vegan. Virtually No Aroma. Over 98% Organic, Natural & Botanical.
For More-See "More Details" Tab
90-Day Money-Back Guarantee
Both PETA & Leaping Bunny Certified
Details
3 oz 60-Day Supply at 2x Daily For Oily, Normal, Combination, Sensitive, Problem, and Acne-Prone Skin.
Men & Women
Face & Body
Expect Great Results
We combined 10 of the most beneficial actives and botanicals to soothe, hydrate, and calm the skin. Moisture Matte™ has up to 3x the oil-free moisturizing ability of Neutrogena® and other oil-free moisturizers.
Moisture Matte™ is a botanically based moisturizer shown to be highly effective after decades of clinical use. It helps diminish pimples, breakouts, irritation & inflammation.
Based 64% hydroponic aloe, with organic cucumber, mallow, pro-vitamin-B5, English ivy, elder tree, and more.
No alcohol, parabens, petroleum, oils, sulfates, phthalates, benzoyl peroxide, sulfur, salicylic acid, or fragrance.
More Details
More Details
Step 2
The Most Effective Main Ingredient in Any Oil-Free Moisturizer.  
LEROSETT® Moisture Matte™ contains 64% nutrient-infused hydroponically greenhouse-grown organic aloe and is therapeutic by its very nature compared to water or oil-based moisturizers.
Hydroponically grown aloe combats free radicals, environmental skin damage, and moisturizes with strong anti-inflammatory properties. Our unique hydroponic aloe is hand planted and grown without pesticides or herbicides.
* Moisture Matte™ has up to 3x the oil-free moisturizing content of common oil-free moisturizers.
* Highly effective and very soothing as a post-shave moisturizer and after-shave moisturizer for men and women.
Step 3
Reduce Acne Scarring & More. 
Moisture Matte™ is loaded with all-natural anti-inflammatory and antimicrobial elements that kill bacteria and help speed cell turnover.
Moisture Matte™ reduces acne scarring and soothes bug bites, sunburns, and multiple skin conditions.
Professional Spa & Clinical Grade Skin Care
Both LEROSETT® & GUNILLA® skincare products by Gunilla of Sweden® were sold exclusively to licensed skincare professionals for over 25 years.
How To Use
How To Use
Step 2
Apply a generous amount to the face and neck.
Step 4
Massage into skin using upward strokes, especially after a LEROSETT® Clay Mask or after Deep Cleansing.  Great as a primer under makeup.  Use AM and PM
Extremely effective post-shave moisturizer, for men and women.
Key Active & Botanical Ingredients
Key Active & Botanical Ingredients
Botanical Ingredients
Aloe Vera
Contains vitamins A, C and E, which are antioxidants. Over 9 Vitamins & 9 Minerals, 20 Amino Acids, 7 Enzymes that significantly increases collagen synthesis
Anti-Inflammatory, antimicrobial, helps heals wounds and fades scarring & and is one of the only known substances which can penetrate the dermis layer of the skin
Mucopolysaccharides help bind moisture into the skin and work effectively with ceramides, Stimulates fibroblast produces collagen and elastin to help heal skin & wounds
Elder Tree
Contains super antioxidants that fight free radical damage that prevents wrinkles
Strengthens broken capillaries to reduce redness and aids in hyper pigmentation
Ivy
Thoroughly hydrates the skin and relieves irritation from skin conditions
Reduces wrinkles, eliminating lines and reducing facial tension
Arnica Montana
Restores suppleness to damaged & inflamed areas-Naturally antimicrobial
Reduces Inflammation-Moisturizing
Cucumber Extract
Packed with vitamins, minerals, and antioxidants balancing oil production
Soothes, balances, tones, and moisturizes reducing the signs of fine lines and wrinkles
Mallow
Creates a barrier that can help skin hold onto moisture
Prevents cell damage from environmental factors
Caprylyl Glycol
Hydrates your complexion by acting as a humectant while retaining and attracting water
Has antimicrobial efficacy and allows for deeper product penetration
User Reviews
Ingredients
Paired Products
Resources
Ingredients
Moisture Matte™ Clear Skin Moisturizer: 100% Organic "Greenhouse and Hydroponically Grown" Pure Whole Leaf Aloe Vera Concentrate, Purified Water, Caprylic/Capric Triglyceride, Glyceryl Stearate, Caprylyl Glycol, Phenoxyethanol, Cyclomethicone, Cetyl Alcohol, Sorbitol, Cetyl Lactate, Methyl Gluceth-20, PEG-100 Stearate, Extracts of: (Malva Sylvestris, Hedra Helix, Parietaria Officinalis, Sambucus Nigra, Arnica Montana), Dimethicone, Panthenol Vit-B5, Carbomer, Laureth-4, Triethanolamine, Butylene Glycol, Cucumis Sativus (Cucumber) Fruit Extract, Sodium PCA, Trace Minerals, Lauryl Methacrylate/Glycol Dimethacrylate Crosspolymer, Isododecane, Tetrasodium EDTA
*Active & Botanical Ingredients