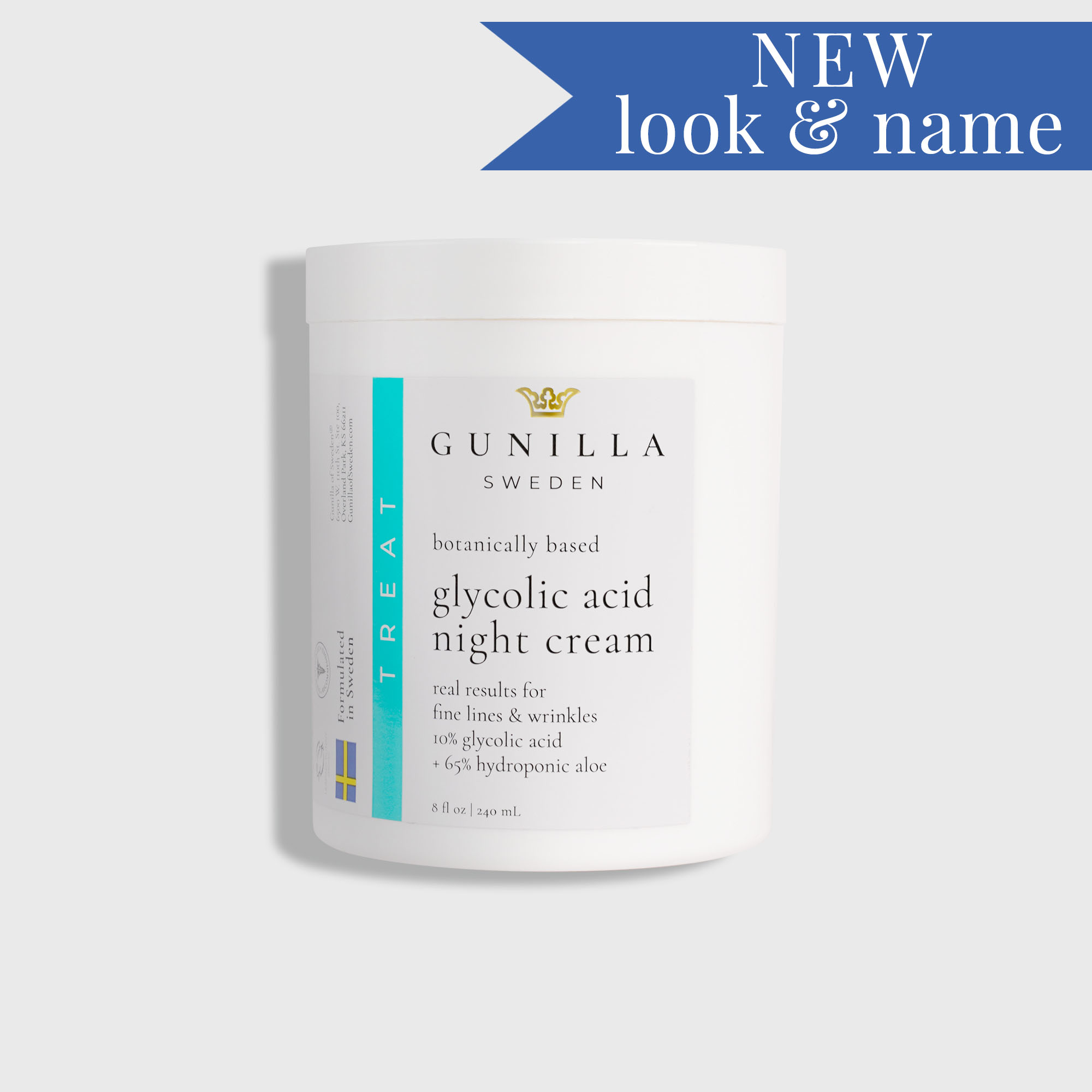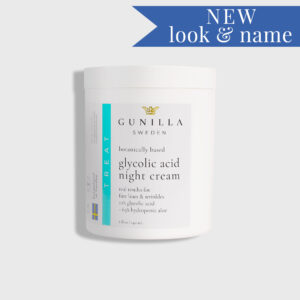 Why Is It Different?
Our Night Cream is aloe-based and infused with amino acids, antioxidants, enzymes, minerals, and vitamins your skin needs. Together with a brightening complex, this non-greasy cream is expertly crafted to go beyond renewing moisture.
What Does It Do?
Visibly reduces fine lines, hyperpigmentation, congested skin, large pores, and scarring while delivering softer, smoother skin.
How To Use
After cleansing, smooth a small amount over the face and neck. For delicate and sensitive skin, use once every 2-3 days until skin becomes acclimated to daily use.
About
GUNILLA® Glycolic Acid Night Cream has been a favorite resurfacing and exfoliating night cream at top-spas since the mid-1990s. We reduce skin sensitivity to glycolic acid by combining 74% calming organic aloe & other botanicals. This proven formula enables the skin to become quickly acclimated to the nightly use of glycolic acid.
Benefits: Visibly reduce fine lines, hyperpigmentation, congested skin, and large pores while delivering softer, smoother skin—a light, creamy, nongreasy exfoliating night cream.
New Name & New Look
If you're looking for the Brighten & Renew Cream, please note it's now sold as Glycolic Acid Night Cream in all-new, more environmentally friendly packaging, with no harsh chemicals.
Open 'More Details' Tab for Full Product Information
Details
Best Value 8 oz
A light, creamy, nongreasy, exfoliating & moisturizing cream that works wonders while you sleep
Noncomedogenic
Hypoallergenic
Dermatologist Recommended
Expect Results
Suitable for all skin types, use a few times per week until skin acclimates to nightly use
Formulated Without
Parabens
Phthalates
Artificial Fragrances
More Details
Step 1
The Proven Potency & Countless Benefits from Skin Care Based on Hydro-Organic Aloe 
Based on 74% of our unique greenhouse-grown organic aloe, Glycolic Acid Night Cream is therapeutic by its very nature having countless benefits over conventional water or oil-based moisturizer.
Hydroponic aloe base combats free radicals, signs of environmental damage with potent anti-inflammatory properties that reduce redness and inflammation. Our unique hydroponic aloe is hand planted and grown without pesticides or herbicides.
Brightens & Smoothes
Glycolic Acid Night Cream is infused with amino acids, antioxidants, enzymes, minerals, and vitamins your skin needs. It smoothes the skin's texture and fades hyperpigmentation caused by scarring and environmental damage, while it tightens and diminishes the appearance of fine lines and wrinkles for a youthful glow
First Time Use
First-time users of any exfoliating products may experience a slight tingling sensation due to the natural fruit acids. If you experience any tingling with this treatment, cut back on usage until your skin has become acclimated.
How to Use
Step 1
Standard Nightly Treatment:
Smooth a small amount of Glycolic Acid Night Cream over the face and neck after cleansing.
Gommage Treatment:
Apply a thin layer and leave until it dries and becomes tacky (5-10 minutes). To remove, gently rub the face with fingers in a circular motion. This creates friction, lifting and removing the dead skin cells.
For Delicate & Sensitive Skin:
Use once every 2-3 days until skin becomes acclimated to daily use.
Sun Protection Advice for Any AHA Exfoliant:
This product includes 10% glycolic acid, an ingredient that may increase your skin's sensitivity to the sun and the chance of sunburn. Make sure to always apply a broad-spectrum sunscreen rated SPF 30 or higher every day. When outside, wear protective clothing when possible and avoid prolonged sun exposure.
Key Active & Botanical Ingredients
Botanical Ingredients
Aloe Vera
Contains vitamins A, C and E, which are antioxidants. Over 9 Vitamins & 9 Minerals, 20 Amino Acids, 7 Enzymes that significantly increases collagen synthesis
Anti-Inflammatory, antimicrobial, helps heals wounds and fades scarring & and is one of the only known substances which can penetrate the dermis layer of the skin
Mucopolysaccharides help bind moisture into the skin and work effectively with ceramides, Stimulates fibroblast produces collagen and elastin to help heal skin & wounds
Squalene
A natural anti-oxidant that helps prevent sun damage, giving it excellent anti-aging properites and increasing hydration.
Squalene can help regulate oil production, without causing blemishes or clogged pores.
Glycolic Acid
Speeds up cell turnover and bring fresher, younger cells to the surface-Helps skin feel firmer and minimizes fine lines and wrinkles
Glycolic acids are the smallest molecule of alpha hydroxy acids and are used in the treatment of aging, discoloration and scarring
Safflower Oil
Contains Linoleic Acid that helps fight acne & Improves skin texture
Acts as a natural lubricant-Smoothes rough skin
Witch Hazel
Helps control the production of excess oil & acts as a natural astringent
Helps prevent development of blackheads
Chamomile
Improves blood flow and helps the skin to appear brighter and more refreshed
Anti-inflammatory and antioxidant properties, Fights against free-radicals
Arnica Montana
Restores suppleness to damaged & inflamed areas-Naturally antimicrobial
Reduces Inflammation-Moisturizing
Rose Oil
Regenerates and heals the skin while brightens and evens out the skin
Increases collagen production and skin elasticity-Intensely hydrates and moisturizes the skin
Willow Bark
Contains Salicylic Acid & acts as a natural exfoliant
Helps reduce signs of aging and the appearance of wrinkles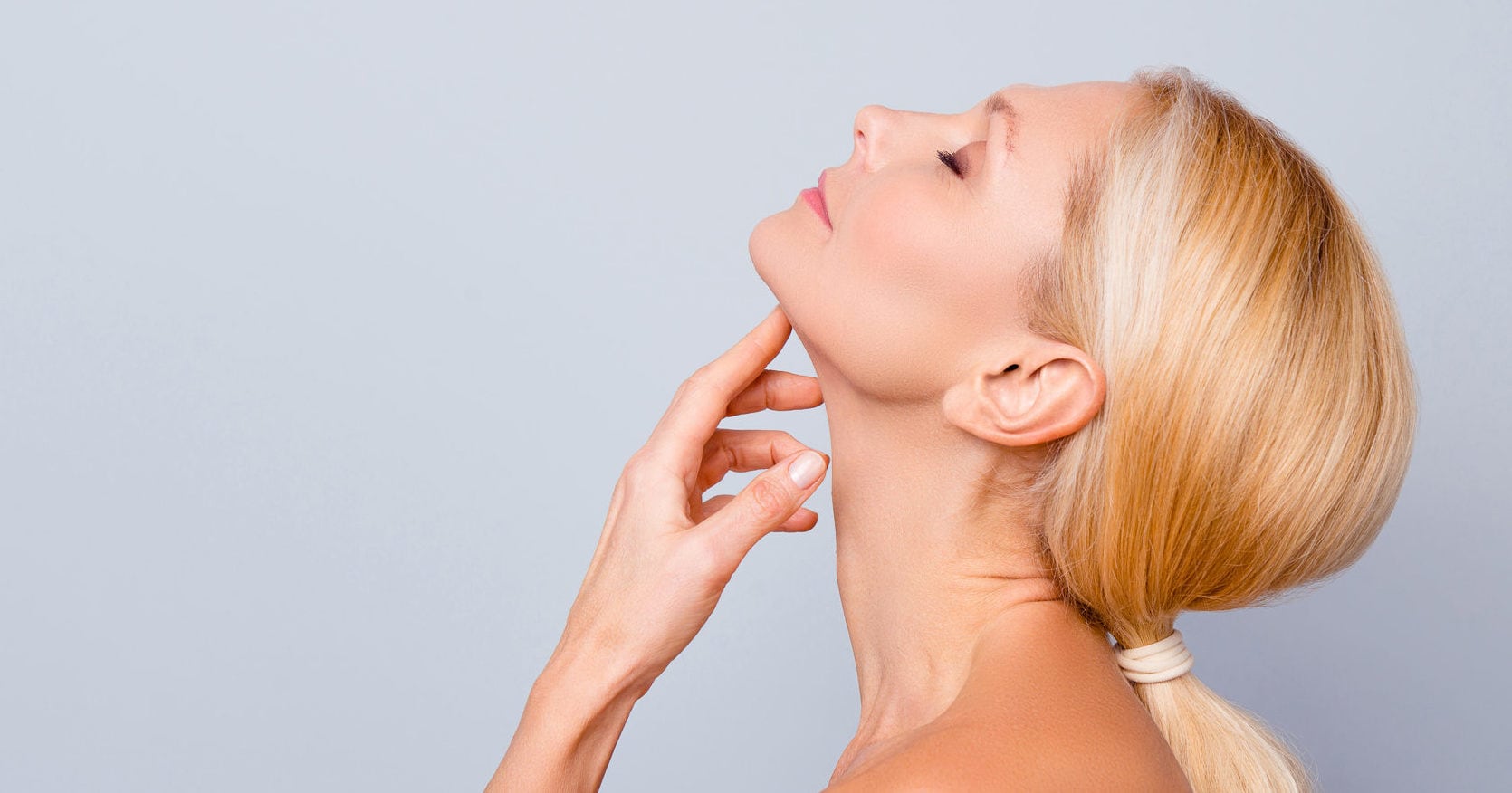 User Reviews
Ingredients
Paired Products
Resources
Ingredients
10% Glycolic Acid Night Cream: 100% Organic Greenhouse and Hydroponically Grown Pure Whole Leaf Aloe Vera Concentrate*, Glycolic Acid*, Emulsifying Wax, Glyceryl Stearate, Glycerin, Hydrogenated Polyisobutene, Caprylic/Capric Triglyceride, Carthamus Tinctorius Organic Safflower Oil*, Phenoxyethanol, Caprylyl Glycol, Hydroxyethylcellulose, Dimethicone, Sodium Hydroxide, Oleth-10, Rosa Damascena Flower*, Tetrasodium EDTA, Butylene Glycol, Arnica Montana Flower*, Witch Hazel Bark*, Willow Bark*, Chamomilla Recutita (Matricaria) Flower*
*Active, Organic, Botanical Ingredients