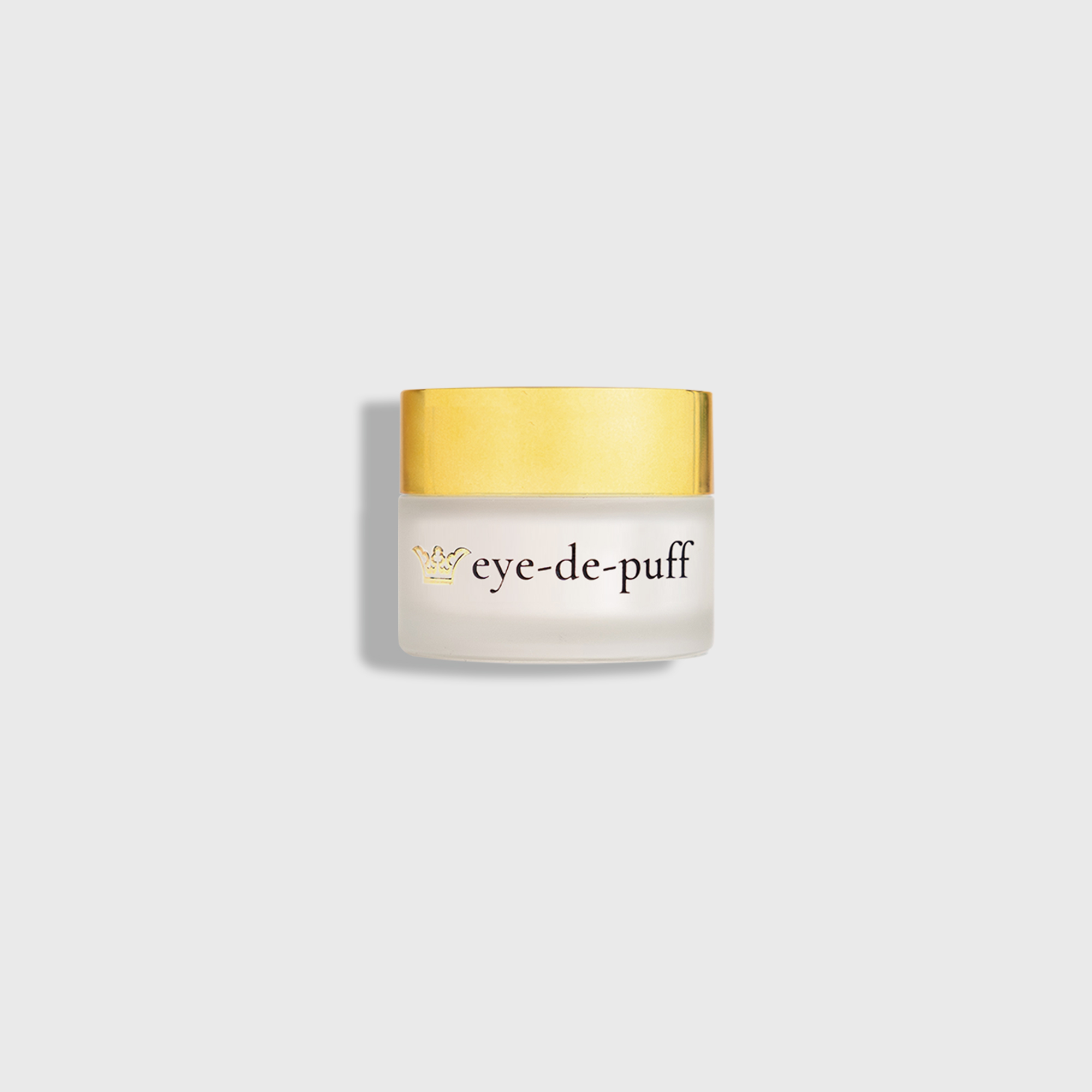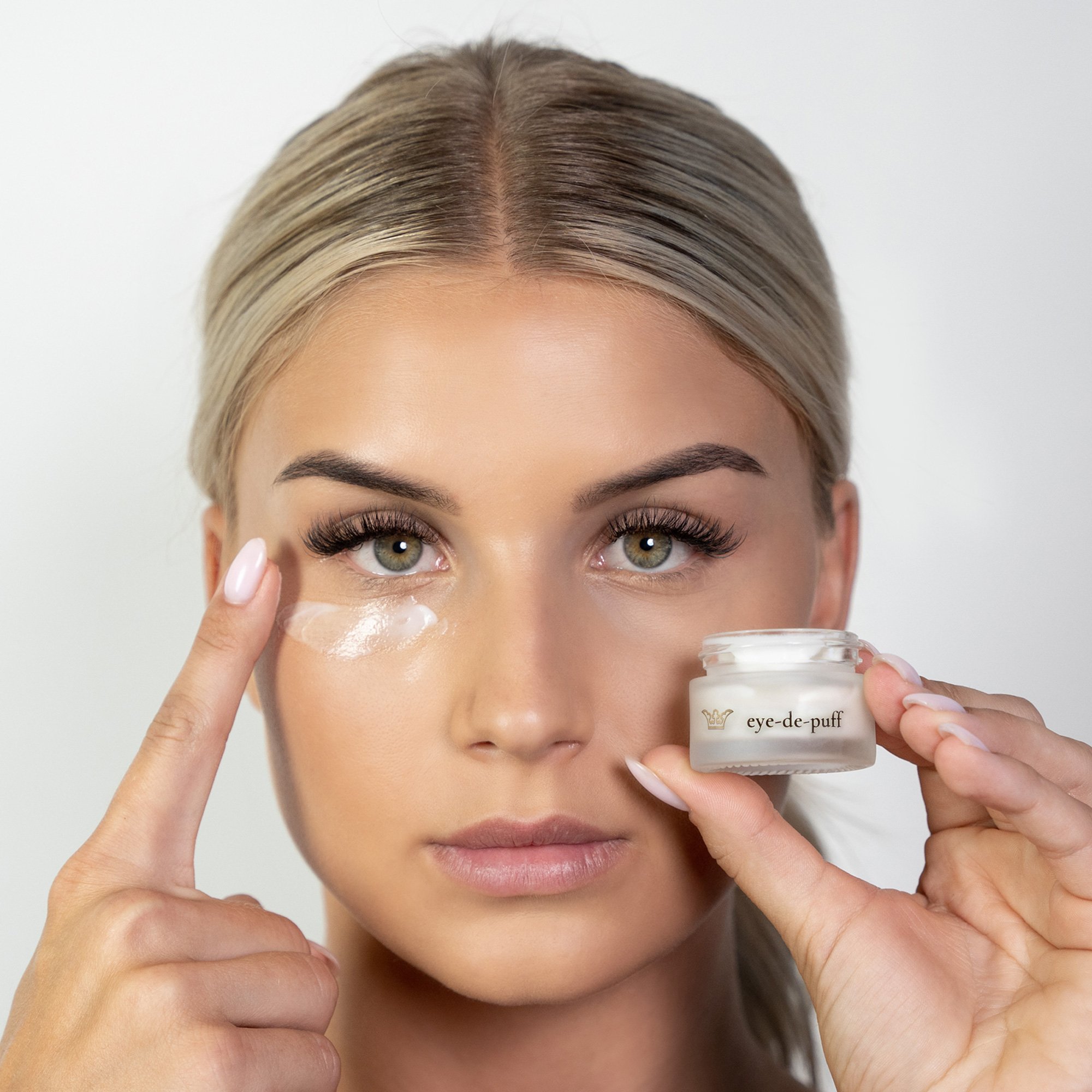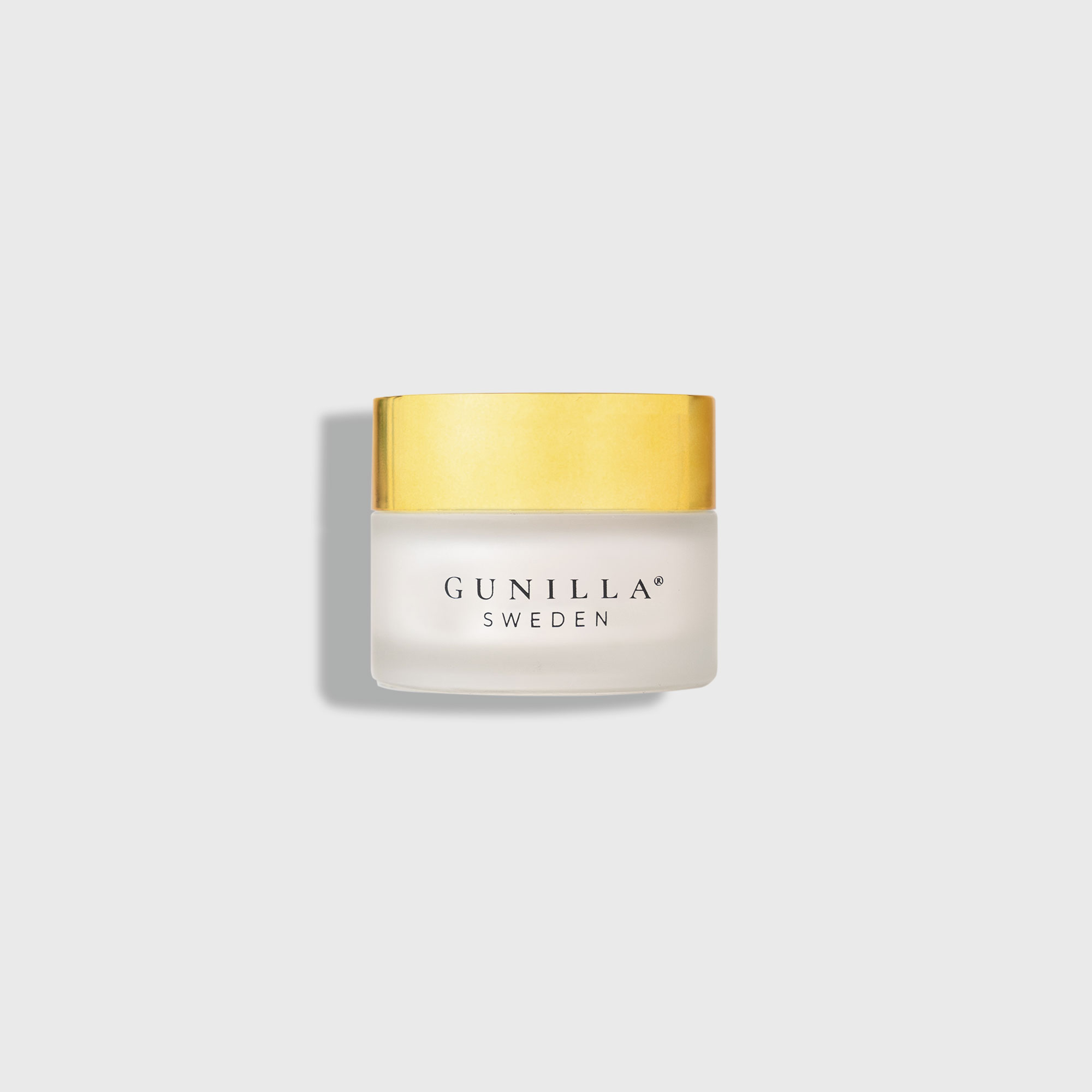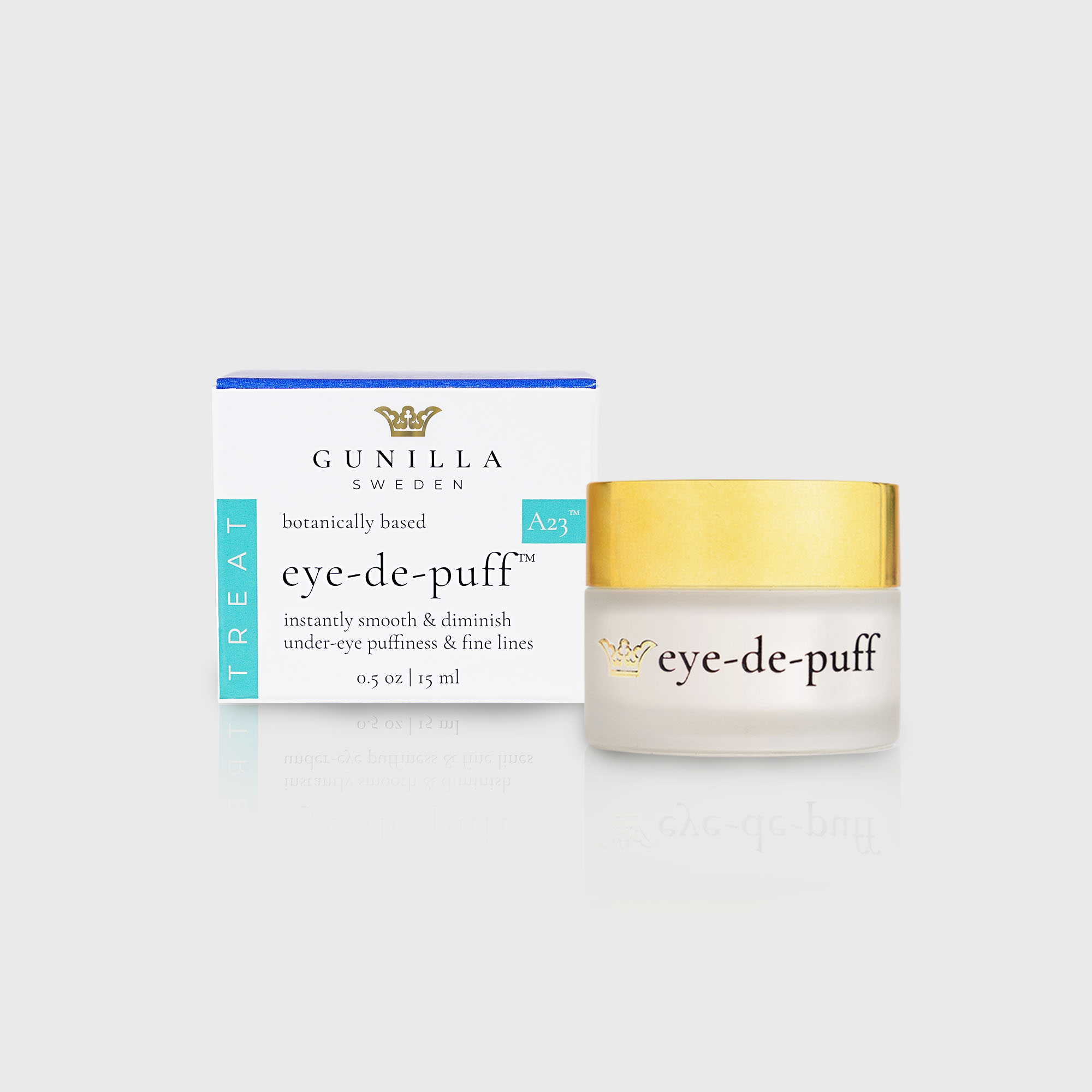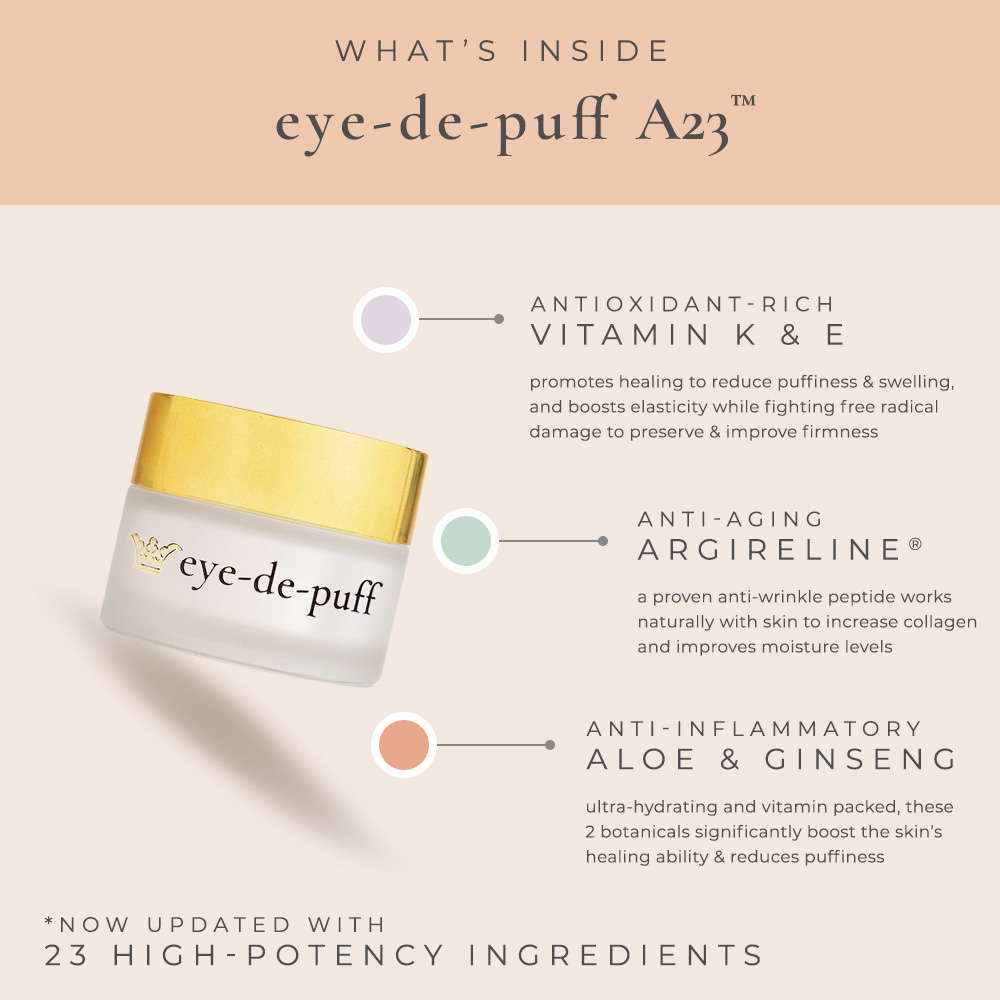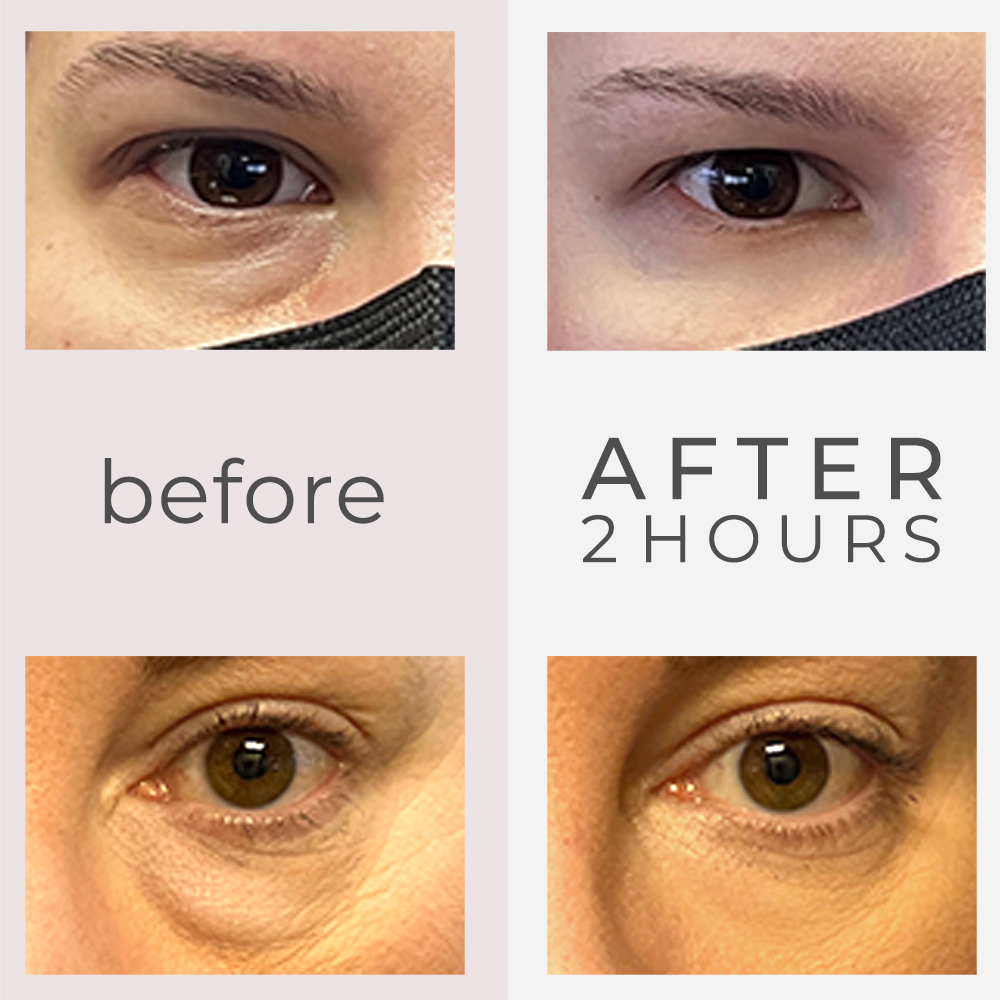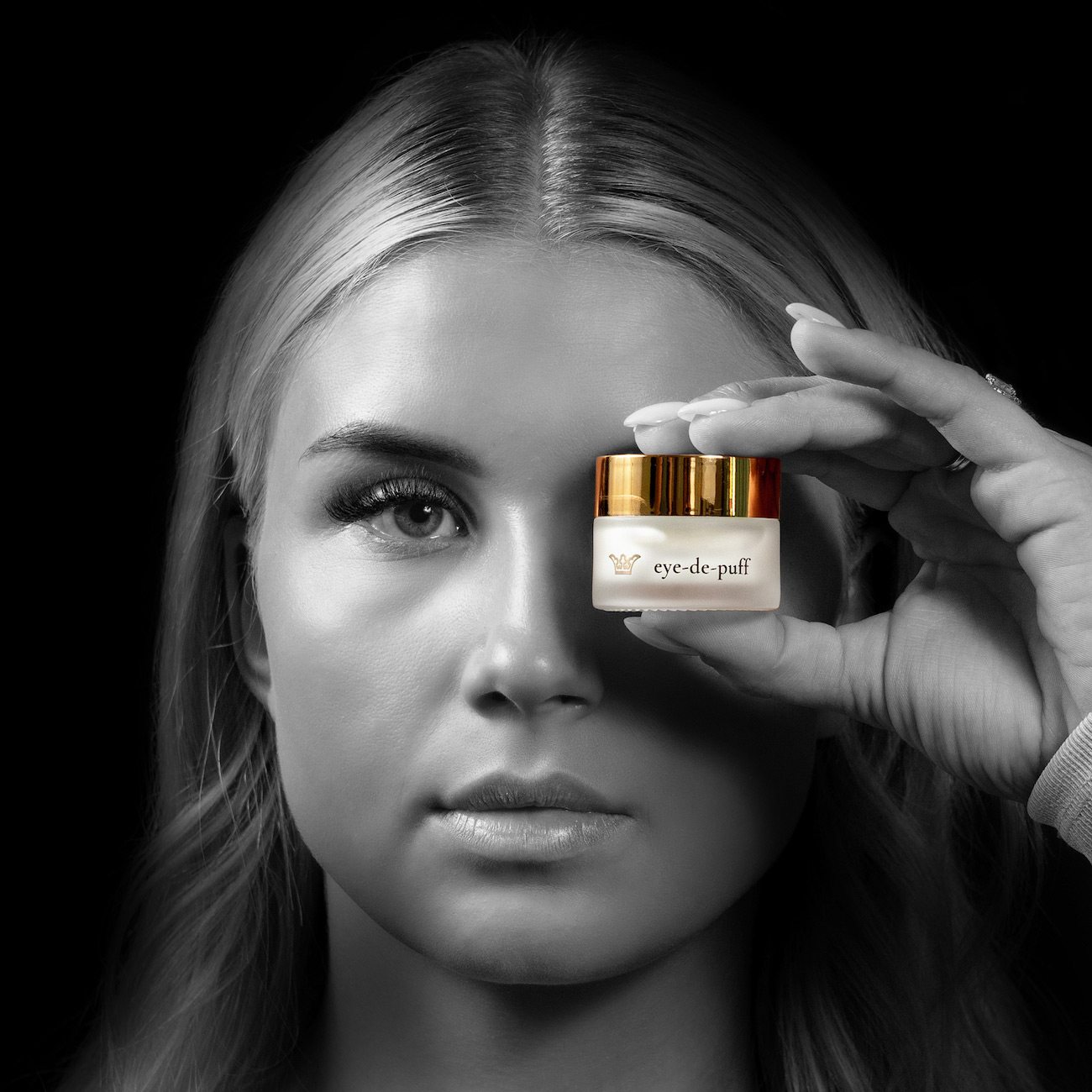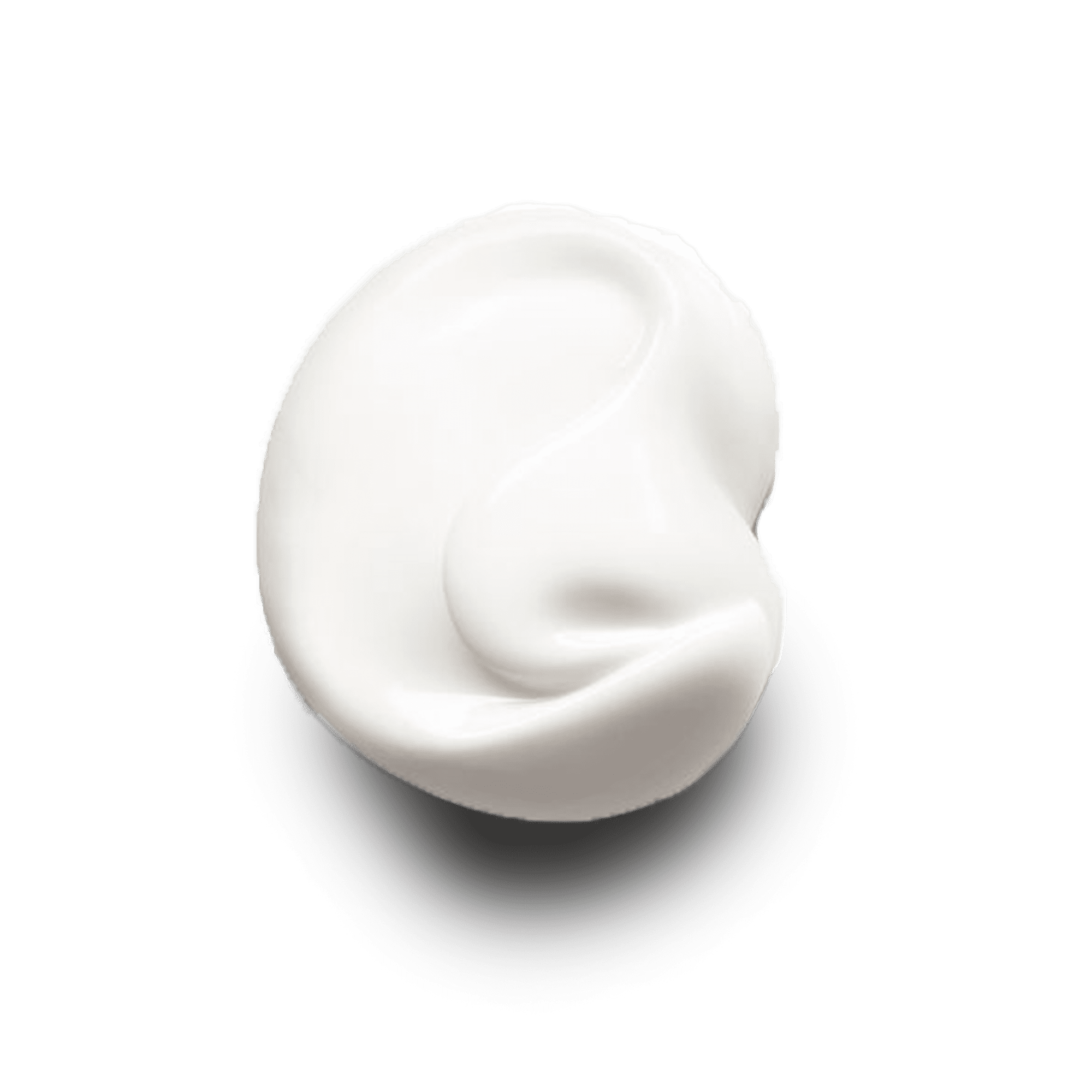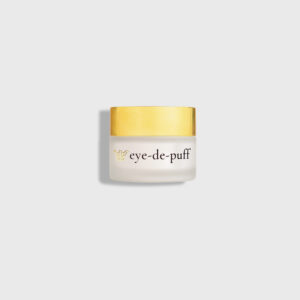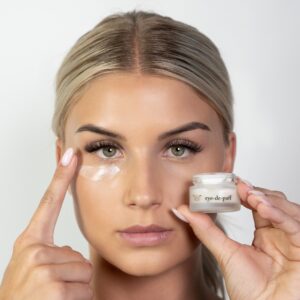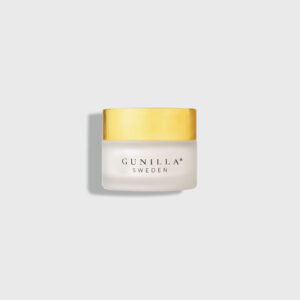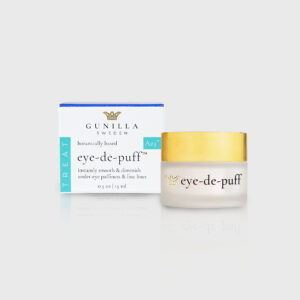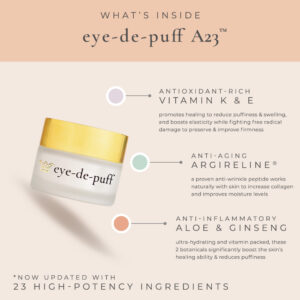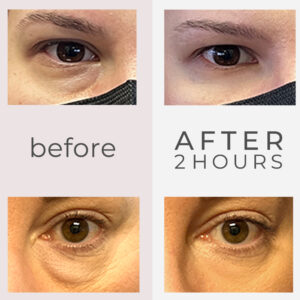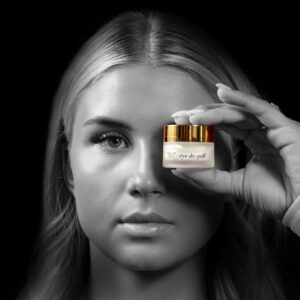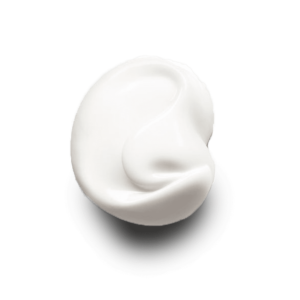 Why Is It Different?
This professional-grade depuffing eye cream has a combination of 23 high-performance & clinically proven ingredients to visibly reduce fine lines, wrinkles, and inflammation. Ingredients like hexapeptide 8 & 3, or Argireline and Alpha-Lipoic Acid, are clinically proven to reduce wrinkles & Tocopheryl Acetate Vit-E is proven to fight free radical damage & reduce inflammation. Additionally, 5% Panax ginseng visibly helps energize, smooth, and rejuvenate, to name a few of the depuffing and anti-aging ingredients found in Eye de-puff A23™.

Based on 64% greenhouse-grown organic aloe vera clinically proven to hydrate, soothe and reduce inflammation by up to 47%*
What Does It Do?
Eye-de-puff A23™ anti-aging depuffing eye cream melts into the skin with a light touch and a soothing, cooling sensation as it hydrates and quickly helps reduces under-eye puffiness within hours. When applied twice daily, all 23 active & botanical ingredients can work their magic to brighten, firm, and diminish wrinkles and reduce inflammation around the delicate eye area.
Additionally, Eye-de-puff A23™ gently smooths the contours of the eye area, giving it a more youthful appearance and making makeup application easier.
How To Use
Apply AM/PM using your ring finger to lightly tap into the skin around the eye area. Re-apply anytime to refresh your eyes.

Helps reduce upper lip wrinkles, forehead, and v-neck wrinkles.

Formulated Without: Alcohol, Dyes, Parabens, Sulfates, Phthalates, Gluten, Animal-Derived Ingredients, Formaldehyde, Oxybenzone, Petrolatum/Petroleum, Artificial Fragrance
Hypoallergenic. Non-Comedogenic. Dermatologist Recommended. EU Allergen-Free, Minimal Ingredients
About & Details
.*23 HPI. High-Performance Ingredients
Includes Ten active ingredients, from acetyl hexapeptide 8 & 3, or Argireline®, a clinically proven anti-wrinkle peptide, and Alpha-Lipoic Acid are clinically proven to reduce wrinkles & Tocopheryl Acetate Vit-E is proven to fight free radical damage & reduce inflammation.
Includes Thirteen antioxidant-rich & anti-inflammatory botanicals from 64% anti-inflammatory greenhouse-grown organic aloe to hydrate, soothe and reduce inflammation by up to 47%. Plus, 5% Panax Ginseng facilitates collagen production, boosting proteins, and is a powerful anti-oxidant thats helps fade uneven skin tone, fight free radical damage & reduce inflammation.
Details
Hypoallergenic. Non-Comedogenic. Dermatologist Recommended. EU Allergen-Free, Minimal Ingredients
About Hydro-Organic Aloe Vera
Step 1
The Proven Potency & Countless Benefits of GUNILLA® & LEROSETT® Skincare Products Based on Hydro-Organic Greenhouse-Grown Organic Aloe-Vera. Not Water.
GUNILLA® & LEROSETT® products contain over 60% nutrient-infused hydroponically grown organic aloe and are therapeutic by nature. Hydroponically grown aloe vera is rich in antioxidants, combats free radicals, and has potent youth-enhancing anti-inflammatory properties. Our nutrient-infused organic aloe allows active ingredients to penetrate deeper into the skin while increasing collagen to help heal the skin. Our unique hydroponic aloe is hand planted and grown without pesticides or herbicides.
Aloe can penetrate tissue – Unlike water, aloe can be absorbed by the skin. It is absorbed deep into the skin's layers due to lignin, a substance similar to cellulose. When used as the main ingredient, this ability allows aloe to act as an excellent carrier for the other components of aloe vera and other botanicals and active ingredients.  –The clinically-proven effective ingredients in GUNILLA® products are even more effective within an organic aloe base instead of water.
Aloe has antimicrobial properties – The antimicrobial compounds in aloe include saponin, which has antiseptic properties, and barbaloin, which prevents the growth of Mycobacterium, bacteria famous for causing severe bacterial infections. A 1979 study by Heggers et al. showed that aloe in concentrations greater than 60% is lethal against various organisms. Bacteria is a leading cause of acne. -When aloe is in concentrations greater than 60% is lethal against various organisms.
Aloe is anti-inflammatory – Aloe contains natural salicylic acid, an anti-inflammatory beta-hydroxy acid, and a gentle exfoliant. It also includes sterols that inhibit acute inflammation, similar to cortisone but without side effects. Instead of water, GUNILLA®® uses over 60% hydro-organic aloe vera as a base; this aloe alone is clinically shown to reduce swelling and inflammation by an average of 47%. When used in a concentration of over 50%, organic aloe vera is the perfect ingredient for skincare.
Aloe's ability to heal damaged skin – Scientific research has shown that several components in aloe are responsible for the substance's excellent ability to regenerate cells. These include gibberellin, a growth hormone-like substance that increases protein synthesis, and lectin, a protein that increases collagen activity and improves the collagen matrix. As a result, LEROSETT® & GUNILLA® products help heal and improve skin health.
How To Use
Step 1
After cleansing and toning, use your ring finger to dab the product around the eyes gently. A small amount goes a very long way.
When applying Eye-de-puff A23™, do not stretch the skin, lightly tap a small amount of product into the skin.
Allow the product to be absorbed into the skin before following other products or makeup.
Follow with your favorite GUNILLA® Serum or Moisturizer.
Key Active & Botanical Ingredients
Botanical Ingredients
Aloe Vera
Contains vitamins A, C and E, which are antioxidants. Over 9 Vitamins & 9 Minerals, 20 Amino Acids, 7 Enzymes that significantly increases collagen synthesis
Anti-Inflammatory, antimicrobial, helps heals wounds and fades scarring & and is one of the only known substances which can penetrate the dermis layer of the skin
Mucopolysaccharides help bind moisture into the skin and work effectively with ceramides, Stimulates fibroblast produces collagen and elastin to help heal skin & wounds
Caprylyl Glycol
Hydrates your complexion by acting as a humectant while retaining and attracting water
Has antimicrobial efficacy and allows for deeper product penetration
Shea Butter
Enhances natural collagen production and reduces inflammation
High concentration of natural vitamins and fatty acids moistuizes the skin
St. John's Wort
Reduces appearance of fine lines and wrinkles
Heals and smoothes dry and oily skin
Arnica Montana
Restores suppleness to damaged & inflamed areas-Naturally antimicrobial
Reduces Inflammation-Moisturizing
Witch Hazel
Helps control the production of excess oil & acts as a natural astringent
Helps prevent development of blackheads
Horse Chestnut
Plays an important role in protecting the levels of hyaluronic acid in your skin-Possesses potent anti-inflammatory properties
Helps the skin battle the signs of aging that deplete collagen and elastin from the skin-Has anti-irritant and toning properties
Ivy
Thoroughly hydrates the skin and relieves irritation from skin conditions
Reduces wrinkles, eliminating lines and reducing facial tension
Allantoin
Moisturizes the skin to prevent dryness and irritation-Helps to exfoliate the skin and improves skin dullness
Soothes inflamed skin and stimulates collagen production while promoting cellular turnover
Tocopherol Acetate (Vitamin E)
Protects your skin from damage caused by free radicals and wrinkles
Powerful antioxidant that may be effective at reducing UV damage in skin
Alpha Lipoic Acid
A powerful antioxidant defense against environmental oxidative stress that has 400 times the antioxidant ability than Vitamins C and E
Brightens your overall complexion & skin tone while improving the natural exfoliating capacity of your skin
Proven to reduce fine lines, wrinkles, and skin roughness with no side effects
Targets premature age progression & has anti-inflammatory properties
Vitamin K
Promotes wound healing while boosting skin elasticity
Enhances your skin's natural exfoliating capacity
Has anti inflammatory & antioxidant properties
Reduces fine lines, wrinkles, & roughness
Quinoa
Maintains healthy skin complexion & is effective in treating acne
Rich in Vitamin B & helps treat age spots
Safflower Oil
Contains Linoleic Acid that helps fight acne & Improves skin texture
Acts as a natural lubricant-Smoothes rough skin
Soybean
Reduces skin discoloration, fine lines, and wrinkles
Moisturizes combination skin & helps renew dead skin cells
Glycosaminoglycans
Provides moisture for other skin components like collagen and elastin
An amazing ingredient for increasing overall hydration of the skin
Elastin
Acts as a humectant and traps moisture into the skin
Stimulates cell growth for stronger, smoother skin
Ginseng Root
Helps boost the circulation of your skin improving colllagen production-Helps brighten and revitalize your complexion
Antioxidant properties protect your skin from free radicals-Reduces appearance of fine lines and wrinkles
Chamomile
Improves blood flow and helps the skin to appear brighter and more refreshed
Anti-inflammatory and antioxidant properties, Fights against free-radicals
Grape Vine
Protects your skin from UV rays and free radicals-Potent anti-inflammatory and antiseptic agent
Rejuvenates the appearance of your skin-Packed with Vitamin C and antioxidants
Panax Ginseng Root
Boosts skin hydration and diminishes rough texture
Helps fade uneven skin tone, fims, and visibly improves wrinkles
Wild Carrot
Emollient and nourishing, beneficial for mature or damaged skin
Strong antioxidant & high in vitamins A, C, E & K
User Reviews
Ingredients
Paired Products
Resources
Ingredients
Eye-de-puff™ A23™ Ingredients: 100% Organic "Greenhouse and Hydroponically Grown" Pure Whole Leaf Aloe Vera Concentrate*, Purified Water, Glyceryl Stearate, Carthamus tinctorius (Safflower) Seed Oil*, Glycerin, Butylene Glycol, Oryza sativa (Rice) Extract*, Glycine max (Soybean) Seed Extract*, Daucus carota Sativa (Carrot) Root Extract*, Chenopodium quinoa Seed Extract*, Panax Ginseng Root Extract*, Acetyl Hexapeptide-3 & Acetyl Hexapeptide-8 (Argireline®)*, Cetyl Alcohol, Caprylic/Capric Triglyceride, Hydrolyzed Elastin*, Propylene Glycol, PEG-100 Stearate, Steareth-21, Steareth-2, Thioctic Acid*, Sodium PCA*, Phenoxyethanol, Caprylyl Glycol. Synthetic Beeswax, Hydrolyzed Glycosaminoglycans*, Arnica Montana Flower Extract*, Hamamelis virginiana (Witch Hazel) Bark/Leaf Twig Extract*, Hippocastanum (Horse Chestnut) Extract*, Hedera helix (Ivy) Extract*, Sodium Borate, Panthenol*, Allantoin*, Vitis vinifera (Grape) Seed Extract*, Hypericum perforatum (St. John's Wort) Flower/Leaf/Stem Extract*, Tocopheryl Acetate*, Vitamin-K*.
Formulated Without: Dyes, Parabens, Sulfates, Phthalates, Gluten, Animal-Derived Ingredients, Formaldehyde, Oxybenzone, Petrolatum/Petroleum, Artificial Fragrance