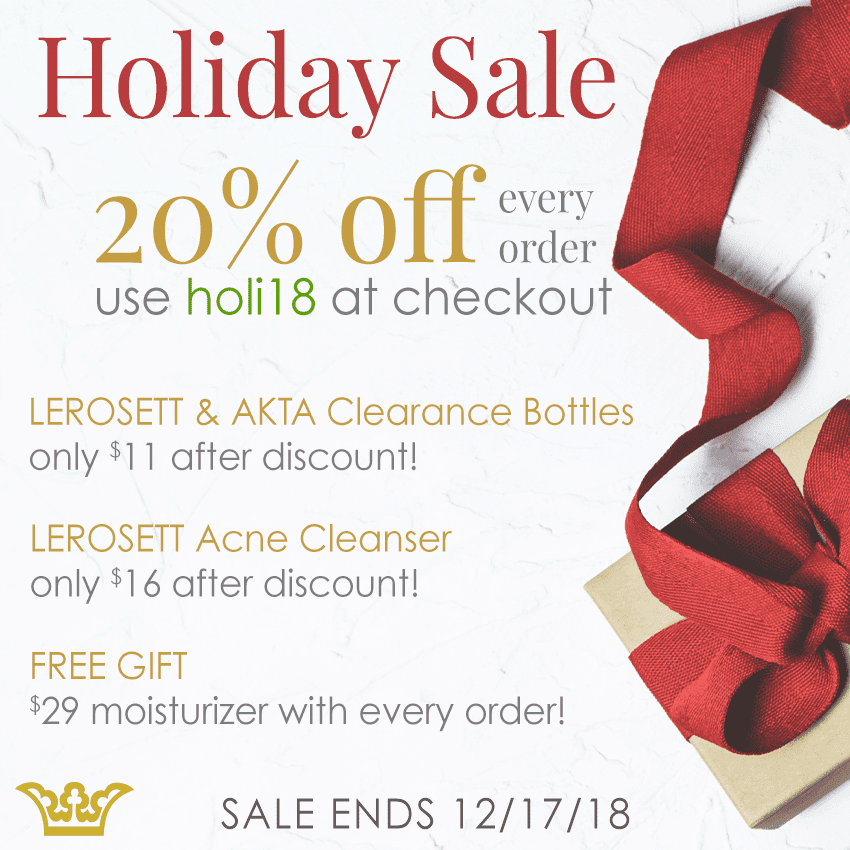 Over 30 Years Pioneering Botanical Skin Care
Legacy Customers
Welcome back, beautiful
| Notice anything new about us?
Our website has a bright, modern appearance and we've made it easier for you to identify the exceptional products you know and love. We're thrilled to share our new, fresh-faced Gunilla of Sweden® website with our loyal customers and fans.
New Customers
hello and welcome!
First time here?|
Gunilla of Sweden® is a family-owned botanical skincare company that has transformed the professional skincare industry by combining modern, science-based actives within a medium of nutrient-rich, greenhouse-grown 100% organic aloe, never water. Gunilla of Sweden® skincare has been a favorite for thousands of dermatologists, skincare professionals, and millions of users – just like you – since 1987.
CLEARANCE PRICED
50% Off  LEROSETT® Face Washes & Toners!!
Original Packaging LEROSETT® Face Washes & Toners, while supplies last
The Only Known Aloe Based FDA Approved Acne Cleanser-Lowest Sale Price Ever!
Botanical Acne cleanser
Our Botanical Acne Cleanser is only $16 right now when you apply promo code 'holi18' at checkout!
Regularly priced $26.95, our naturally medicated acne cleanser has a base of over 60% nutrient-rich greenhouse grown organic aloe, not water, and can effectively treat acne and problem skin without harsh chemicals or preservatives.
Purify your skin with these Season's Savings while you can!
sale ends 12/17/18
All Kits 30% Off Combined Retail
Botanical Acne kit + healing
Our Botanical Acne Kit + Healing Serum treats problem skin, acne, and aids in healing while minimizing scarring.  Naturally medicated with over 65% organic aloe based acne cleanser and collagen-rich healing serum. Plus our 100% organic LEROSETT® spot treatment and clearing mask to quickly absorb impurities deep in the skin, mask, spot treat or sleep treat.
LEROSETT® Results and Reviews
*Individual results may vary per skin condition-Click Image to Zoom
Our Last Remaining AKTA® products
50% Off  ÄKTA® Face Washes & Toners!
ÄKTA® Herbal Face Wash and Herbal Toners
All Kits 30% Off Combined Retail
Botanical Skincare kit
GUNILLA™  Botanical Skin Care Kit is ideal for those who need extra moisture and the perfect system for winter skin. Daily herbal face wash with 13 herbal extracts and our deep cleansing organic aloe herbal based toner. Plus our luxurious deep skin moisturizer with ceramides and our classic eye-de-puff™ with alpha lipoic acid.
The Swedish Tradition of Natural Beauty
Swedish beauty is based on simplicity and the care of mind, body, and skin. Gunilla of Sweden® has a 30-year history of formulating effective plant-based skincare. Developed in Sweden for licensed professionals and physicians, our award-winning skincare centers on our unique greenhouse-grown nutrient-rich botanicals. Combining modern science, active botanical content and the Swedish tradition of natural beauty.
Click for Awards
1/2
Pioneering Botanically Based Acne Products
Blazing the trail against acne, blemishes and problem skin with our award winning 100% organic clay treatment and botanically based nutrient-rich acne products without the harsh chemicals or common side effects. LEROSETT® products offer nutrient-rich botanical acne systems, power couples, and individual products designed to nourish, clear and help heal damaged skin.
Click for Awards
2/2
Our
Physician
Dr. Adriana Rascanu reached professional success after struggling with acne since the age of 10.  Antibiotics and medications had adverse side effects and she couldn't find an effective long-term healthy solution. After discovering Lerosett's botanically-based acne products, she has had clear skin ever since. Transformed by this experience, Dr. Rascanu joined the Gunilla Team, consulting on product development, ingredients, clinical studies and more.  Results may vary.