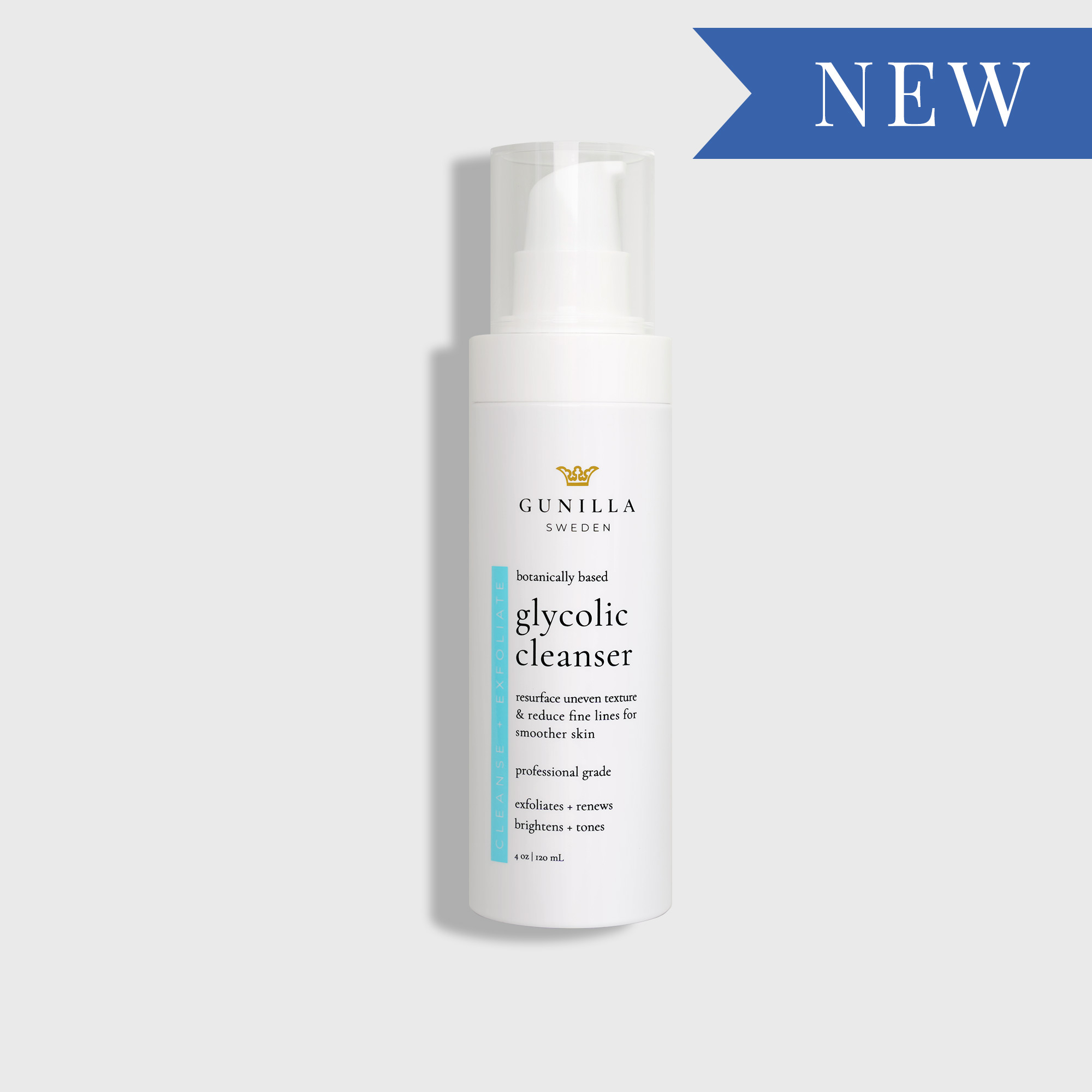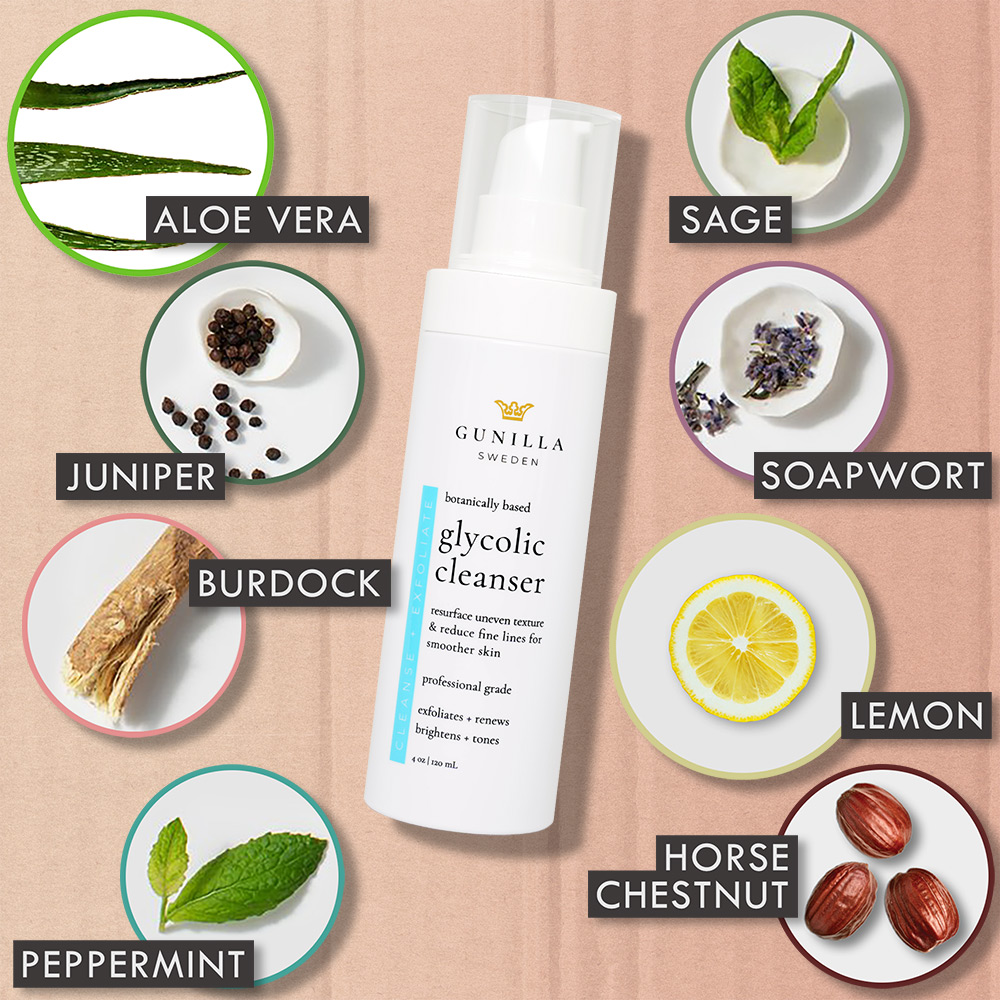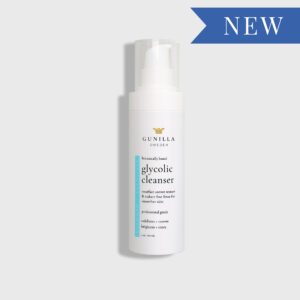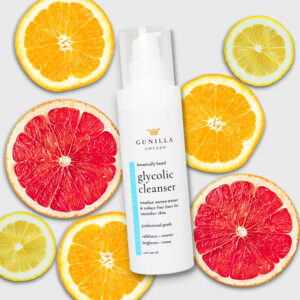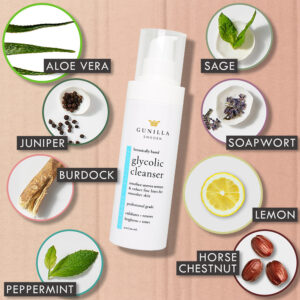 Why Is It Different?
This formula harnesses the exfoliating power of natural glycolic acid with 16+ organic, botanical & active ingredients based in aloe vera for a deep cleanse that is nourishing and balancing, not over-drying like water-based cleansers that strip away too many layers and harm the natural balance of oils and pH levels on the skin.
What Does It Do?
Exfoliates and cleanses impurities while replenishing instead of stripping the skin's healthy protective barrier for visibly smoother, firmer, younger-looking skin with reduced fine lines & wrinkles.
How To Use
Massage a small amount into moist skin on the face and neck AM & PM. Rinse thoroughly with water and follow with moisturizer.
Glycolic Cleanser 4 oz
Glycolic Cleanser 4 oz
All-New Oil-Free Aloe-Based 2% Glycolic Acid Foaming Gel Cleanser  
Experience softer, smoother, brighter & clearer looking skin from this expertly formulated oil-free gel cleanser with its hydrating aloe base, exfoliating pure glycolic acid, and multiple botanical ingredients.  98% Organic, Natural & Botanical. Our most affordable pro-grade organic aloe-based cleanser.
Benefits: The calming aloe vera base allows 2% glycolic acid to exfoliate, refine texture, reduce fine lines, and brighten skin tone without over irritating the skin. This pro-grade face wash quickly dissolves oils, debris, dead skin cells, blackheads, blemishes, unclogs pores, and preserves natural pH balance.  Formulated in Sweden
No parabens, oils, benzoyl peroxide, salicylic acid, sulfur, dyes, alcohol, silicone, phthalates, or unnecessary chemicals

Details
4 oz Gel Foaming Cleanser
5.5 pH
30-Day Supply at 2x Daily
For normal, combination, oily & acne prone skin. Light Natural Lemon Aroma.
Multi-functional Cleanser
The ultra cleansing of glycolic acid, aloe & multiple botanicals combine to visibly smooths fine lines, reduces oiliness, blemishes, future breakouts, and brightens skin tone
Tighten & Brighten
In addition to deep pore cleansing, remove any surface build up and exfoliate skin for a tighter, smoother complexion
Includes GUNILLA® Super Shammy™
Our ultra-soft and gentle exfoliating antibacterial washcloth is perfect for cleansing; it dries stiff, killing bacteria after every use
More Details
More Details
Step 2
16+ Active & Botanical Ingredients: 100% Organic Hydroponic Aloe, Vegetable Glycerin, Amino Acids from Oats & Apples, Lemon, Witch Hazel, Sage, Peppermint, Burdock, Horse Chestnut, St. John's-wort, Soapwort, and more.  Botanicals Chosen at Their Height of Potency
The Most Effective Main Ingredient in Cleansers & Skincare.
Our most affordable organic aloe-based professional cleanser. Most all cleansers in the $15 range use water as the 1st and main ingredient.
Based on over 60% of our unique greenhouse-grown organic aloe, GUNILLA® Glycolic Cleanser is therapeutic and anti-inflammatory by its very nature, having countless benefits over common water or oil-based cleansers.
Hydroponic aloe base combats free radicals, signs of environmental damage with potent anti-inflammatory properties that help visibly plump skin. Our unique hand-planted hydroponic aloe is grown in nutrient-infused recycled water, not soil, without pesticides or herbicides.
Cleansing, Hydrating, Soothing & Detoxifying
Infusing powerful amino acid complexes into your skin, our Glycolic Cleanser is naturally anti-bacterial and anti-inflammatory leaving your skin clean, soft, and refreshing while still maintaining a healthy glow.
How to Use
How to Use
Step 1
Using fingertips, apply a small amount to GUNILLA® Glycolic Cleanser moistened skin.
Highly concentrated 3 pumps should be enough for facial cleansing.,With circular motions, massage GUNILLA® Glycolic Cleanser gently into moistened skin. 
or
GUNILLA® Super Shammy™- Our antibacterial washcloth is the perfect gentle exfoliator for facial cleansing. Very effective as a make-up remover with the cleanser. The shammy can be cut into smaller pieces helping remove makeup,Rinse thoroughly with tepid water. Pat dry. Use AM and PM,You should follow with the proper botanical moisturizer of your choice.
GUNILLA® Herbal Toner Removal all minute traces or debris, all skin types.
GUNILLA® Hyaluronic Acid Hydrating Serum- #1 Recommended Serum for normal, dry, combo, sensitive skin types
GUNILLA® Deep Skin Moisturizer with Ceramides the Maximum in Moisture for dry, normal, sensitive skin types
LEROSETT® Oil-Free Moisture Matte Light Hydrating Cream for normal, oily, sensitive skin types or needing a matte finish  
LEROSETT® Oil-Free Healing Serum hydrating oily, normal, sensitive and acne-prone skin
Key Active & Botanical Ingredients
Key Active & Botanical Ingredients
Botanical Ingredients
Aloe Vera
Contains vitamins A, C and E, which are antioxidants. Over 9 Vitamins & 9 Minerals, 20 Amino Acids, 7 Enzymes that significantly increases collagen synthesis
Anti-Inflammatory, antimicrobial, helps heals wounds and fades scarring & and is one of the only known substances which can penetrate the dermis layer of the skin
Mucopolysaccharides help bind moisture into the skin and work effectively with ceramides, Stimulates fibroblast produces collagen and elastin to help heal skin & wounds
Glycolic Acid
Speeds up cell turnover and bring fresher, younger cells to the surface-Helps skin feel firmer and minimizes fine lines and wrinkles
Glycolic acids are the smallest molecule of alpha hydroxy acids and are used in the treatment of aging, discoloration and scarring
Witch Hazel
Helps control the production of excess oil & acts as a natural astringent
Helps prevent development of blackheads
Lemon
Balances skin tone while gently exfoliating, fading dark spots and blemishes
Rich in Alpha Hydroxy Acids, Vitamin C & Antioxidants increasing collagen in the skin
St. John's Wort
Reduces appearance of fine lines and wrinkles
Heals and smoothes dry and oily skin
Horse Chestnut
Plays an important role in protecting the levels of hyaluronic acid in your skin-Possesses potent anti-inflammatory properties
Helps the skin battle the signs of aging that deplete collagen and elastin from the skin-Has anti-irritant and toning properties
Soapwort
Heals, moisturizes, soothes and softens skin
Treats skin conditions such as acne, eczema, and psoriasis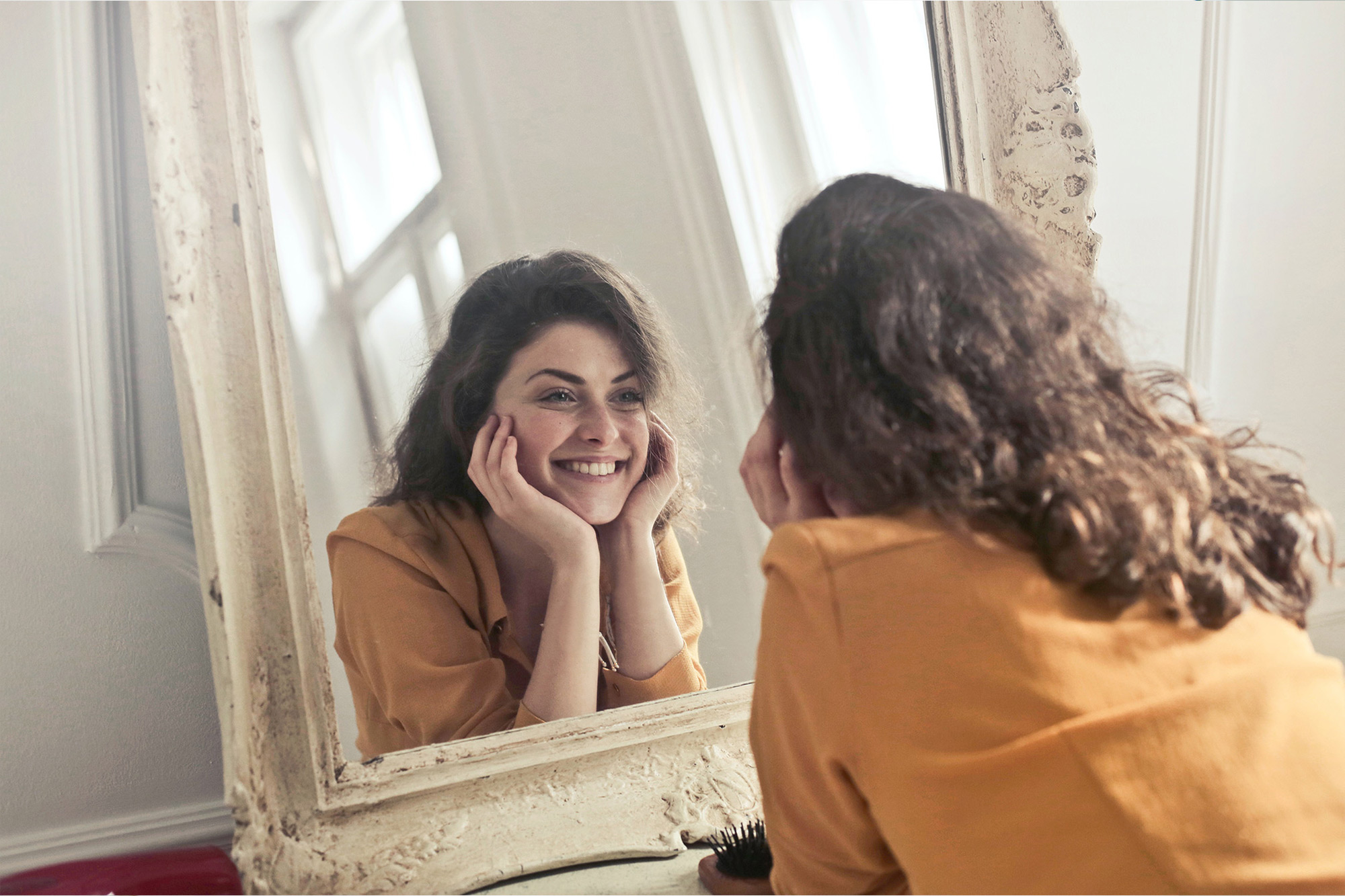 User Reviews
Ingredients
Paired Products
Ingredients
Glycolic Cleanser: 100% organic greenhouse-grown aloe barbadensis leaf juice*, aqua, potassium Laureth phosphate*, vegetable glycerin*, sodium cocoyl alaninate, Cocamidopropyl betaine, peg-120 methyl glucose dioleate, lauryl glucoside, glycolic acid*, sodium lauroyl (oat) amino acids*, sodium cocoyl (apple) amino acids*, potassium hydroxide, sodium chloride, sodium benzoate, chlorphenesin, citrus Limon (lemon)*, disodium EDTA, hexylene glycol, hamamelis Virginiana (witch hazel) flower water*, butylene glycol, phenoxyethanol, Salvia Officinalis (Sage) leaf extract*, tetrasodium glutamate diacetate, Mentha Piperita (peppermint) leaf extract*, Melissa Officinalis (lemon balm) leaf extract*, Arctium majus (burdock) root extract*, Juniperus communis (juniper) fruit extract*, Aesculus hippocastanum (horse chestnut) extract*, Hypericum perforatum (St. John's-wort) extract*, Saponaria Officinalis (soapwort) leaf extract*, ethylhexylglycerin
*Organic, Botanical & Active Ingredients