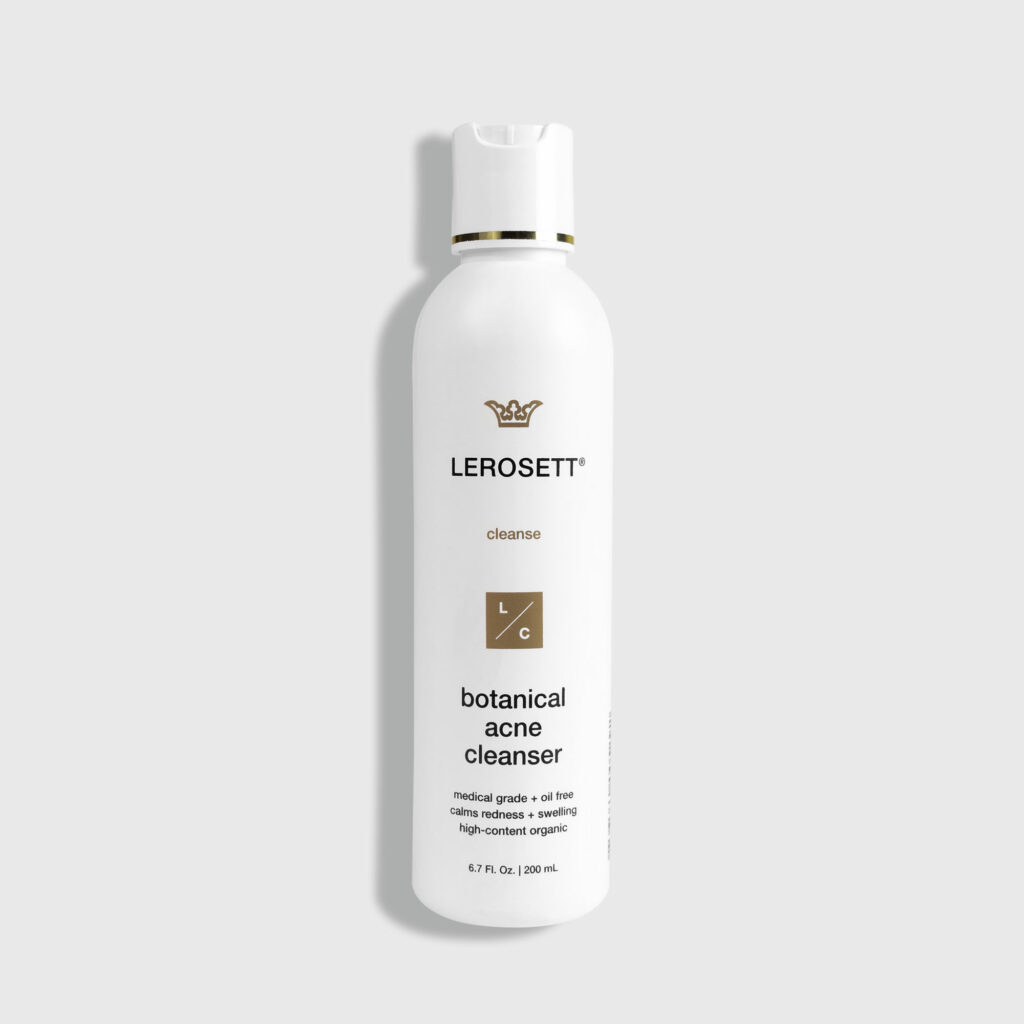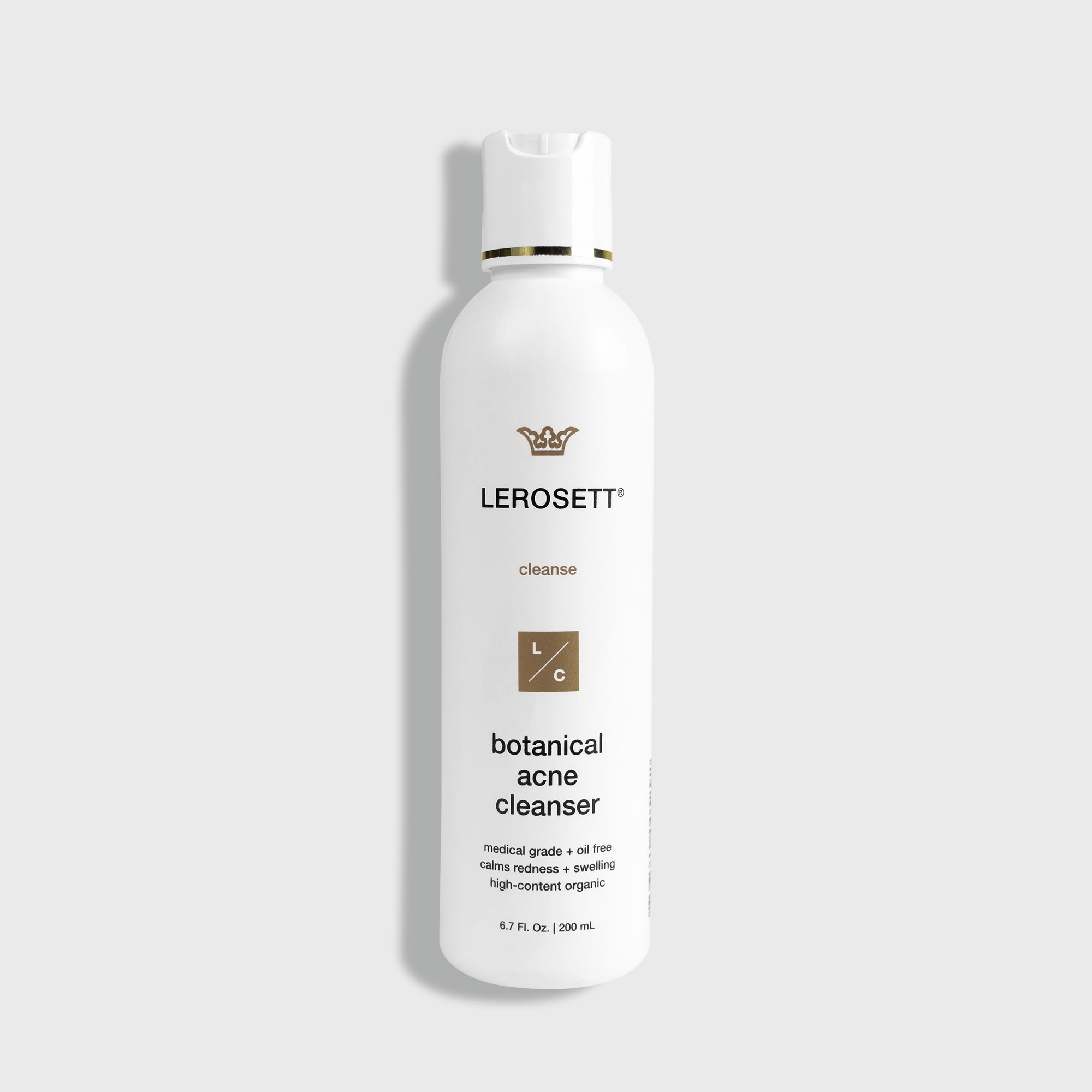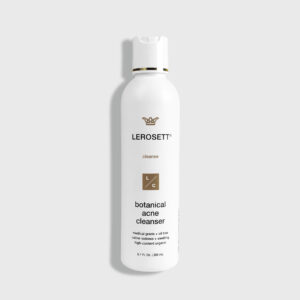 Acne Cleanser + Healing Serum™ Duo
Acne Cleanser + Healing Serum™ Duo
Daily Acne Cleanser & Healing Serum AM/PM Duo
LEROSETT® Botanical Acne Gel Cleanser dissolves oils leaving skin feeling soft, clean, and refreshed. It's gentle, soothing, non-drying, and effectively clears acne, pimples, blackheads, and oily problem skin.
Benefits: Shown to be highly effective after decades of clinical use. Regenerative Healing Serum™ is a translucent, nongreasy, hydrating serum that speeds healing, helps reduce acne scarring, and minor skin damage. It also helps diminish pimples, breakouts, irritation & inflammation that can lead to more acne scarring.
- Oil-Free Duo Over 98% Organic, Natural, and Botanical.
Open 'Duo Contents' Tab for Full Details of Each Product
Each product contains over 60% nutrient-infused greenhouse-grown organic aloe and is therapeutic by its very nature, having countless benefits over common water-based or oil-based acne products.
90-Day Money-Back Guarantee
Details
Estimated 60-day supply at 2x dailyFor all skin types, and sensitive skin, for both men and women. Non-drying.
No parabens, benzoyl peroxide, sulfur, oils, sulfates, phthalates, dyes, or unnecessary chemicals.
Healing Serum has lighter and smaller molecules than creams; in addition to smaller molecules, your skin absorbs serums faster than cream moisturizers.
Our time-tested formula allows active ingredients like collagen, ginseng, elastin, and red algae to penetrate the skin's lipid barrier better than cream moisturizers.
Acne Cleanser Dissolves oils without over-stripping the skin, leaving skin feeling extra soft, clean, and refreshed. Penetrates deep into pores, unclogging excess oil and prevents breakouts and blackheads
Kits are assembled by our local school ACCESS Program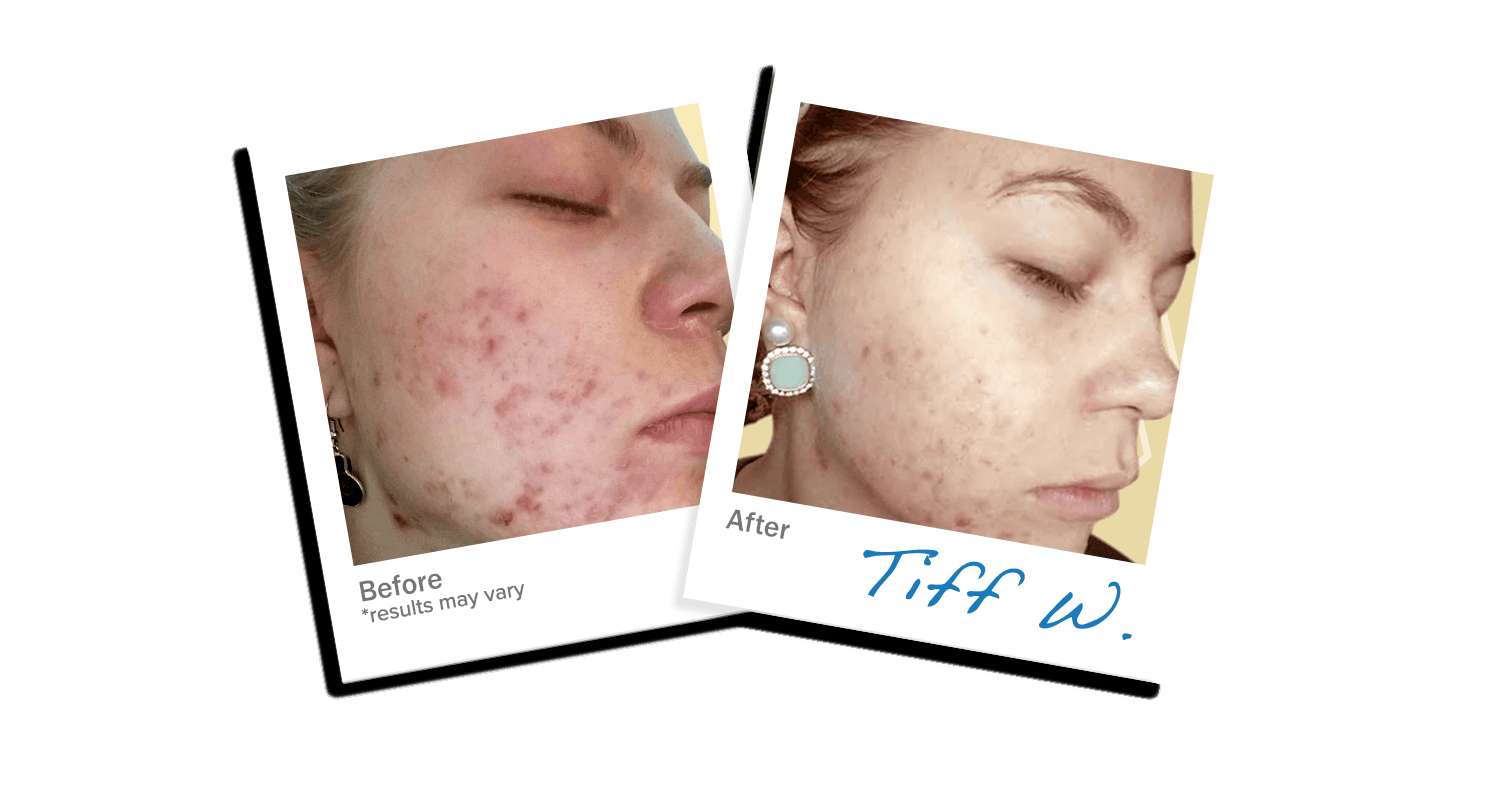 Duo Contents
Duo Contents
Step 2
The Most Effective Main Ingredient for Treating Acne/Oily/Problem Skin
Both products contain over 60% nutrient-infused hydroponically greenhouse-grown organic aloe and are therapeutic by their very nature compared to water or oil-based moisturizers.
Hydroponically grown aloe combats free radicals, environmental skin damage, and moisturizes with strong anti-inflammatory properties. Our unique hydroponic aloe is hand planted and grown without pesticides or herbicides.
Step 4
1 oz Organic Healing Serum
Moisturizes as it helps heal pimples, reducing scarring. Works to balance and smooth skin, helping to reduce hyperpigmentation and dark spots. Minimizes swelling and redness.
Deeply Nourishes the Skin
LEROSETT® Healing Serum works to prevent the breakdown of collagen and elastin. Restores the appearance of smooth, clear skin and nourishes your skin's deep layers to speed up cellular turnover, for less scarring.
10+ Active & Botanical Ingredients: 64% Hydroponic Healing Aloe, 5% Panax Ginseng, Vegetable Collagen, Elastin Marin Collagen, Red Algae, Glycosaminoglycans, Revitalin, Keratin, Rose, Linden, and Mallow.  
Step 6
6.7 oz Botanical Acne Cleanser
This twice-daily maximum strength acne cleanser with 2% salicylic acid is deeply soothing with 64% organic aloe—a one-of-a-kind exfoliating face wash that helps moisturize, soothe, calm & heal damaged skin
Step 8
Includes Super Shammy™
Our ultra-soft and gentle exfoliating antibacterial washcloth is perfect for cleansing; it dries stiff, killing bacteria after every use. Long-lasting.
How To Use
How To Use
LEROSETT® Botanical Acne Cleanser
Step 3
Rinse thoroughly with tepid water, pat dry.
LEROSETT® Regenerative Healing Serum™
Key Active & Botanical Ingredients
Key Active & Botanical Ingredients
Botanical Ingredients
Aloe Vera
Contains vitamins A, C and E, which are antioxidants. Over 9 Vitamins & 9 Minerals, 20 Amino Acids, 7 Enzymes that significantly increases collagen synthesis
Anti-Inflammatory, antimicrobial, helps heals wounds and fades scarring & and is one of the only known substances which can penetrate the dermis layer of the skin
Mucopolysaccharides help bind moisture into the skin and work effectively with ceramides, Stimulates fibroblast produces collagen and elastin to help heal skin & wounds
Willow Bark
Contains Salicylic Acid & acts as a natural exfoliant
Helps reduce signs of aging and the appearance of wrinkles
Ginseng Root
Helps boost the circulation of your skin improving colllagen production-Helps brighten and revitalize your complexion
Antioxidant properties protect your skin from free radicals-Reduces appearance of fine lines and wrinkles
Rose Oil
Regenerates and heals the skin while brightens and evens out the skin
Increases collagen production and skin elasticity-Intensely hydrates and moisturizes the skin
Alpine Rose
Alpine Rose can protect the skin from UV damage, and so much more!
Mallow
Creates a barrier that can help skin hold onto moisture
Prevents cell damage from environmental factors
Tilia Sylvestris
Detoxifies the skin, and locks in moisture with water-binding properties
Helps to slow down the aging process by lowering inflammation
Lemon
Balances skin tone while gently exfoliating, fading dark spots and blemishes
Rich in Alpha Hydroxy Acids, Vitamin C & Antioxidants increasing collagen in the skin
User Reviews
Ingredients
Paired Products
Resources
Ingredients
Active ingredient: Salicylic Acid (2.0%).
Botanical Acne Cleanser: 100% Organic "Greenhouse and Hydroponically Grown" Pure Whole Leaf Aloe Vera Concentrate, Purified Water, Caprylyl Glycol, Cocamidopropyl Betaine, Coco-Glucoside, Lemon, Glyceryl Oleate, Lauramide DEA, Lauryl Glucoside, Phenoxyethanol, Sodium Citrate, Sodium Lauryl Glucose Carboxylate.
Regenerative Healing Serum: 100% Organic "Greenhouse and Hydroponically Grown" Aloe Vera Concentrate, Deionized, Water, Glycerin, Organic Ginseng, Propylene Glycol, Polysorbate-20, Carrageenan, NaPCA amino acid, Phyto-Collagen, Hydrolyzed Mucopolysaccharides, Organic Mallow, Hydrolyzed Elastin, Revitalin, Keratin, Organic Linden, Organic Rose, Methyl Paraben, Imidazolidinyl Urea