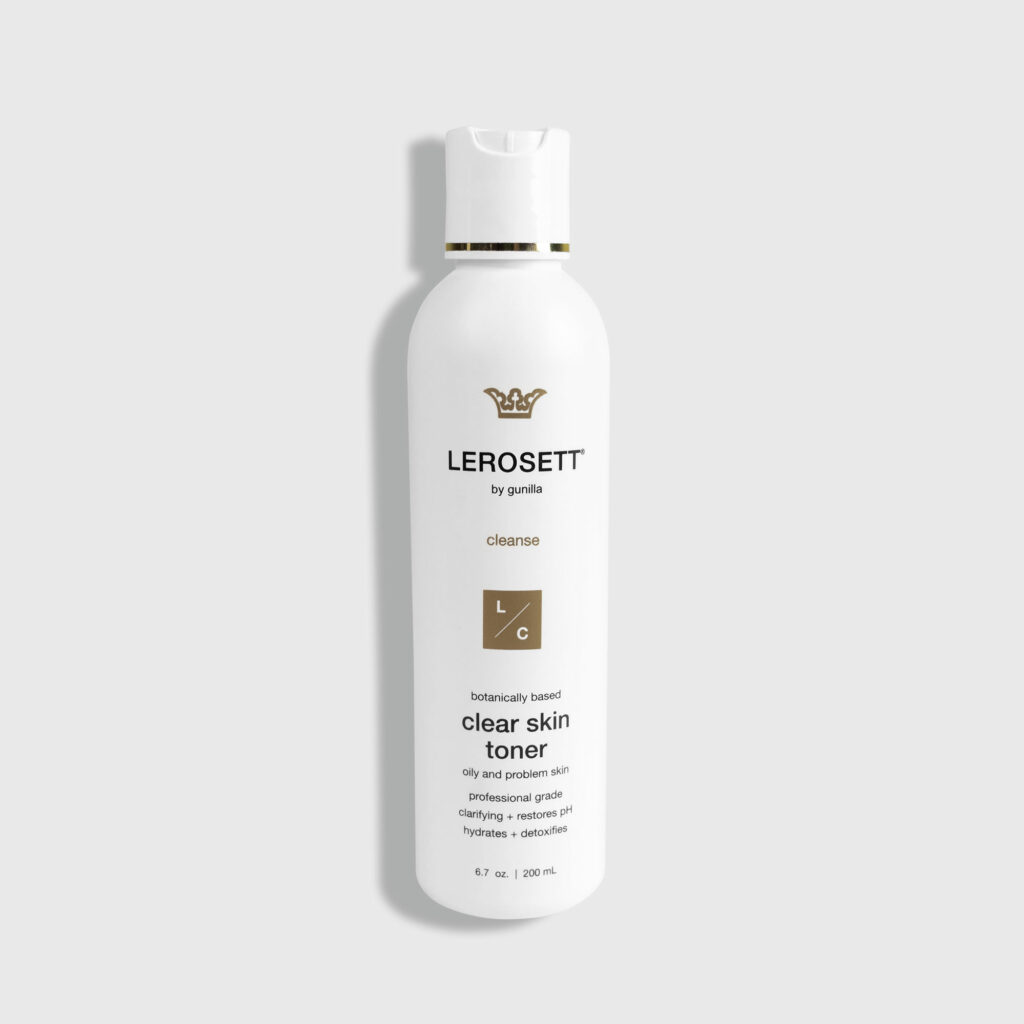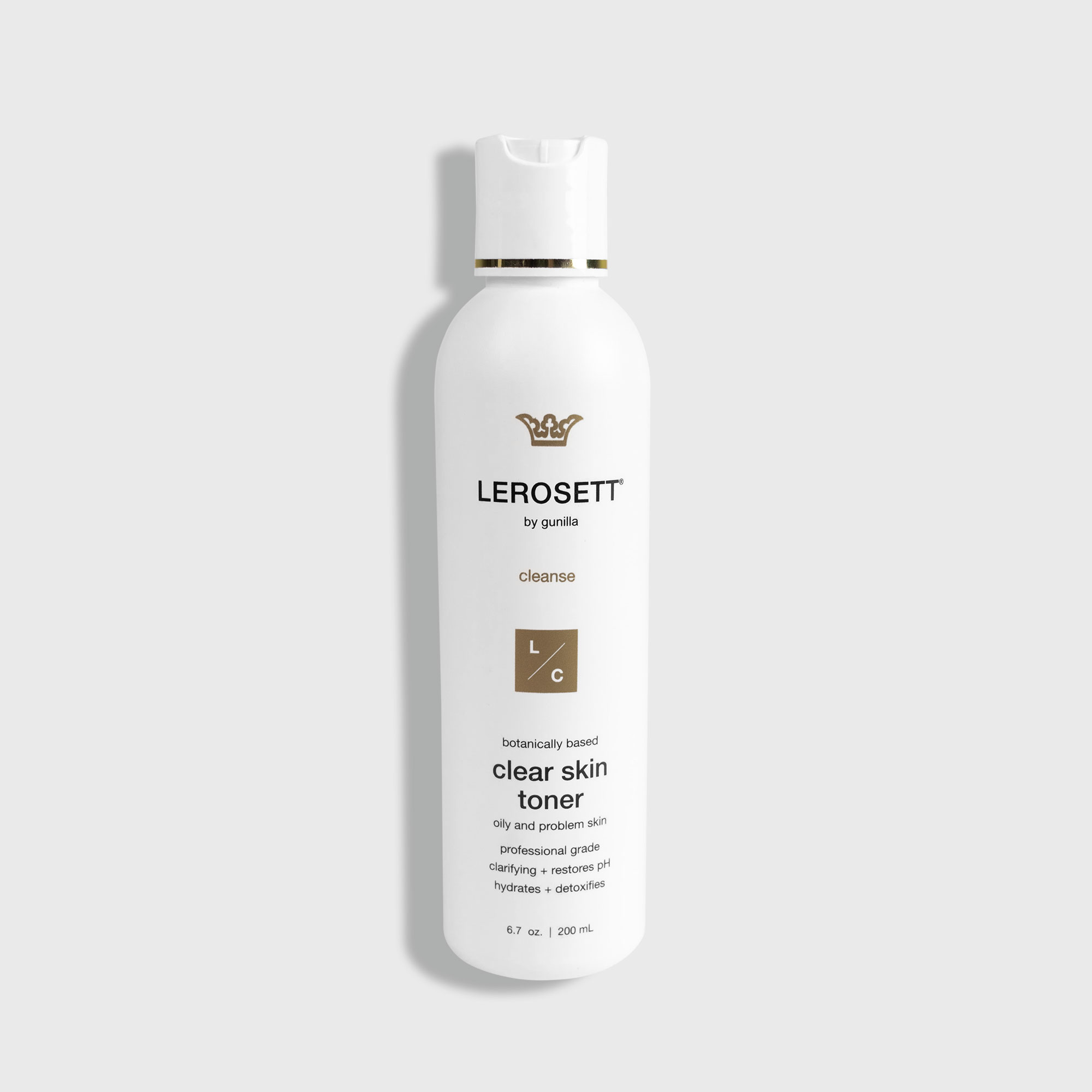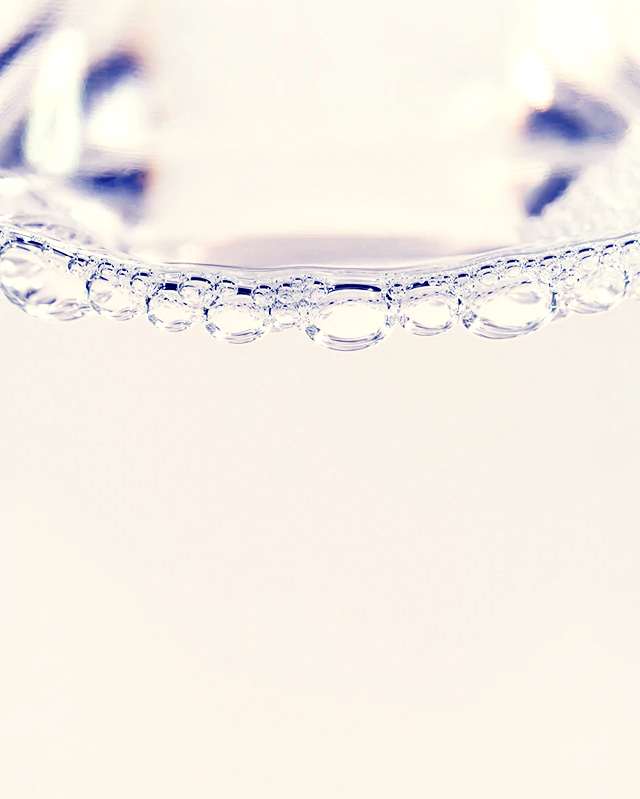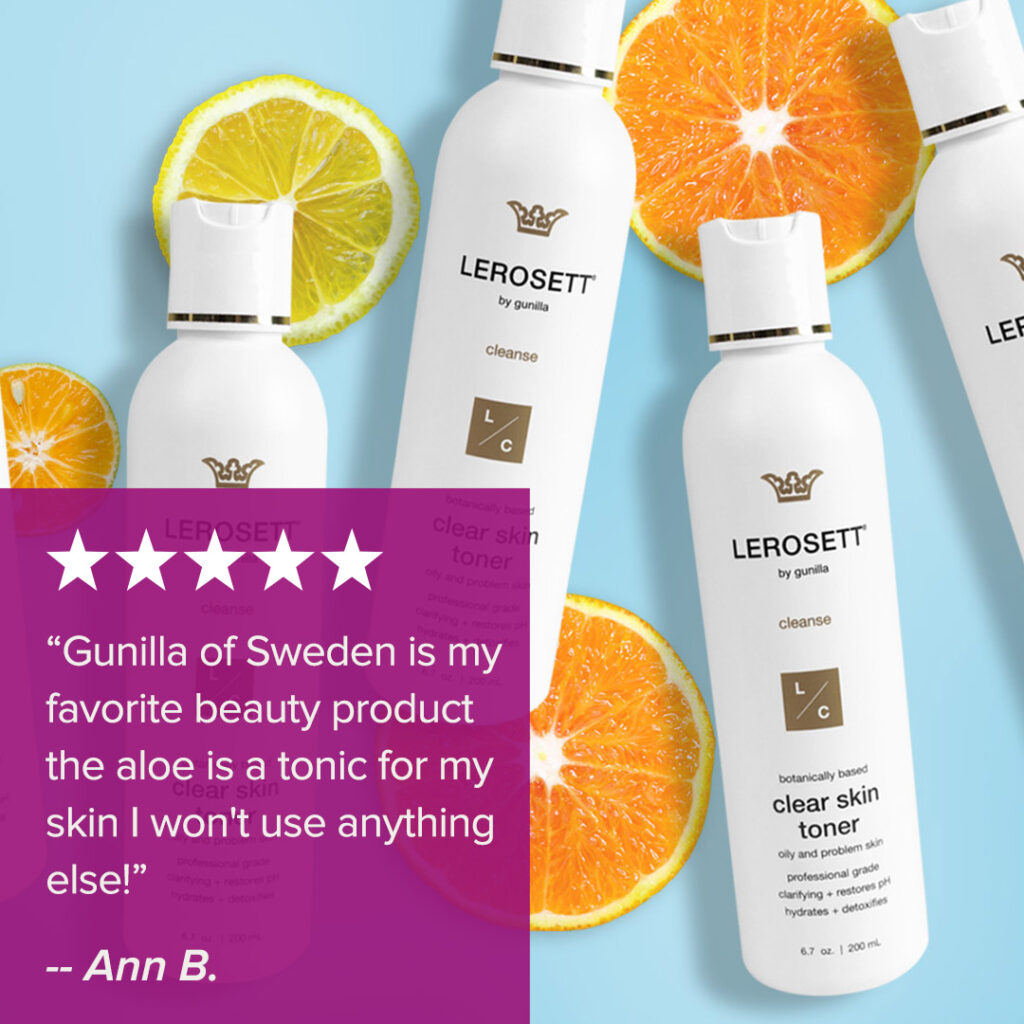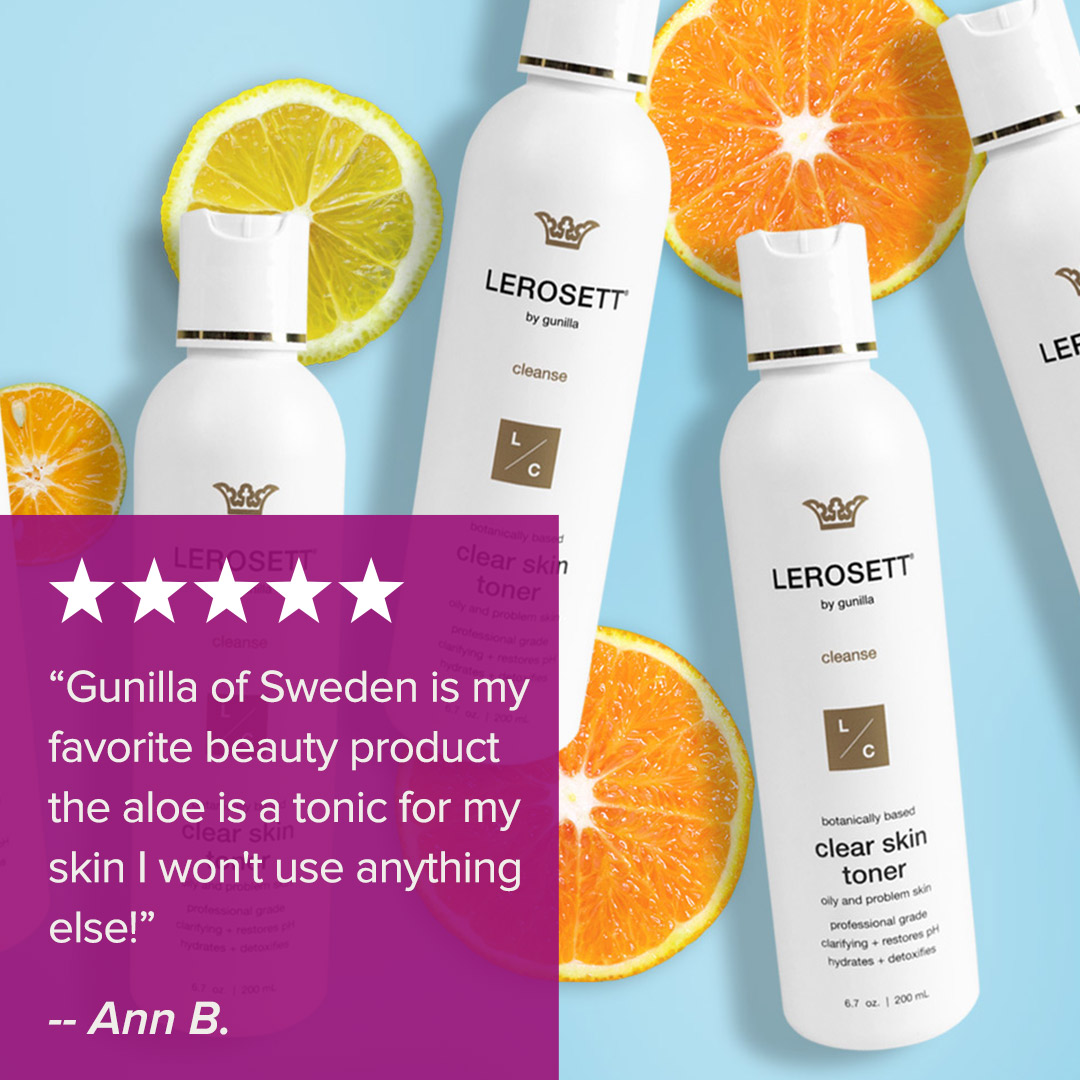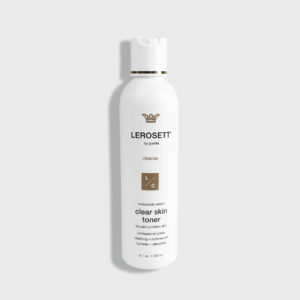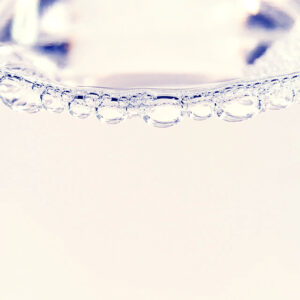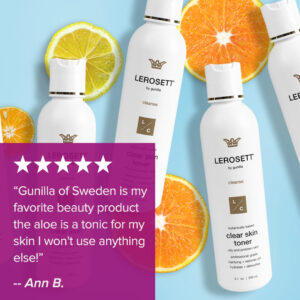 Product Overview
Product Overview
LEROSETT® Clear Skin Toner is a rare organic aloe-based balancing toner. Natural glycolic acid gently exfoliates dead skin cells while cleansing away most residual oils, debris, makeup, and bacteria. —effectively tightening pores while balancing your skin's natural pH balance.
Active & Botanical Ingredients: Ultra-pure glycolic acid with 60% nutrient-infused greenhouse-grown organic aloe, Vit-C & Vit-E, has countless therapeutic advantages over regular water-based skin toners. Plus, Organic Grapefruit, German Chamomile, Linden Tree, Roman Chamomile, Calendula Flower, St. John's-wort, Cornflower, & Lemon. These added botanicals and natural vitamins help moisturize, soothe, calm & heal damaged skin. Hand planted, no pesticides or herbicides.
Clear Skin Guaranteed!
Cruelty-Free Products
Details
6.7oz 60-Day Supply Used Twice Daily.
For all skin types, especially sensitive skin.
5.5 pH Level. Cruelty-Free
No parabens, oils, sulfates, phthalates, dyes, benzoyl peroxide, sulfur, or unnecessary chemicals.
98% Organic, Natural, and Botanical Ingredients. Alcohol-Free, Oil-Free & 100% Vegetarian.
More Details
More Details
Step 1
Why Are Toners Essential?
To moisturize and nourish the skin after cleansing and removing any makeup. Toning your skin can help skincare products absorb your skincare more rapidly, bringing your skin back to its natural acidic state for plumper, glowing skin.
Helps Tone and Tighten Pore Size
With 24 antioxidants, 12 amino acids, and enzymes, LEROSETT® Clear Skin Toner works to increase circulation, inhibit inflammation, and promote cellular rejuvenation.
How To Use
How To Use
Step 1
Using a cotton pad, apply the toner using upward strokes to the entire face.  Use AM and PM.
Active & Botanical Ingredients
Active & Botanical Ingredients
Botanical Ingredients
Aloe Vera
Contains vitamins A, C and E, which are antioxidants. Over 9 Vitamins & 9 Minerals, 20 Amino Acids, 7 Enzymes that significantly increases collagen synthesis
Anti-Inflammatory, antimicrobial, helps heals wounds and fades scarring & and is one of the only known substances which can penetrate the dermis layer of the skin
Mucopolysaccharides help bind moisture into the skin and work effectively with ceramides, Stimulates fibroblast produces collagen and elastin to help heal skin & wounds
Grapefruit
Helps protect against the signs of sun damage and aging-Softens the skin and boosts collagen production
Helps to reduce the appearance of fine lines and wrinkles-Contains natural astringent properties to make your skin less oily and can even tighten pores
Glycolic Acid
Speeds up cell turnover and bring fresher, younger cells to the surface-Helps skin feel firmer and minimizes fine lines and wrinkles
Glycolic acids are the smallest molecule of alpha hydroxy acids and are used in the treatment of aging, discoloration and scarring
Calendula Flower
Restores moisture to the skin, firming and plumping the skin
Stimualtes natural collagen at the wound site to reduce scarring, while protecting your skin from external aggressors
Chamomile
Improves blood flow and helps the skin to appear brighter and more refreshed
Anti-inflammatory and antioxidant properties, Fights against free-radicals
Cornflower
Boosts complexion with anti-inflammatory properties
Closes pores, regulates sebum production and acts as a natural astringent
St. John's Wort
Reduces appearance of fine lines and wrinkles
Heals and smoothes dry and oily skin
Wheat Protein
Provides amino acids and high glutamine levels to the skin
Helps to refine the tone and texture of your complexion
Allantoin
Moisturizes the skin to prevent dryness and irritation-Helps to exfoliate the skin and improves skin dullness
Soothes inflamed skin and stimulates collagen production while promoting cellular turnover
Lemon
Balances skin tone while gently exfoliating, fading dark spots and blemishes
Rich in Alpha Hydroxy Acids, Vitamin C & Antioxidants increasing collagen in the skin
User Reviews
Ingredients
Paired Products
Resources
Ingredients
Clear Skin Toner: Organic Greenhouse Grown Aloe Barbadensis Leaf Juice, Purified Water, Phenoxyethanol, Caprylyl Glycol, Sodium C8-16 Isoalkylsuccinyl Lactoglobulin Sulfonate, Extracts of: (Calendula Officinalis (Marigold), Anthemis nobilis (Roman Chamomile), Tilia cordata (Lime Tree), Centaurea cyanus (Cornflower), Chamomilla Recutita (Matricaria Chamomilla), Hypericum perforatum (St. Johns Wort)), Glycolic Acid, Panthenol, Wheatgermamidopropyl Dimethylamine Hydrolyzed Wheat Protein, Hydrolyzed Glycosaminoglycans, Allantoin, Citrus Medica Limonum (Lemon) Peel Oil
*Organic & Active Ingredients
Free of benzoyl peroxide, salicylic acid, parabens, mineral oil, sulfates, phthalates, synthetic dye, and sulfur. Cruelty-free, natural citrus aroma, and dermatologist tested and used.