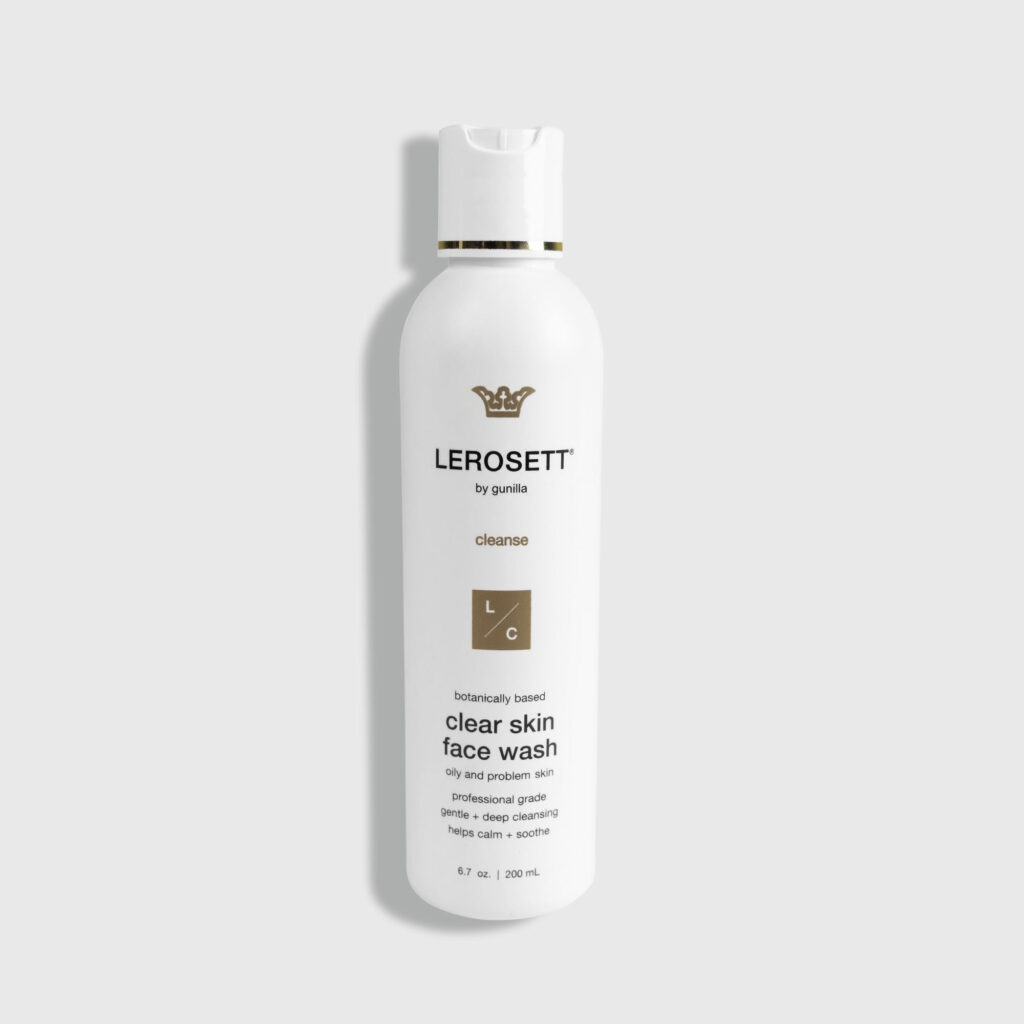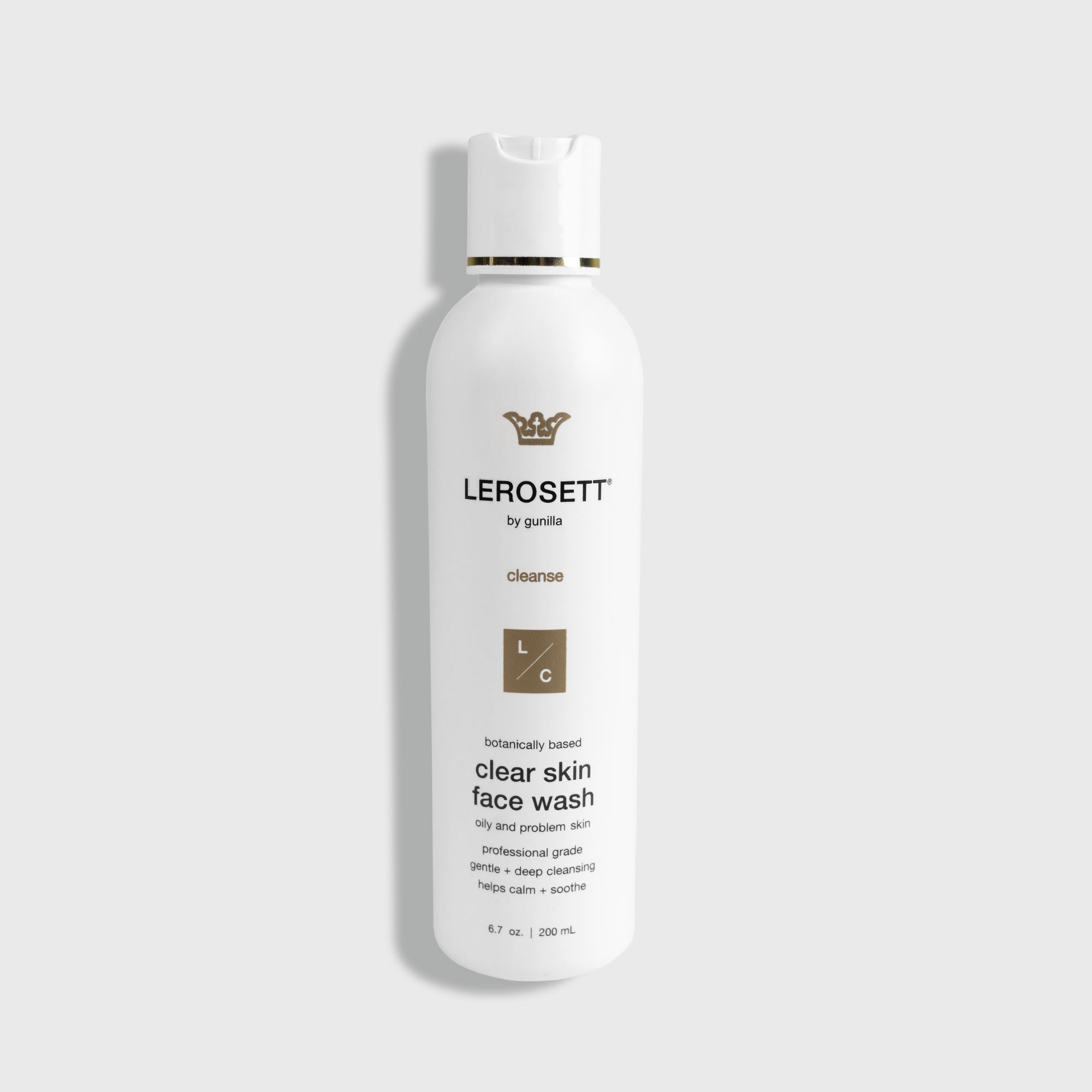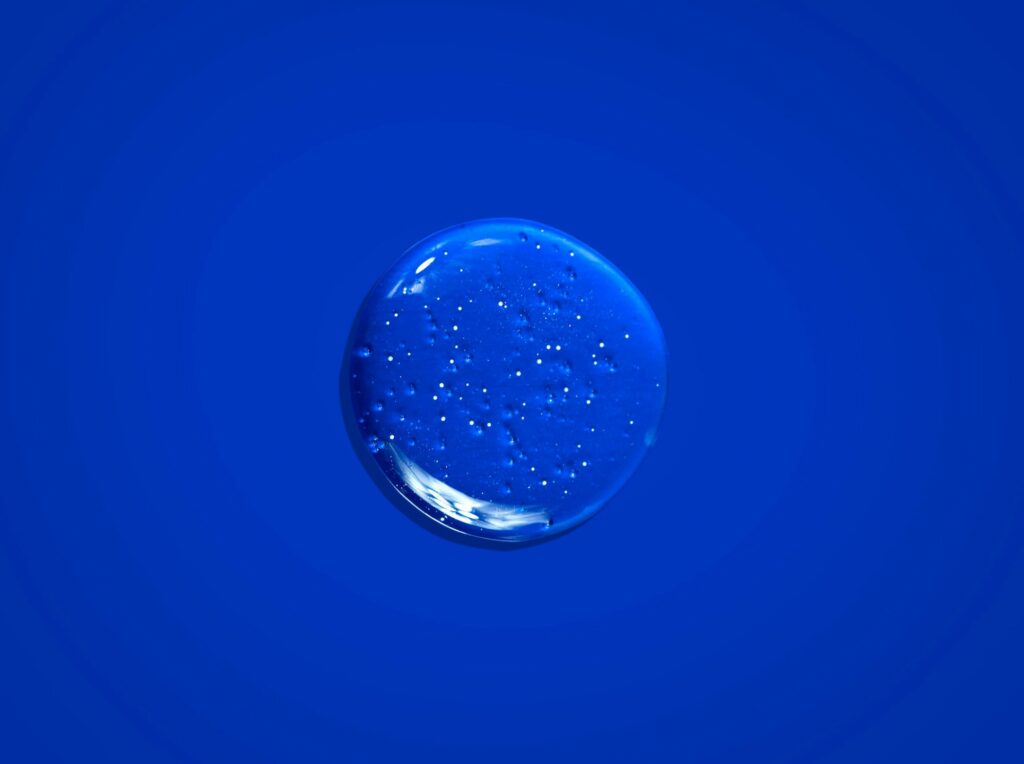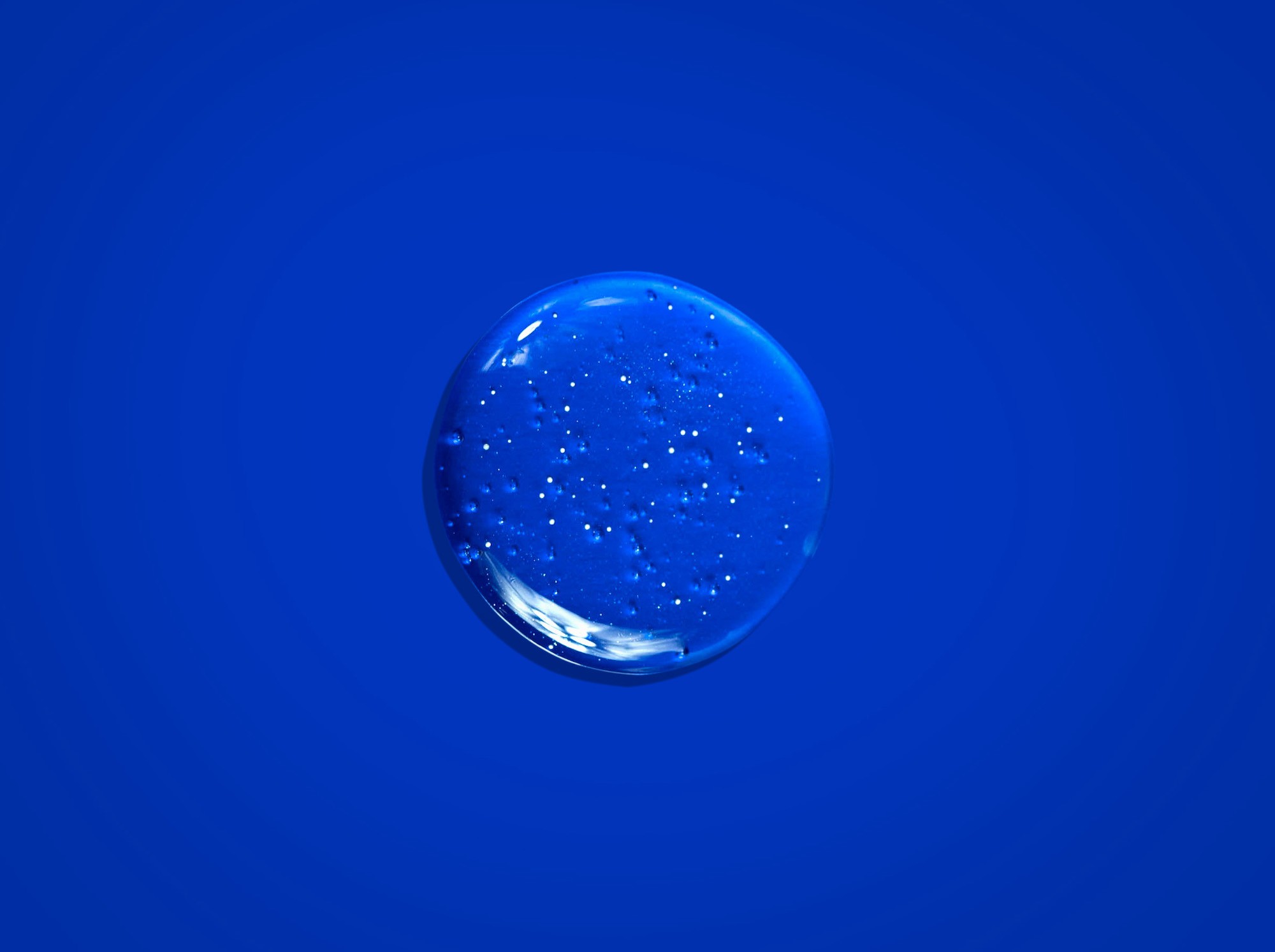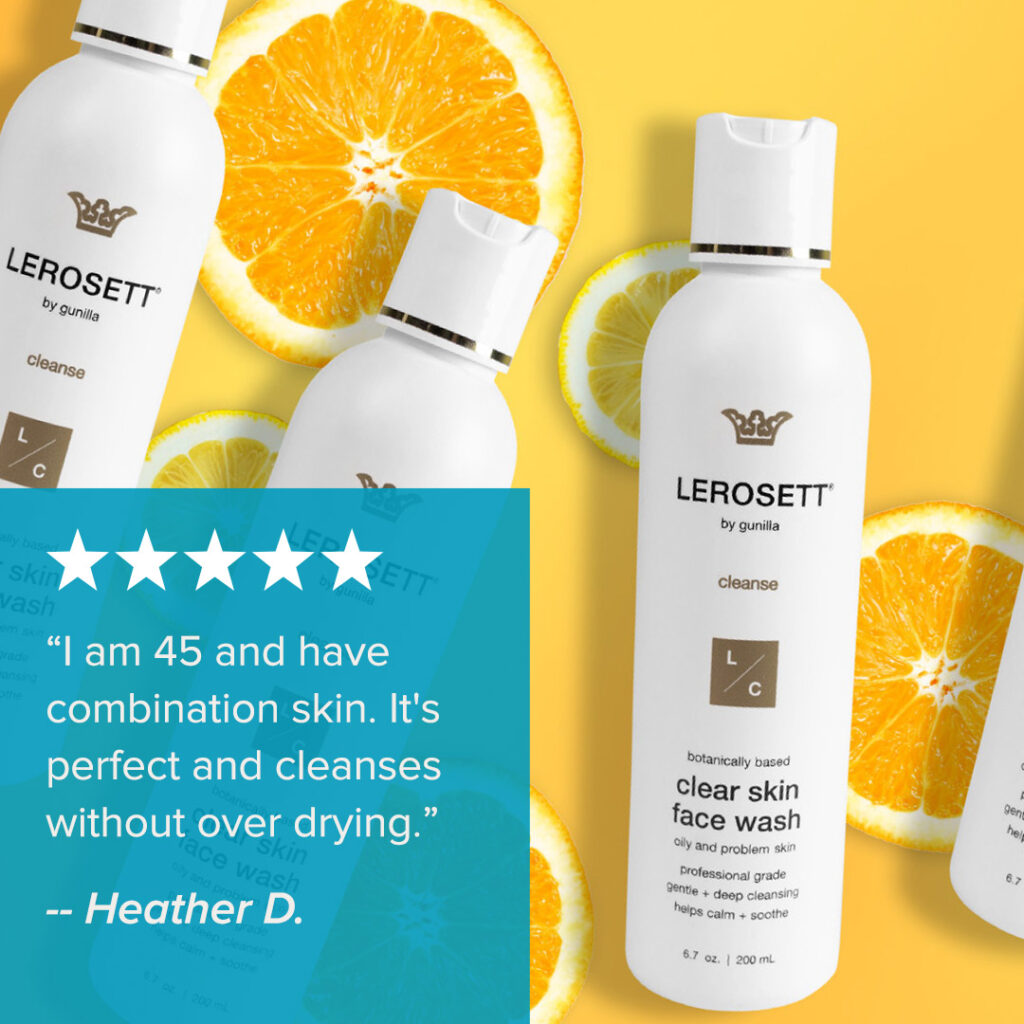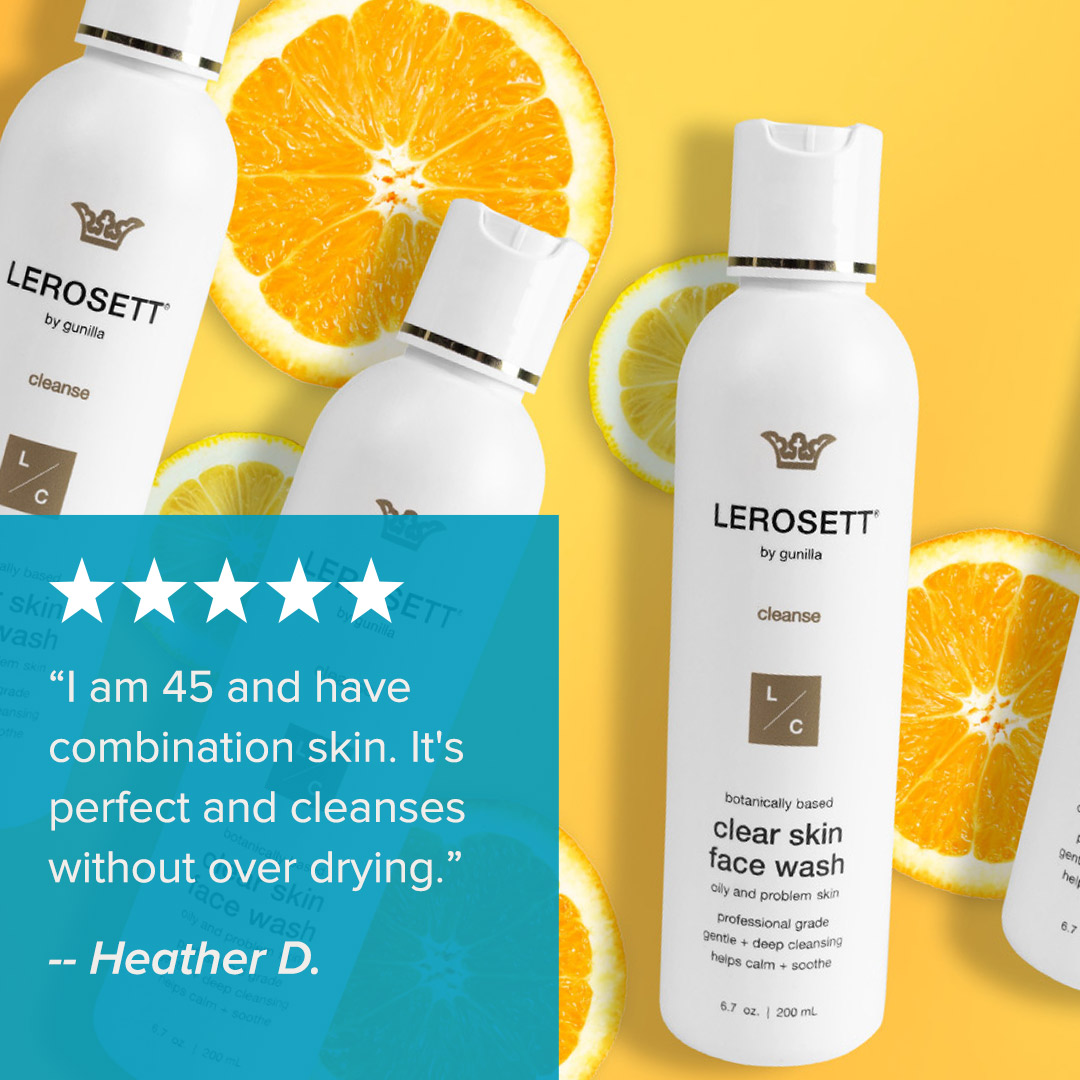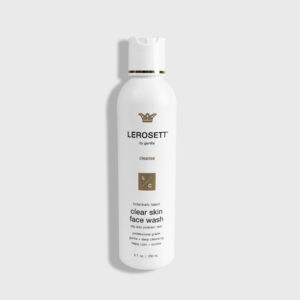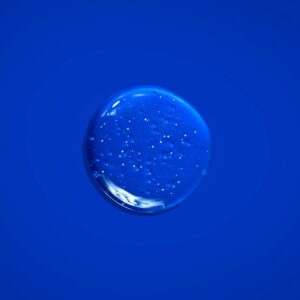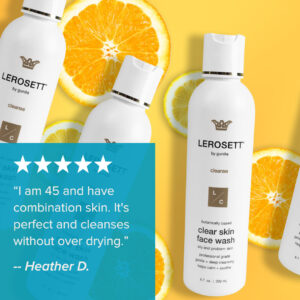 Product Overview
Product Overview
 LEROSETT® Clear Skin Face Wash is packed with vitamin-E-filled microbeads that instantly break open and deliver a burst of antioxidants with every use.
Benefits: A soothing gel cleanser with ultra-pure glycolic acid exfoliates and helps clear pimples, blemishes, breakouts, and oily skin. A light natural lemon aroma leaves a fresh, clean, and balanced skin tone leaving skin soft, not tight.
—Vegan. Pro-Grade. Oil-Free. Over 98% Organic, Natural, and Botanical.
Why LEROSETT® Face Wash Works Better  -See "More Details" Tab
90-Day Money-Back Guarantee
Both PETA & Leaping Bunny Certified
Details
6.7oz 60 Day Supply at 2x Daily.
Suitable for all skin types and sensitive skin for both men and women.
No parabens, benzoyl peroxide, sulfur, oils, sulfates, phthalates, dyes, or unnecessary chemicals.
Includes the Super Shammy™
Our ultra-soft and gentle exfoliating antibacterial washcloth is perfect for cleansing; it dries stiff, killing bacteria after every use. Long-lasting.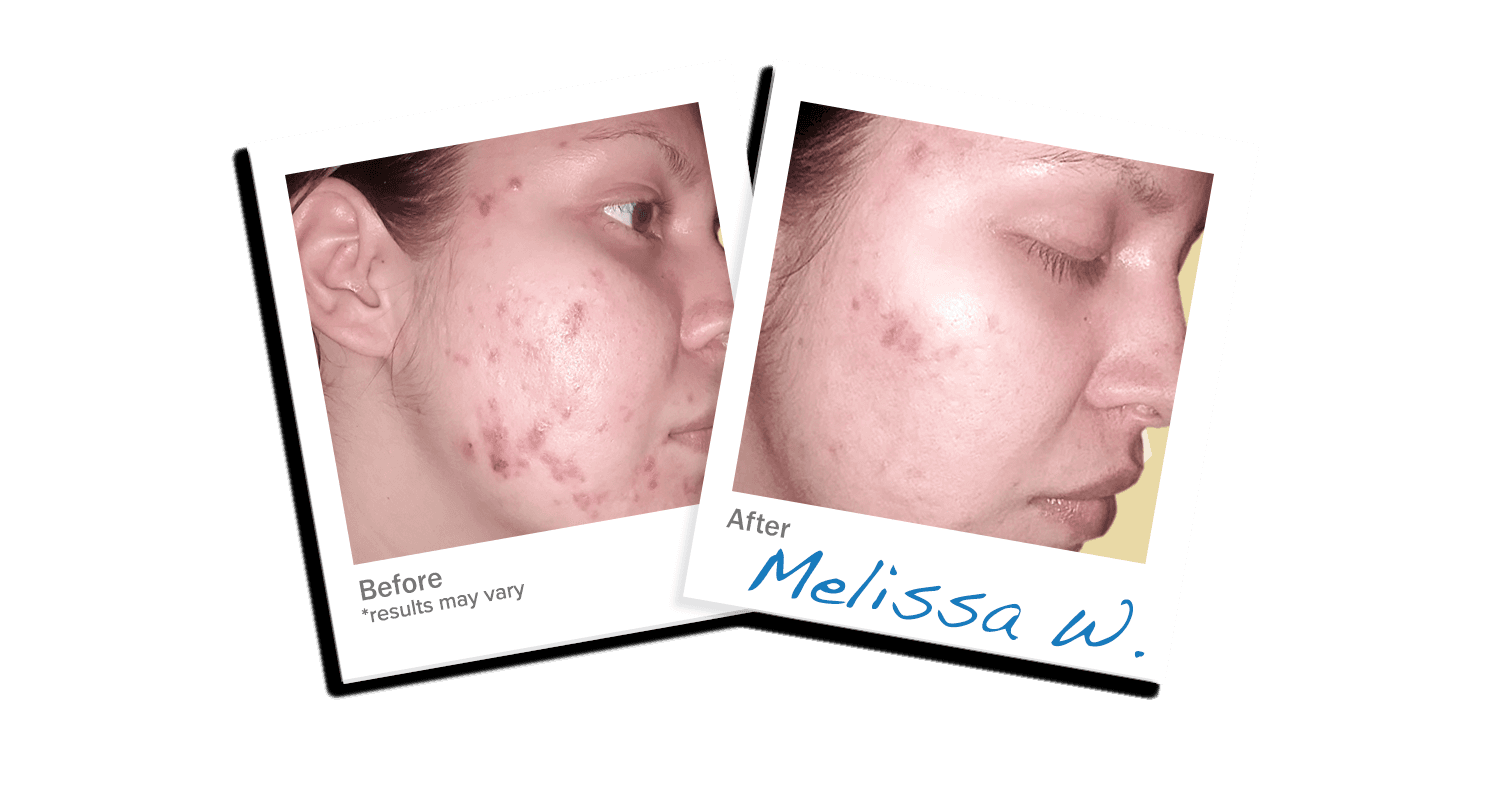 More Details
More Details
Step 1
14 Active & Botanical Ingredients Our superior formula has 3% ultra-pure glycolic acid, panthenol (pro-vitamin B-5), with biodegradable Vitamin-E & Zinc-filled micro-cellulose beads, nourishing the skin every time you cleanse. Plus Organic Watercress, Burdock Root, Sage, Ivy, Grape Vine, Arnica Montana, Witch Hazel, Horse-Chesnut, St. John's-wort, & Lemon. All Botanicals Chosen at their Height of Potency.
The Most Effective Main Ingredient in Skincare is the Main Ingredient in Our Clear Skin Face Wash.
LEROSETT® Clear Skin Face Wash contains over 60% of our unique greenhouse-grown organic aloe and is therapeutic by its very nature compared to water or oil-based skincare.
Hydroponic aloe combats free radicals, signs of environmental skin damage, heals the skin, and moisturizes with strong anti-inflammatory properties. Our unique hydroponic aloe is hand planted and grown without pesticides or herbicides.
Step 2
Benefits of our Pure Glycolic Acid Made from Sugar Cane in Our Face Wash
Helps boost hydration levels in the skin while simultaneously plumping and brightening the complexion of your skin. Treating more than breakouts, glycolic acid tackles signs of skin aging, dullness, and hyperpigmentation.
How To Use
How To Use
Step 1
For face and neck, gently massage a small amount into moistened skin.
Step 2
Work into a lather to release vital nutrients.
Step 3
Rinse thoroughly with tepid water, pat dry. Use AM and PM.
Active & Botanical Ingredients
Active & Botanical Ingredients
Botanical Ingredients
Aloe Vera
Contains vitamins A, C and E, which are antioxidants. Over 9 Vitamins & 9 Minerals, 20 Amino Acids, 7 Enzymes that significantly increases collagen synthesis
Anti-Inflammatory, antimicrobial, helps heals wounds and fades scarring & and is one of the only known substances which can penetrate the dermis layer of the skin
Mucopolysaccharides help bind moisture into the skin and work effectively with ceramides, Stimulates fibroblast produces collagen and elastin to help heal skin & wounds
Glycolic Acid
Speeds up cell turnover and bring fresher, younger cells to the surface-Helps skin feel firmer and minimizes fine lines and wrinkles
Glycolic acids are the smallest molecule of alpha hydroxy acids and are used in the treatment of aging, discoloration and scarring
Burdock Root
Contains the Vitamin B complex, which contains Riboflavin to fight free radical damage and contains Pantothenic Acid to offer an anti-aging boost to the skin
Naturally anti-inflammatory and antioxidant powers that fights acne-causing bacteria
Sage
Antioxidants that reverse signs of aging
Regulates Sebum production
Ivy
Thoroughly hydrates the skin and relieves irritation from skin conditions
Reduces wrinkles, eliminating lines and reducing facial tension
Grape Vine
Protects your skin from UV rays and free radicals-Potent anti-inflammatory and antiseptic agent
Rejuvenates the appearance of your skin-Packed with Vitamin C and antioxidants
Arnica Montana
Restores suppleness to damaged & inflamed areas-Naturally antimicrobial
Reduces Inflammation-Moisturizing
Witch Hazel
Helps control the production of excess oil & acts as a natural astringent
Helps prevent development of blackheads
Lemon
Balances skin tone while gently exfoliating, fading dark spots and blemishes
Rich in Alpha Hydroxy Acids, Vitamin C & Antioxidants increasing collagen in the skin
Wheat Protein
Provides amino acids and high glutamine levels to the skin
Helps to refine the tone and texture of your complexion
User Reviews
Ingredients
Paired Products
Resources
Ingredients
Clear Skin Face Wash: Organic Greenhouse Grown Aloe Barbadensis Leaf Juice, Purified Water, Cocamidopropyl Betaine, Sorbitol, Caprylyl Capric, Phenoxyethanol, Sodium C8-16 Isoalkylsuccinyl Lactoglobulin Sulfonate, Carbomer, Extracts of:: (Nasturtium Officinalis (Watercress),  Arctium Lappa (Burdock), Salvia Officinalis (Sage), Citrus Limonum (Lemon), Hedera Helix (Ivy), Saponaria Officinalis (Soapwort)), Extracts of: ((Vitis Vinifera, Hypericum perforatum, Arnica Montana, Hamamelis Virginiana, Aesculus hippocastanum)), Triethanolamine, Glycolic Acid, Microencapsulated Bead, Citrus Medica Limonum (Lemon) Peel Oil, Panthenol, Hydrolyzed Glycosaminoglycans, Wheatgermamidopropyl Dimethylamine, Hydrolyzed Wheat Protein, Allantoin
*Organic & Active Ingredients
Free of benzoyl peroxide, salicylic acid, parabens, mineral oil, sulfates, phthalates, synthetic dye, and sulfur. Cruelty-free, natural citrus aroma, and dermatologist tested and used.