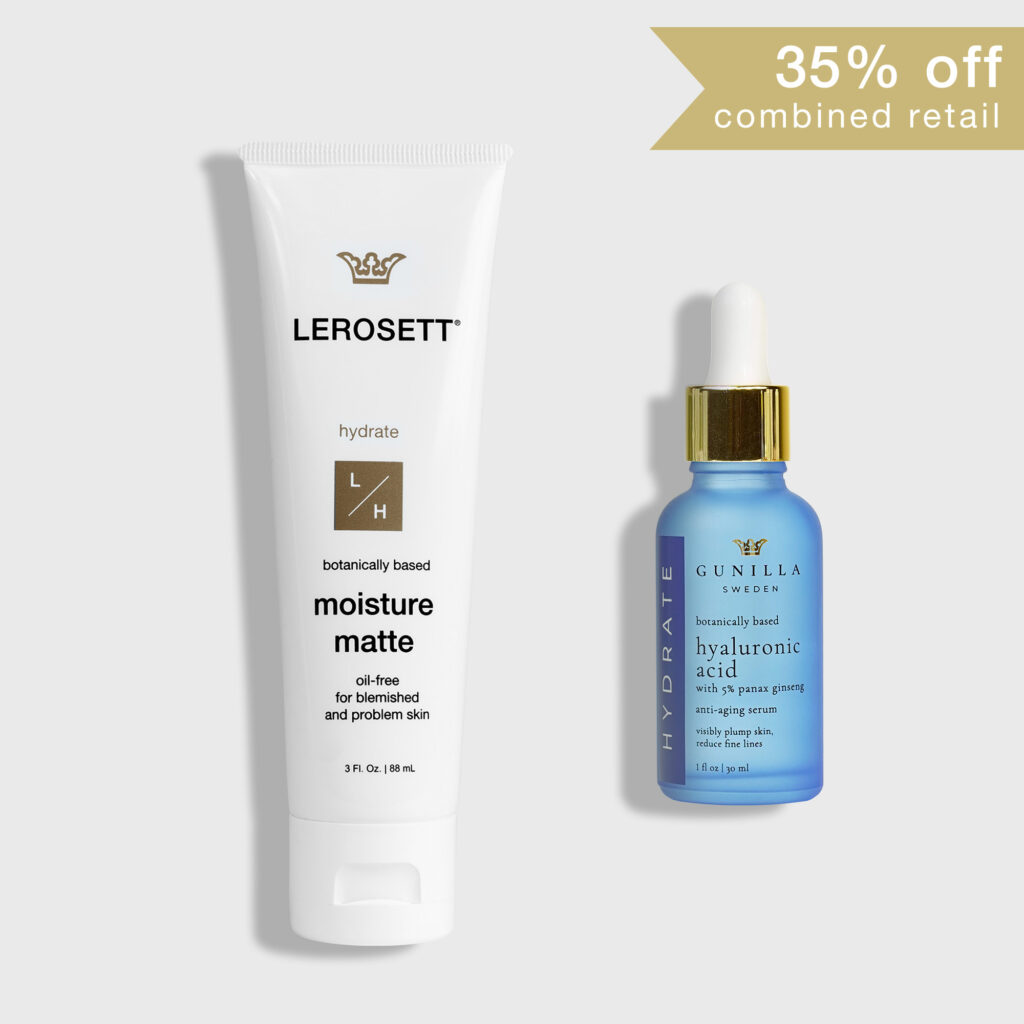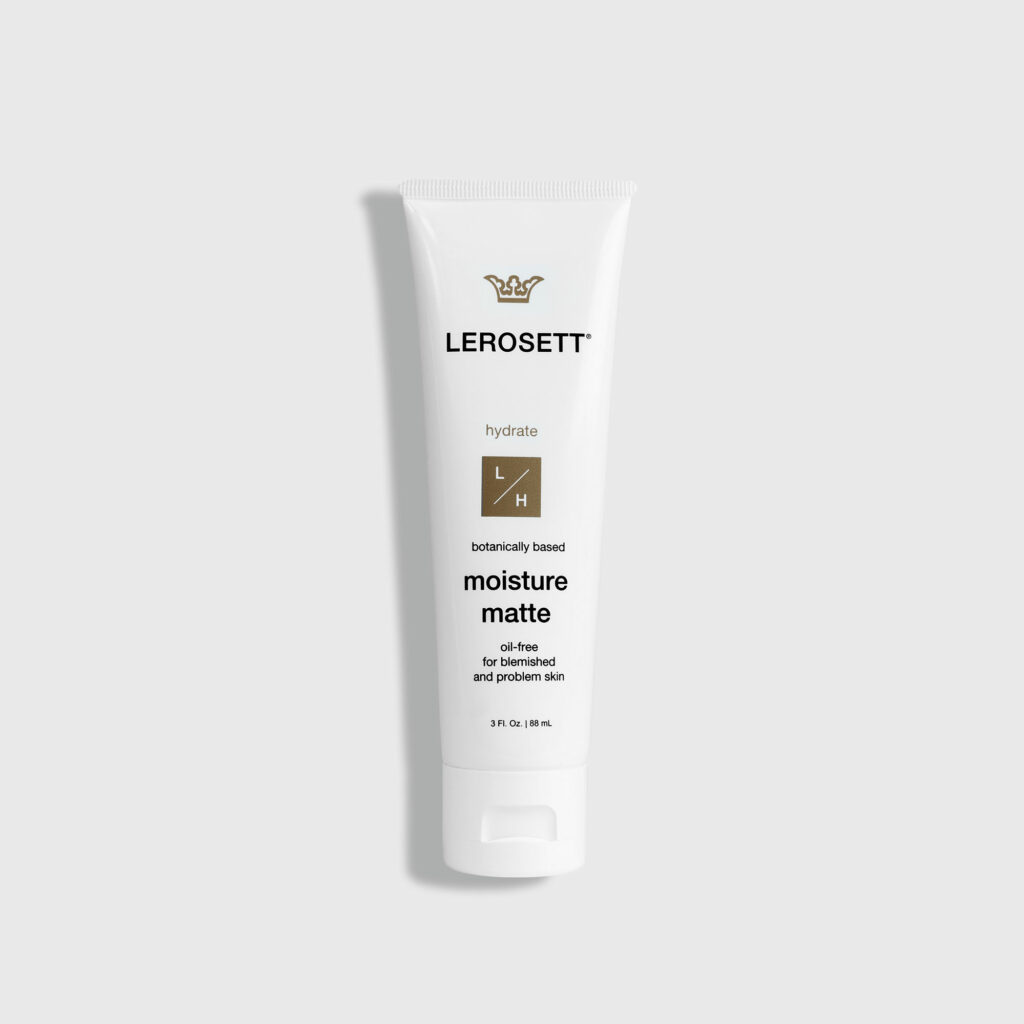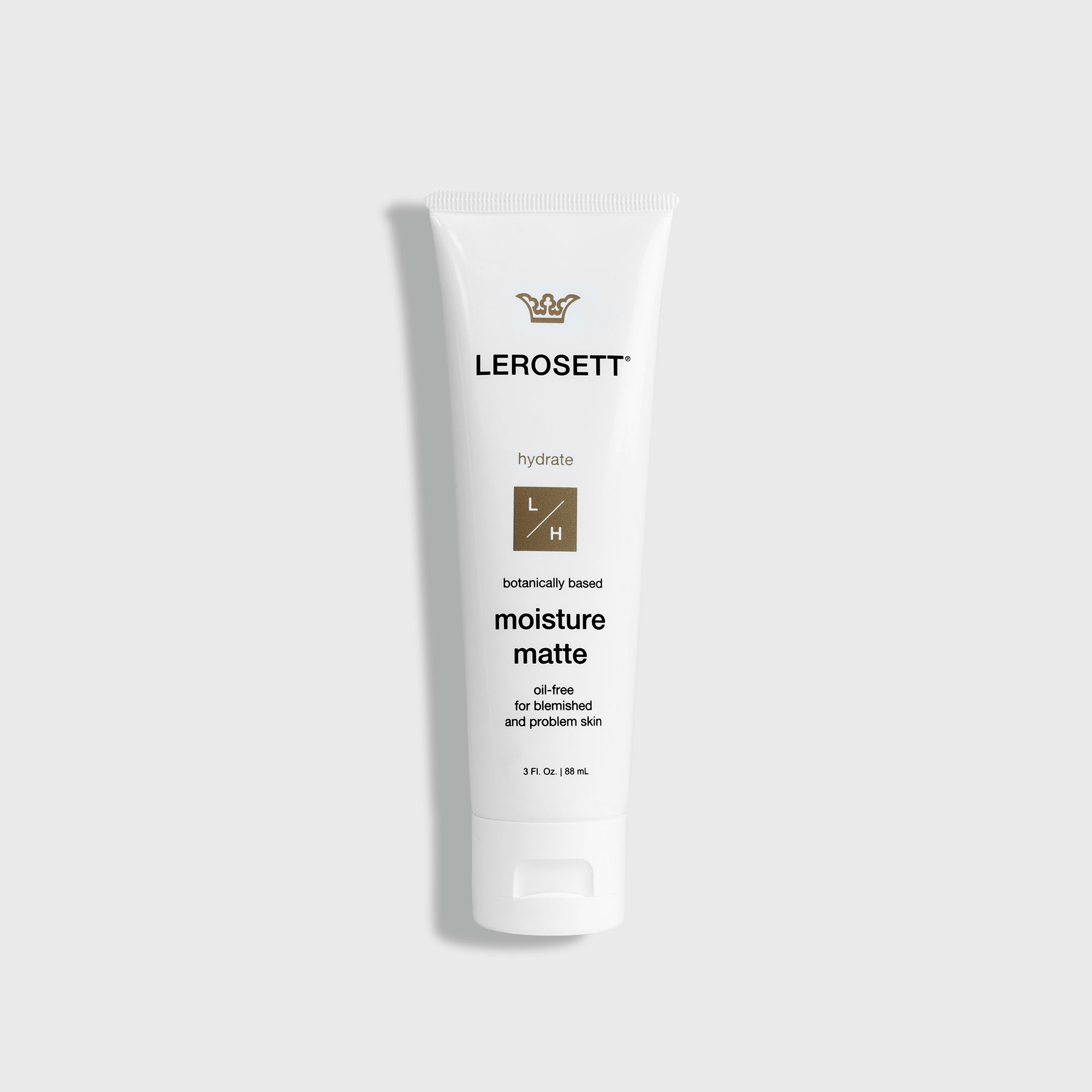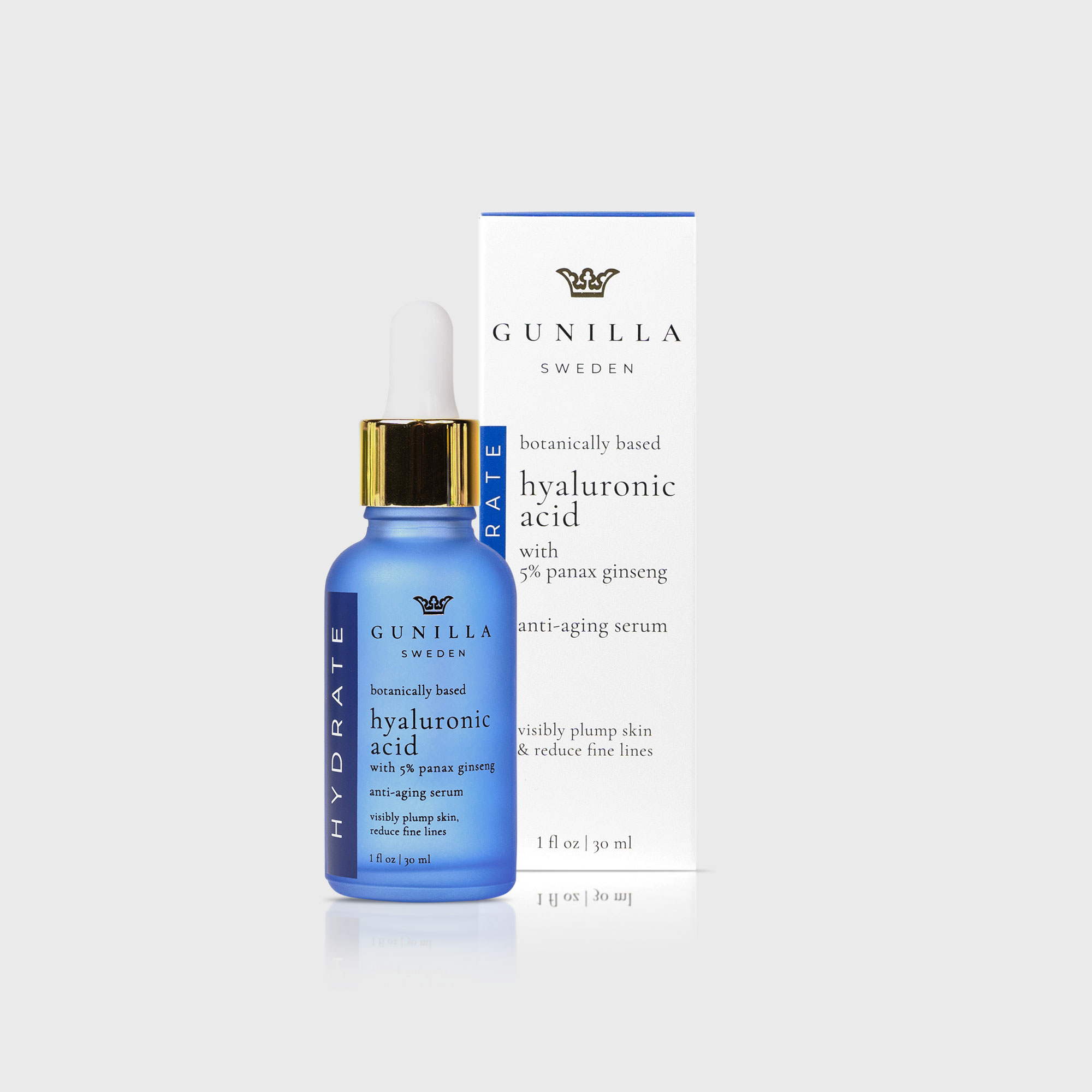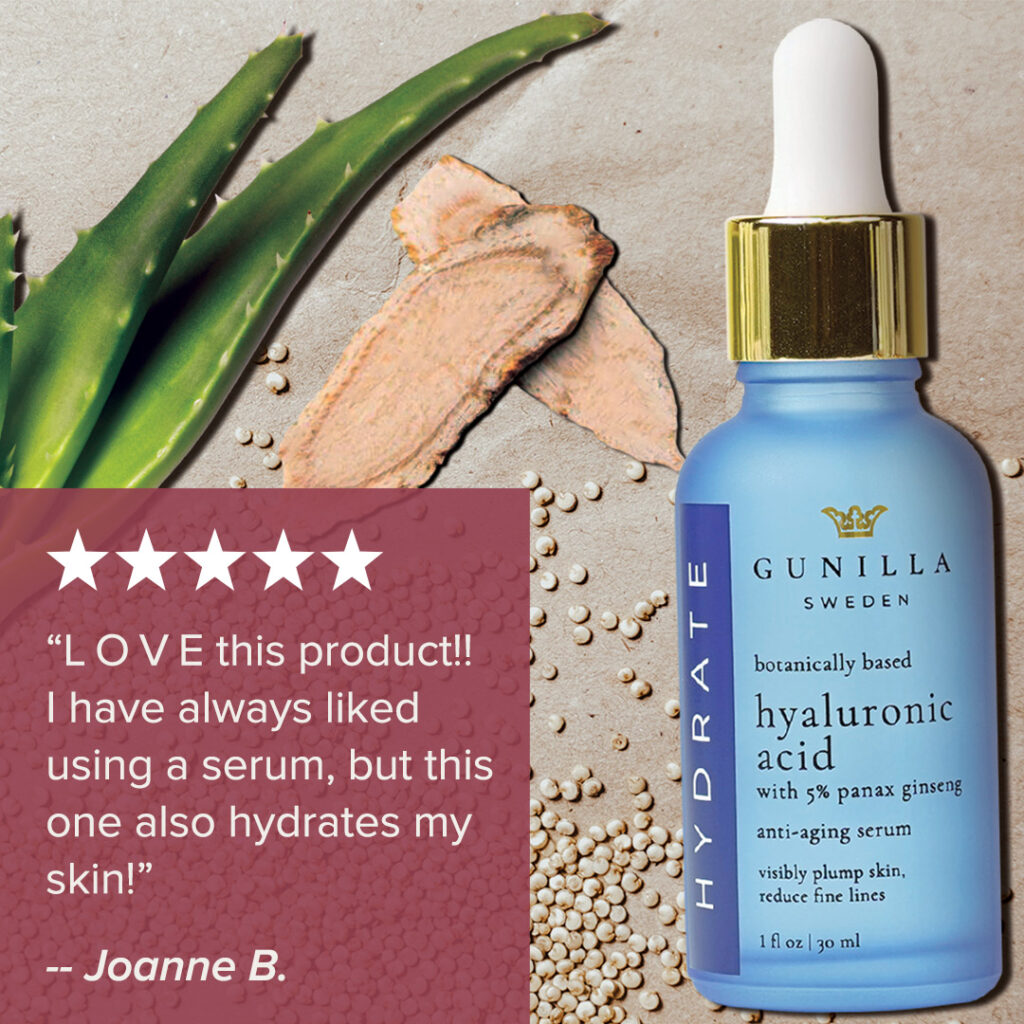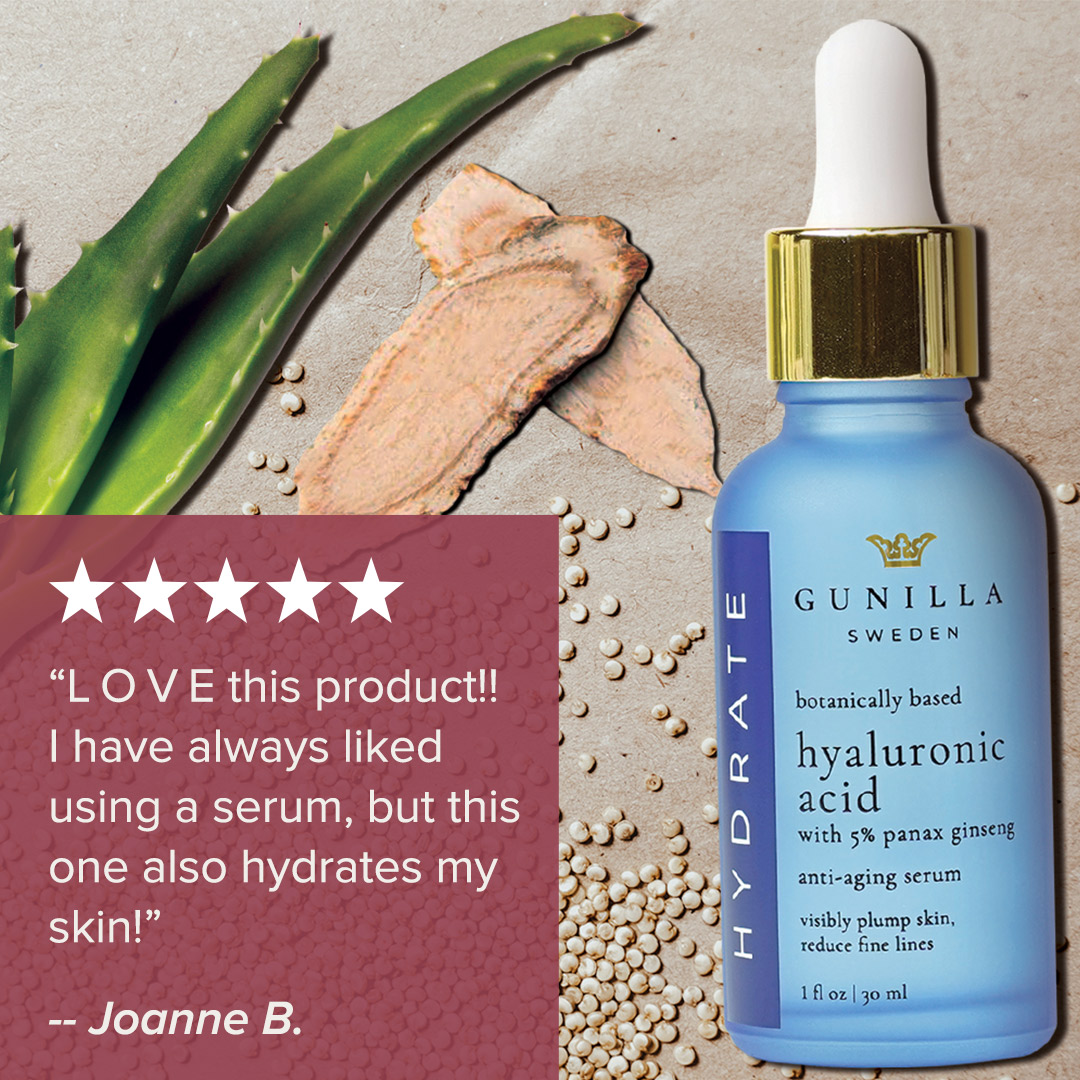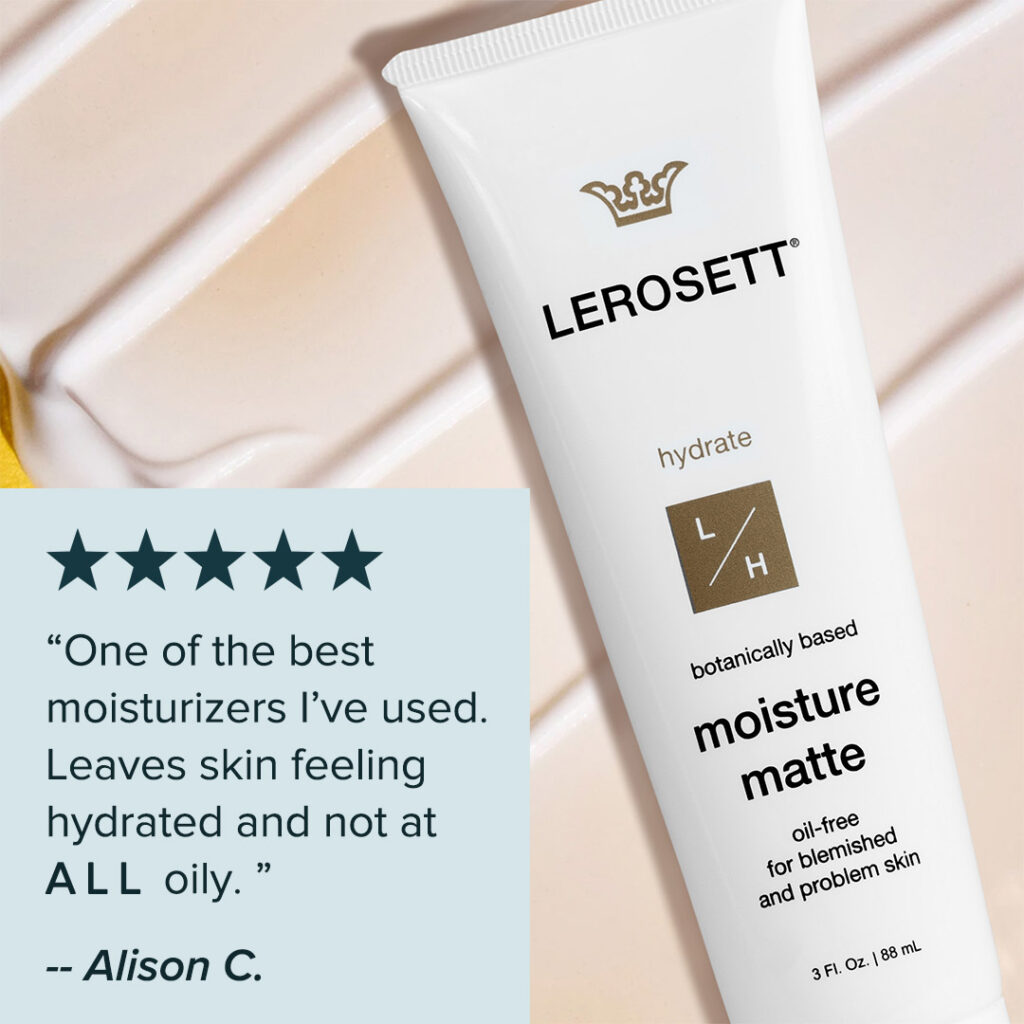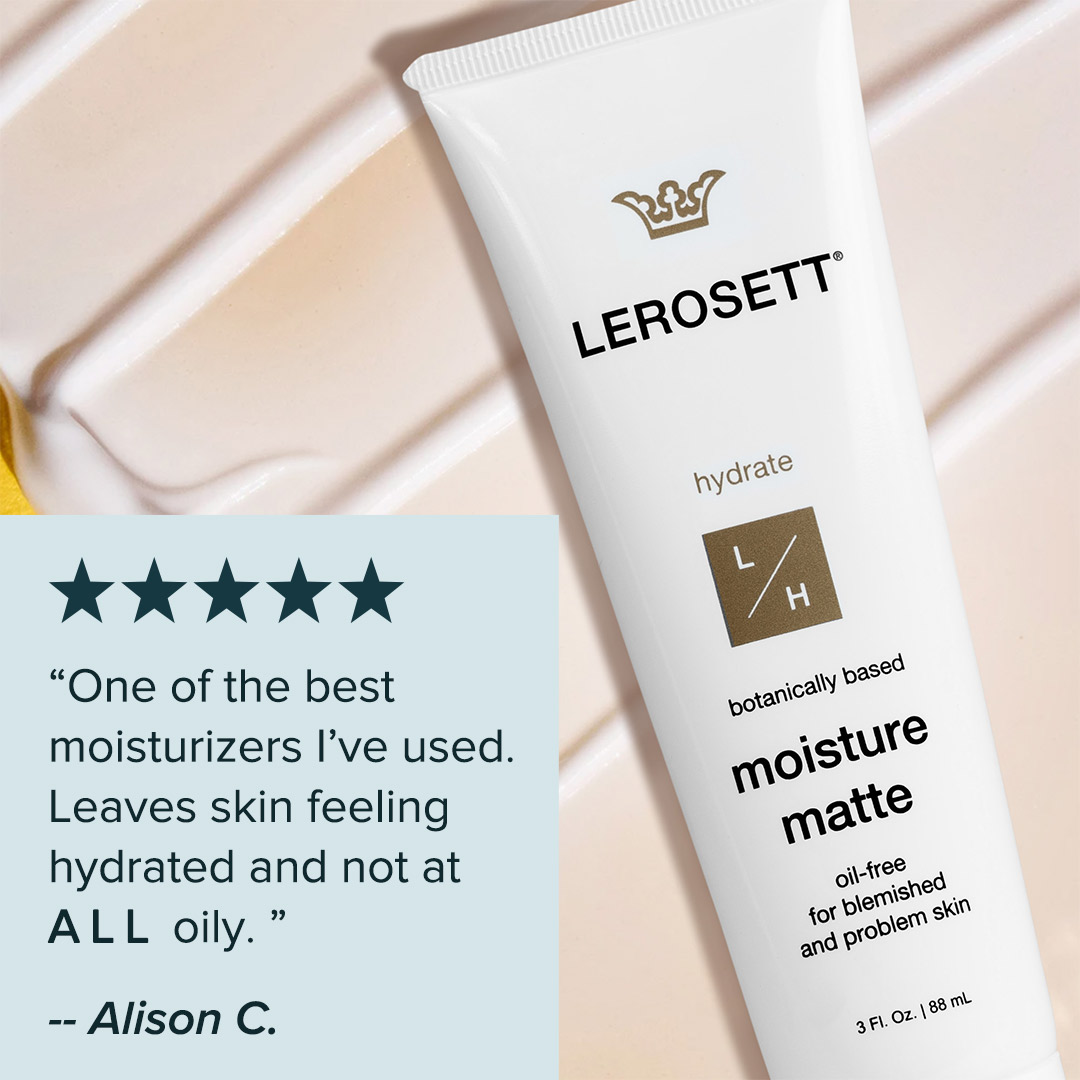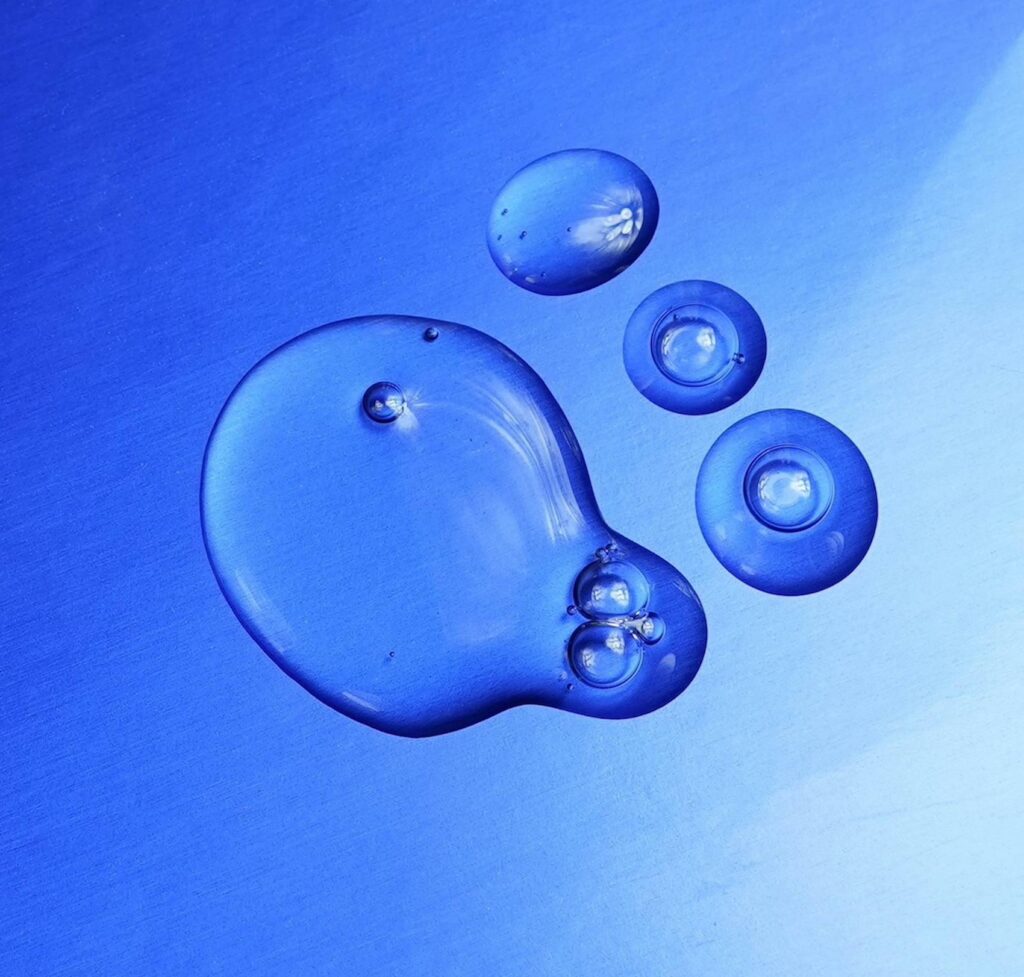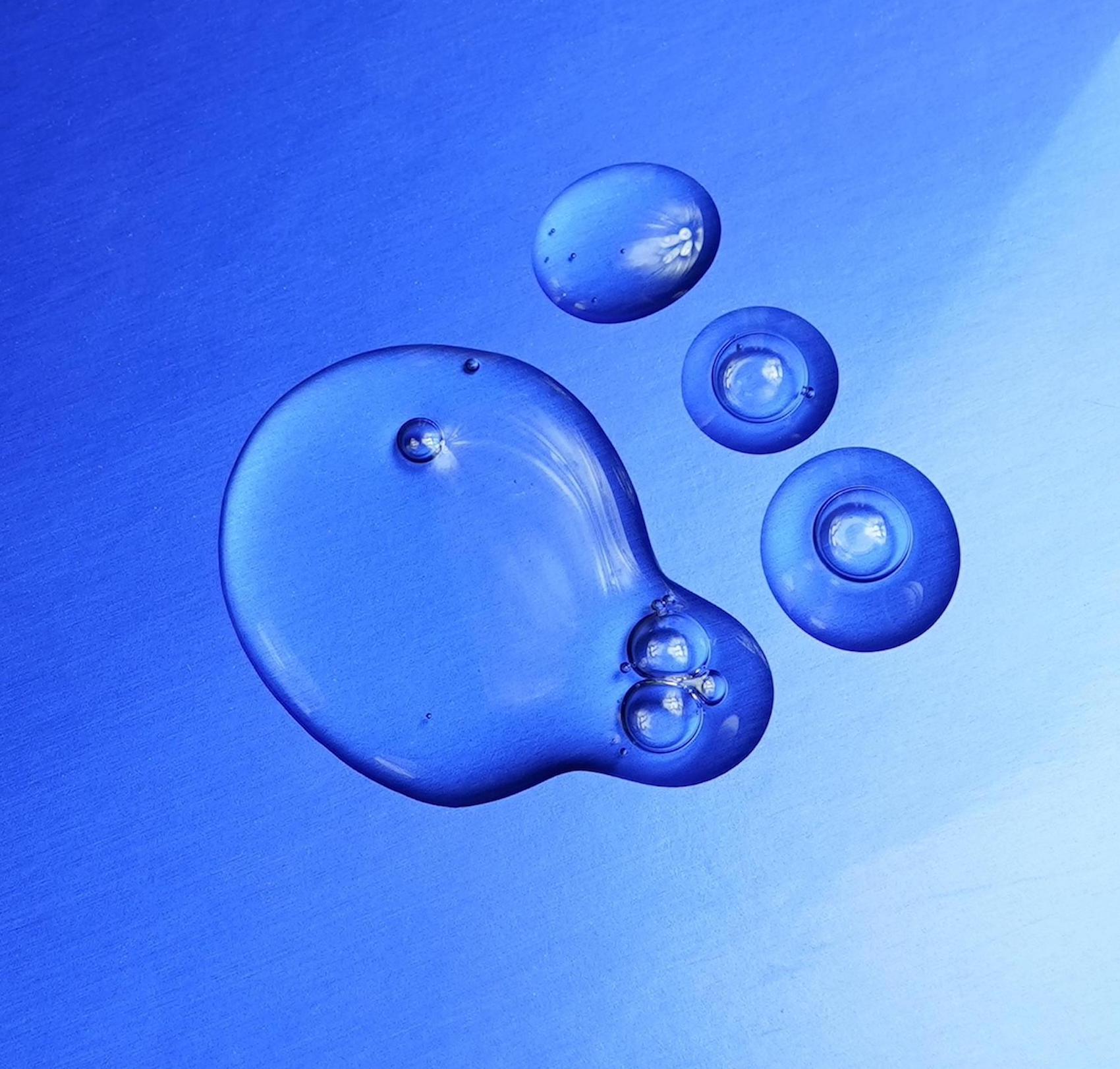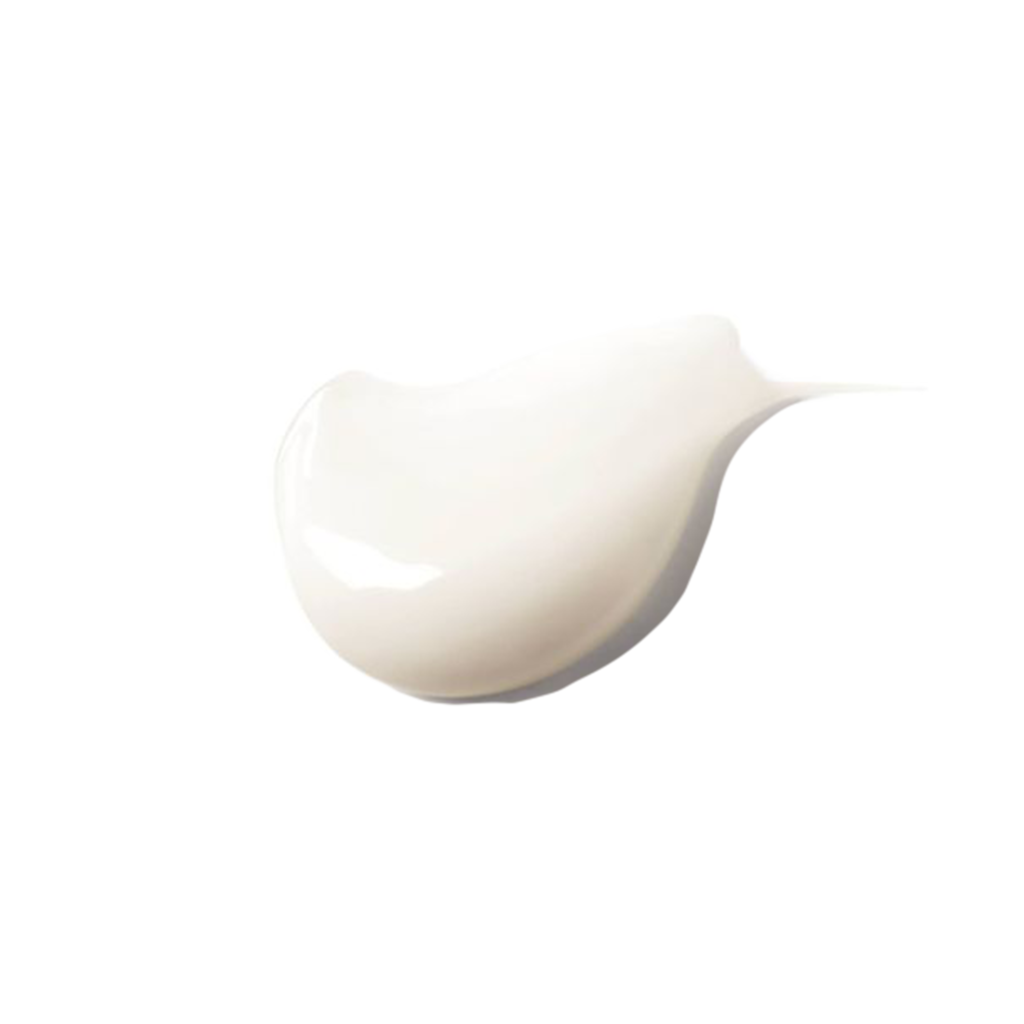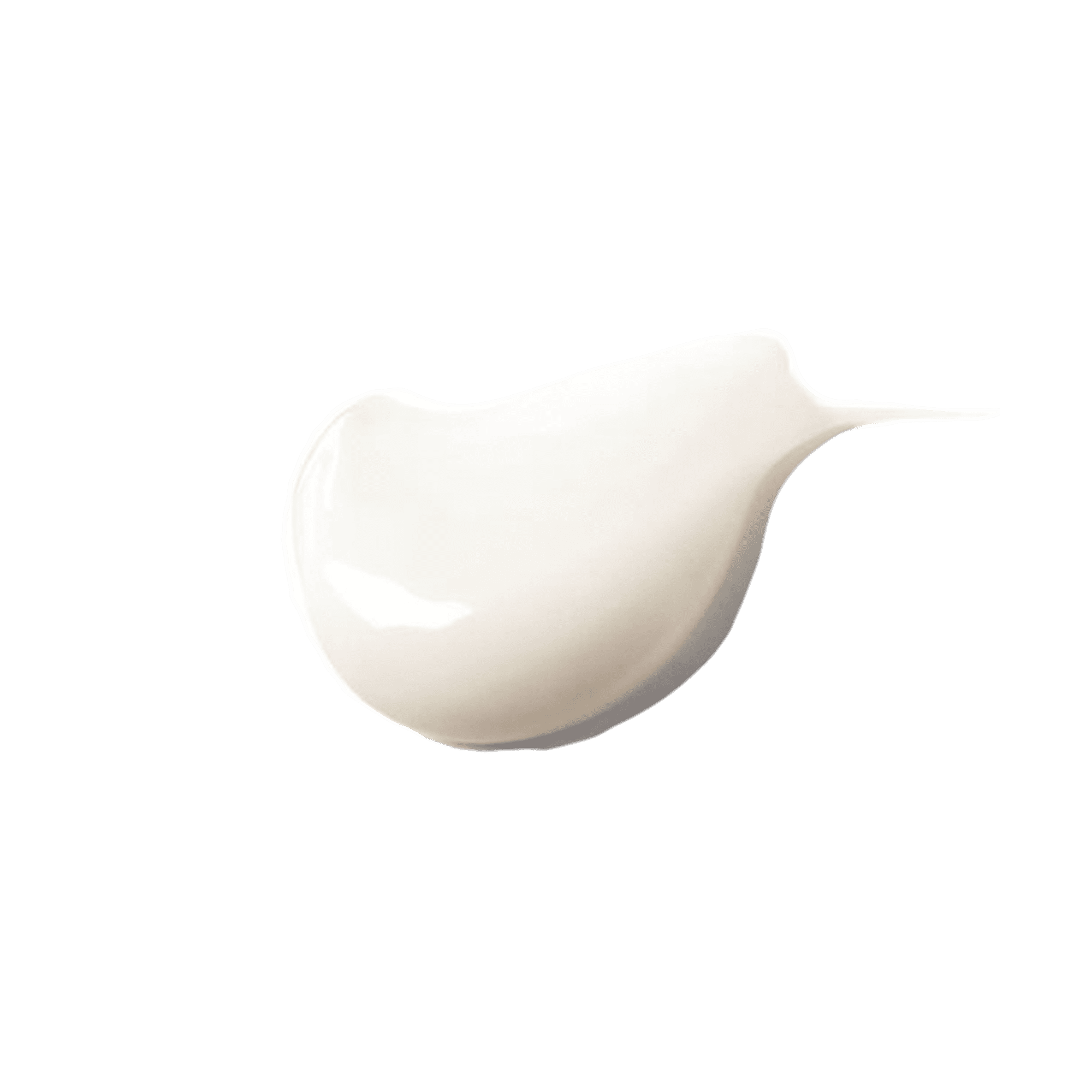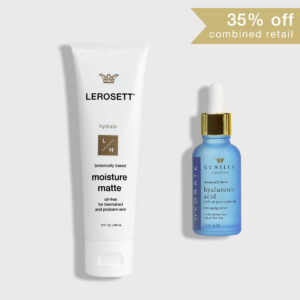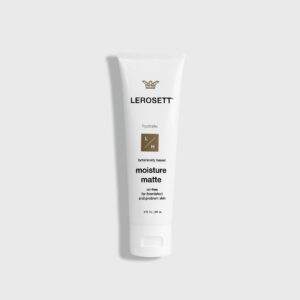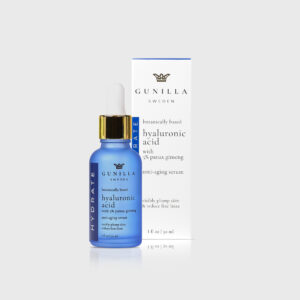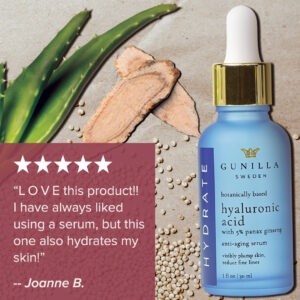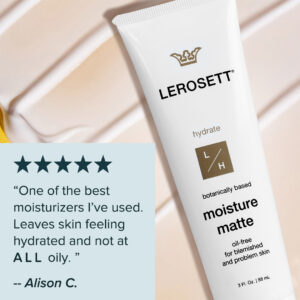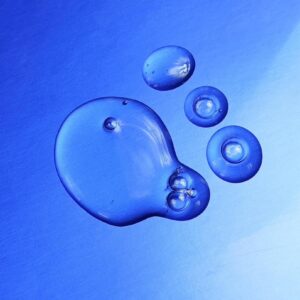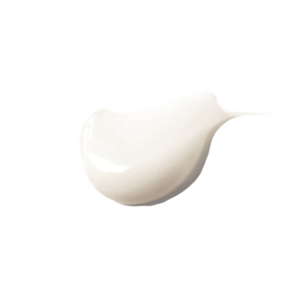 Moisture Matte™ + Hyaluronic Acid Serum Duo
Moisture Matte™ + Hyaluronic Acid Serum Duo
Light Oil-Free Matte Moisturizer & Moisture Retaining Hyaluronic Acid Complex Serum 
After Moisture Matte™ oil-free moisturizer, add our all-new hyaluronic acid & ginseng serum to achieve all-day hydration without the side effects of a heavy all-day moisturizer. A truly multi-beneficial hydrating duo plumps skin lessens fine lines, heals acne-prone skin, reduces scarring, and decreases sebum (oil) production.
GUNILLA® 1.5% Hyaluronic Acid & 5% Ginseng Serum will restore moisture to dry, irritated skin, energize, and brighten the look of tired, dull skin. A collagen-rich complex serum quenches the skin, preserving the moisture barrier from recurring dryness for noticeably smoother and softer skin.
LEROSETT® Moisture Matte™ is a lightweight nongreasy, quickly absorbed moisturizer that helps heal the skin while reducing oil (sebum) production. Disappears into the skin, leaving behind a soft, smooth, hydrated shine-free finish.
Duo is Oil-Free Over 98% Organic, Natural & Botanical - Formulated in Sweden
90-Day Money-Back Guarantee
Both PETA & Leaping Bunny Certified
Open 'Duo Contents' Tab for Full Details of Each Product
23 Active & Botanical Ingredients: 1.5% Hyaluronic Acid, 64% Hydroponic Aloe, 5% Panax Ginseng, Sodium PCA, Carrot Root, Quinoa Seed, Red Algae, Vegetable Glycerin, Hydrolyzed Elastin Marin Collagen, Glycosaminoglycans, Oryza Sativa Rice, Soybean Seed Extract, Glycoproteins, Glutamic acid, Mallow, English ivy, Lichwart, Elderflower, Arnica, Pro Vit-B5, Cucumber, Sodium PCA, Multi-Minerals  
Details
60-Day Supply at 2x Daily
For normal, oily, sensitive, or acne-prone problem skin.
Hypoallergenic. Non-comedogenic. Dermatologist Recommended
Multipurpose Hyaluronic Acid Serum
Ideal for reducing scarring from acne, light skin damage, post-waxed or post-procedure skin, and sunburned skin.
Hyaluronic Acid attracts up to 1,000 times its weight & Sodium PCA 250 times from moisture and humidity in the air with Red Algae and Elastin Marine Collagen.
Botanical Duo Formulated Without
Parabens, Oils, Alcohol, Sulfates, Phthalates, Gluten, Animal Ingredients, Petrolatum, Artificial Fragrance, Benzoyl peroxide, Sulfur or Salicylic acid.
Duo Contents
Duo Contents
Step 2
The Most Effective Natural Ingredient Used in Skincare is the Main Ingredient in GUNILLA® Hyaluronic Acid Serum & Moisture Matte™ Duo
Our hydroponic aloe is greenhouse-grown in a temperature-controlled environment without pesticides or herbicides. It's hand-planted, nutrient-infused, and grown in recycled water, without soil.
Based on 65% of our unique greenhouse-grown organic aloe, GUNILLA® Hyaluronic Acid & Ginseng Serum is therapeutic by its very nature, having countless benefits over conventional water or oil-based facial serums.
The aloe & ginseng base helps combats free radicals, signs of environmental damage with potent anti-inflammatory properties that reduce redness and inflammation. Our unique hydroponic aloe is hand planted and grown without pesticides or herbicides.
Serums leave out ingredients such as petrolatum or mineral oil that keep water from evaporating. They also contain fewer lubricating and thickening agents, like nut or seed oils. For the best results, combine serum and cream moisturizers, using the serum first followed by the moisturizer.
Step 4
1 oz 1.5% Hyaluronic Acid & 5% Ginseng Hydration Boosting Serum
A highly innovative serum that quenches the skin, visibly plumps, reduces fine lines, wrinkles and preserves the moisture barrier from recurring dryness for noticeably softer skin.
With a 5% concentration of pure Panax ginseng to boost collagen levels naturally. Potent antioxidants shield the skin on a cellular level against brown spots, and hyperpigmentation. Anti-inflammatory properties are a calming remedy, even for puffy eyes, and to soothe even the most sensitive skin.
Hyaluronic Acid attracts up to 1,000 times its weight in water, plus Sodium PCA attracts 250 times its weight in water from moisture and humidity in the air.   
Step 6
3 oz Moisture Matte™ Clear Skin Moisturizer
A lightweight, highly soothing, non-comedogenic, and non-greasy herbal moisturizer. This aloe-based, oil-free healing moisturizer is vital in preventing future breakouts. The wrong moisturizer or body & hand lotion can cause pimples.
It never leaves skin slick; instead, skin looks and feels refreshed, hydrated, and calm thanks to 64% of our unique hydroponically grown aloe vera. Plus Panthenol Pro-Vitamin-B5, Organic Cucumber, Mallow, English ivy, Pellitory-of-the-wall & Elder tree. Made & Grown in the USA -A favorite formula for top facial spas for over 25 years.
How To Use
How To Use
GUNILLA® Hyaluronic Acid + Ginseng Serum
Step 2
Gently apply 2-3 drops of our Hyaluronic Acid serum onto a slightly damp face and neck until fully absorbed.
LEROSETT® Moisture Matte™ Oil-Free Moisturizer
Key Active & Botanical Ingredients
Key Active & Botanical Ingredients
Botanical Ingredients
Aloe Vera
Contains vitamins A, C and E, which are antioxidants. Over 9 Vitamins & 9 Minerals, 20 Amino Acids, 7 Enzymes that significantly increases collagen synthesis
Anti-Inflammatory, antimicrobial, helps heals wounds and fades scarring & and is one of the only known substances which can penetrate the dermis layer of the skin
Mucopolysaccharides help bind moisture into the skin and work effectively with ceramides, Stimulates fibroblast produces collagen and elastin to help heal skin & wounds
Burdock Root
Contains the Vitamin B complex, which contains Riboflavin to fight free radical damage and contains Pantothenic Acid to offer an anti-aging boost to the skin
Naturally anti-inflammatory and antioxidant powers that fights acne-causing bacteria
Elder Tree
Contains super antioxidants that fight free radical damage that prevents wrinkles
Strengthens broken capillaries to reduce redness and aids in hyper pigmentation
Ivy
Thoroughly hydrates the skin and relieves irritation from skin conditions
Reduces wrinkles, eliminating lines and reducing facial tension
Glycolic Acid
Speeds up cell turnover and bring fresher, younger cells to the surface-Helps skin feel firmer and minimizes fine lines and wrinkles
Glycolic acids are the smallest molecule of alpha hydroxy acids and are used in the treatment of aging, discoloration and scarring
Sage
Antioxidants that reverse signs of aging
Regulates Sebum production
Grape Vine
Protects your skin from UV rays and free radicals-Potent anti-inflammatory and antiseptic agent
Rejuvenates the appearance of your skin-Packed with Vitamin C and antioxidants
Arnica Montana
Restores suppleness to damaged & inflamed areas-Naturally antimicrobial
Reduces Inflammation-Moisturizing
Witch Hazel
Helps control the production of excess oil & acts as a natural astringent
Helps prevent development of blackheads
Lemon
Balances skin tone while gently exfoliating, fading dark spots and blemishes
Rich in Alpha Hydroxy Acids, Vitamin C & Antioxidants increasing collagen in the skin
Wheat Protein
Provides amino acids and high glutamine levels to the skin
Helps to refine the tone and texture of your complexion
Cucumber Extract
Packed with vitamins, minerals, and antioxidants balancing oil production
Soothes, balances, tones, and moisturizes reducing the signs of fine lines and wrinkles
Mallow
Creates a barrier that can help skin hold onto moisture
Prevents cell damage from environmental factors
User Reviews
Ingredients
Paired Products
Resources
Ingredients
LEROSETT® Clear Skin Face Wash Ingredients: Organic Greenhouse Grown Aloe Barbadensis Leaf Juice, Purified Water, Cocamidopropyl Betaine, Sorbitol, Caprylyl Capric, Phenoxyethanol, Sodium C8-16 Isoalkylsuccinyl Lactoglobulin Sulfonate, Carbomer, Extracts of:: (Nasturtium Officinalis (Watercress),  Arctium Lappa (Burdock), Salvia Officinalis (Sage), Citrus Limonum (Lemon), Hedera Helix (Ivy), Saponaria Officinalis (Soapwort)), Extracts of: ((Vitis Vinifera, Hypericum perforatum, Arnica Montana, Hamamelis Virginiana, Aesculus hippocastanum)), Triethanolamine, Glycolic Acid, Microencapsulated Bead, Citrus Medica Limonum (Lemon) Peel Oil, Panthenol, Hydrolyzed Glycosaminoglycans, Wheatgermamidopropyl Dimethylamine, Hydrolyzed Wheat Protein, Allantoin
LEROSETT® Moisture Matte™ Clear Skin Moisturizer: 100% Organic "Greenhouse and Hydroponically Grown" Pure Whole Leaf Aloe Vera Concentrate, Purified Water, Caprylic/Capric Triglyceride, Glyceryl Stearate, Caprylyl Glycol, Phenoxyethanol, Cyclomethicone, Cetyl Alcohol, Sorbitol, Cetyl Lactate, Methyl Gluceth-20, PEG-100 Stearate, Extracts of: (Malva Sylvestris, Hedra Helix, Parietaria Officinalis, Sambucus Nigra, Arnica Montana), Dimethicone, Panthenol Vit-B5, Carbomer, Laureth-4, Triethanolamine, Butylene Glycol, Cucumis Sativus (Cucumber) Fruit Extract, Sodium PCA, Trace Minerals, Lauryl Methacrylate/Glycol Dimethacrylate Crosspolymer, Isododecane, Tetrasodium EDTA